Donate now to support the LLIFLE projects.
Your support is critical to our success.
Accepted Scientific Name: Discocactus heptacanthus (Barb.Rodr.) Britton & Rose
Cactaceae (Britton & Rose) 3: 218, fig. 232. 1922 Britton & Rose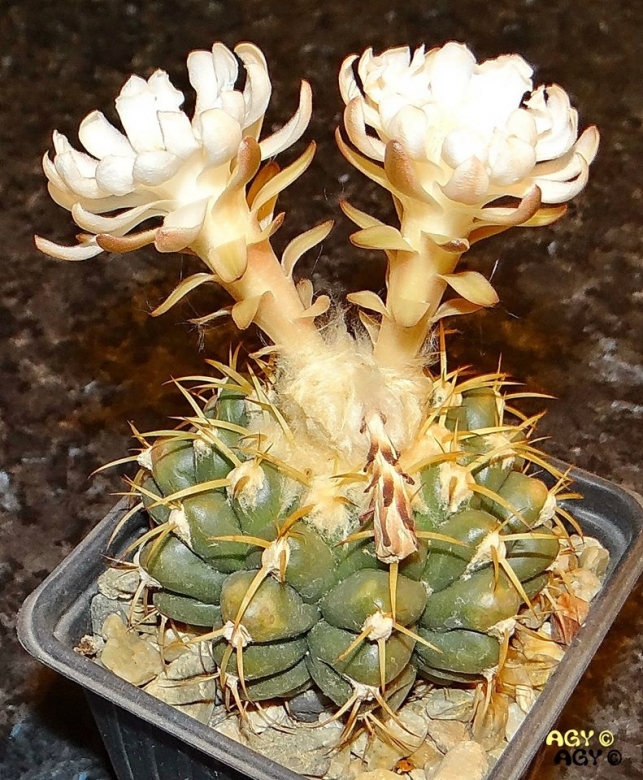 Discocactus cangaensis Photo by: Agócs György
Blooming habit, Rebutialand cactus collection Demjén, Hungary. Field number HU 654 (Collector Leopoldo Horst) Aragarcas, Goias, Brazil.
Origin and Habitat: Discocactus cangaensis is only known from three small sites in east of the Rio Caiapo, South-west to west of Goiás, Brazil that are very close to each other and may be affected simultaneously by a single threat so it is considered to occur in only one location with an extent of occurrence less than 100km2.
Habitat and Ecology: The main habitat consists of flat outcrops of pedra canga (iron ore) among cerrado vegetation. The plants mostly grow in crevices on the bedrock. The population is probably extinct or only occurring as a small remnant. The main site has already been destroyed as it is now used as a parking space for heavy construction machines, and the remaining sites are currently affected by iron ore mining. Livestock grazing is an additional threat to the survival of this species, because either cattle destroy the plants, or because farmers collect the plants to prevent injuries to their cattle. The population has declined by more than 80 percent in the last 20 years. The causes of past declines have not ceased, and the decline is expected to continue. D. cangaensis is therefore listed as Critically Endangered. The remaining number of individuals is probably less than 1,000.
Synonyms:
See all synonyms of Discocactus heptacanthus
Description: Discocactus cangaensis is sometimes included in Discocactus heptacanthus (Barb.Rodr.) Britton and Rose and Hunt et al. (2006) place it under Discocactus catingicola Buining & Brederoo.
Derivation of specific name: "cangaensis" of flat outcrops of pedra canga (iron oxide ore).
Stem: Flattened globular, solitary, ca 7 to 14 cm in diameter, light-green to greyish-green.
Ribs: 10-14, broken up into rounded tubercles,
Areoles: Oval/round, at first heavily woolly. Number of areoles per ribs is 5 to 7 on plants with cephalium.
Radial spines: 5-7(-9), grey, amber, brown or reddish subulate, bent inwards, the lower one the longer, occasionally up to 5 cm long, the lower 2 lateral spines, pointing side-and downwards up to ca. 2 cm long, the 2 (- 4 or more) spines in the upper part of the areole less than 5 mm long.
Central spine: 1 (usually absent).
Cephalium: With whitish to yellowish silky hairs.
Flowers: Night blooming, auto-strerile, white and fragrant.
Subspecies, varieties, forms and cultivars of plants belonging to the Discocactus heptacanthus group
Bibliography: Major references and further lectures
1) Braun, P. 2013. Discocactus cangaensis. The IUCN Red List of Threatened Species. Version 2015.2. <www.iucnredlist.org>. Downloaded on 01 July 2015.
2) Diers et Esteves in Cact. and Succ. Journal U.S.A. 1980
3) "Discocactus cangaensis" fiche 2036, Série 2 Texte, Photo & Collection : Joël Lodé. © Edisud, Aix, 1998 <http://www.cactuspro.com/biblio_fichiers/pdf/Lode/LodeC-Acanthocalycium-Ferocactus_O.pdf>
Cultivation and Propagation: Discocactus cangaensis is not the easiest plant to keep happy, so it isn't a plants for beginners, in fact collectors consider the Discocactus to be rarities which requires skilful cultivation. Under glass, it isn't difficult, but appreciates milder winter temperatures and more generous summer watering than most of the other genera of compact cacti. When grown to maturity, however, it possess an exotic look shared by no other cacti, and it generally attract a lot of attention.
Growing rate: It is slow growing.
Soil: It likes very porous cactus mix soil enriched with humus and decomposed granite rock. Prefer a low pH compost, avoid substrata rich in limestone; otherwise growth will stop altogether.
Repotting: They generally resent being repotted and can take a long time to establish.
Fertilization: Feed with a high potassium fertilizer in summer.
Exposition: The plant tolerates bright situations but enjoys filtered sunlight or afternoon shade, inside it needs bright light, and some direct sun. Tends to bronze in strong light, which encourages flowering and heavy spine production.
Waterings: Discocacti are very rot prone when kept on their own roots and though they can't endure long stretches of total dryness, too much water with cool will rot them, as their weak root systems tend to be inefficient at sucking up water from wet soil.
Hardiness: It is rather difficult to grow and frost tender, it can't stand cold, or even fairly cool temperatures and should be kept at above 15° C if grown on its own roots (8°C if grafted).
Traditional uses: The stems were formerly used to produce candy.
Pests & diseases: It may be attractive to a variety of pests or diseases:
- Red spiders: Red spiders may be effectively rubbed up by watering the plants from above.
- Mealy bugs: Mealy bugs occasionally develop aerial into the new growth among the wool with disfiguring results, but the worst types develop underground on the roots and are invisible except by their effects.
- Scales: Scales are rarely a problem.
- Rot: Rot it is only a minor problem with cacti if the plants are watered and "aired" correctly. If they are not, fungicides won't help all that much.
Propagation: Seeds or grafting. Seeds germinate in 7-14 days at 21-27° C in spring, remove gradually the glass cover as soon the plants will be well rooted (ca 1-2 weeks) and keep ventilated, no full sun for young plants! .Young seedlings are often grafted on a low stock to keep the plant in a good shape.