Donate now to support the LLIFLE projects.
Your support is critical to our success.
Since 4 Aug 2013
= Lobivia tiegeliana var. ruberrima Rausch
Succulenta (Netherlands) 51: 102. 1972
Accepted Scientific Name: Echinopsis tiegeliana (Wessner) D.R.Hunt
Bradleya 9: 88. 1991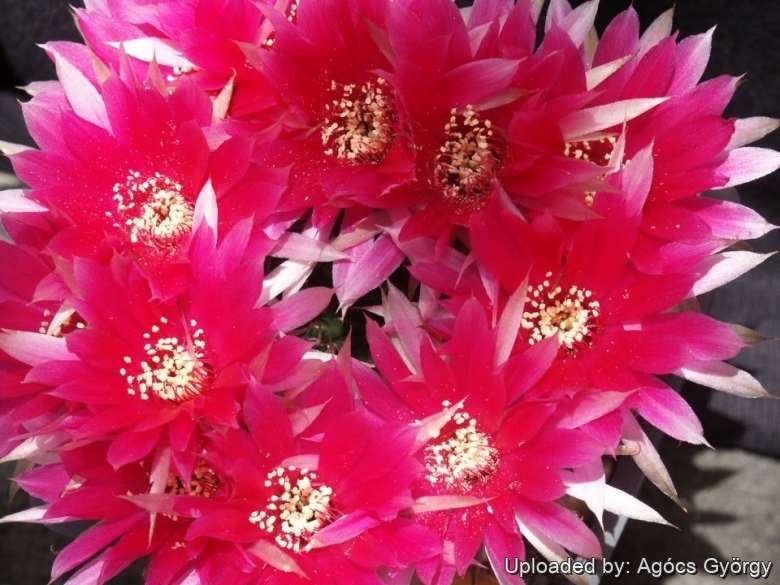 Hymenorebutia tiegeliana var. ruberrima (Lobivia tiegeliana var. ruberrima) Photo by: Agócs György
Field number RH 217 (Collector Ralf Hillmann) Locality: Cuesta de Sama, Tarija, Bolivia, 2450m. Rebutialand - Cactus collection
Origin and Habitat: Bolivia, Tarija, 3500 m.
Synonyms:
See all synonyms of Echinopsis tiegeliana
Accepted name in llifle Database:
Echinopsis tiegeliana
(Wessner) D.R.Hunt
Bradleya 9: 88. 1991
Synonymy: 34
Description: Echinopsis tiegelianaSN|20965]] (Lobivia tiegeliana) is a very variable species for colour and number of spines, size and colour of flowers. It comprises several questionable varieties and its taxonomic history has undergone several changes. The great variability of Echinopsis tiegelianaSN|20965]] is due to the fact that cross pollination among different forms and different species (in habitat and especially in collections) is very frequent and it can be quite difficult to determine what is the "pure type" and the cross. The var. ruberrima is distinguishable for the bright red blooms.
Subspecies, varieties, forms and cultivars of plants belonging to the Echinopsis tiegeliana group
Notes: A full sun exposure is indispensable to keep plant compact with strong and colourful spines. Without sun the stems elongate and remain green and don't take the characteristic dark-purple colour.
Bibliography: Major references and further lectures
1) Nathaniel Lord Britton, Joseph Nelson Rose "Cactaceae: Descriptions and Illustrations of Plants of the Cactus Family" Courier Dover Publications, 1963
2) James Cullen, Sabina G. Knees, H. Suzanne Cubey "The European Garden Flora Flowering Plants: A Manual for the Identification of Plants Cultivated in Europe, Both Out-of-Doors and Under Glass" Cambridge University Press, 11/Aug./2011
3) David Hunt, Nigel Taylor "The New Cactus Lexicon" DH Books, 2006 ISBN 0953813444, 9780953813445.
4) Edward F. Anderson "The Cactus Family" Timber Press, 2001
5) Clive Innes, Charles Glass "Cacti" Portland House, 01/May/1991
Hymenorebutia tiegeliana var. ruberrima
(Lobivia tiegeliana var. ruberrima)
Photo by: Valentino Vallicelli
Hymenorebutia tiegeliana var. ruberrima
(Lobivia tiegeliana var. ruberrima)
Photo by: Valentino Vallicelli
Cultivation and Propagation: This is a a much decorative frost hardy cactus easily found in cultivation. It is a summer grower species that offers no cultivation difficulties.
Soil: Use a very a particularly draining slightly acidic or neutral substratum, as it is very sensitive to rottenness when in presence of humidity and low temperatures and let the soil dry out between waterings.
Repotting: Repot in the spring, when their roots become cramped. Generally, they should be repotted every other year in order to provide fresh soil. After repotting, do not water for a week or more. Needs a large pot to accommodate a large root system.
Water: In summer, during the vegetative period, it must be regularly watered, but allowing the substratum to completely dry up before irrigating again (but do not overwater); in winter, it's to be kept dry. Preferable not to water on overcast days, humid days or cold winter days.
Hardiness: It is a quite frost resistant cactus, hardy to -5° C (- 12° C if very dry). However in cultivation it is better not to expose it to temperatures lower than -0° C, even if in an aerated and protected location, in order to avoid the formation of anti-aesthetic spots on the epidermis. In presence of high atmospheric humidity avoid any frost as it is particularly sensitive to root rot. As these are high-elevation plants, they don't like to get overheated.
Exposure: Outside full sun or afternoon shade, inside needs bright light, and some direct sun, but, as a former mountain dweller, does not care for extremely high temperatures in summer.
Use: It is suitable for small "desert" gardens, in association with other xerophytes. Where the open air cultivation is not possible due to the climate, it is to be cultivated in pot in order to shelter it in winter.
Propagation: Direct sow after last frost or by offsets (if available), provided left drying up well, in summer.