Donate now to support the LLIFLE projects.
Your support is critical to our success.
Since 4 Aug 2013
sponsored link
= Parodia werneri f. variegata hort.

Accepted Scientific Name: Parodia werneri Hofacker
Cactaceae Consensus Init. 6: 12, nom. nov. 1998 [replaced synonym: Notocactus uebelmannianus Buining]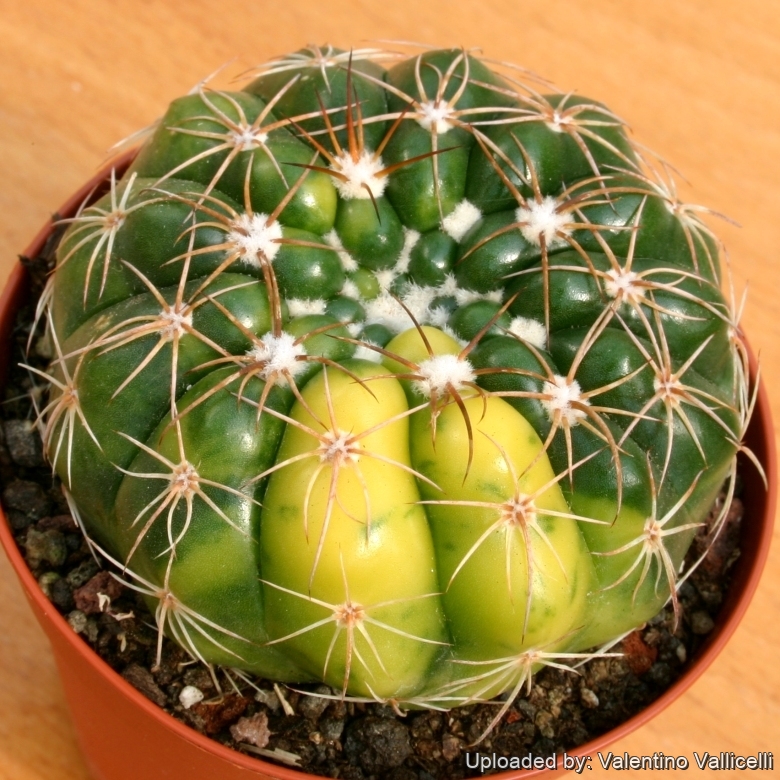 Notocactus uebelmannianus f. variegatus (Parodia werneri f. variegata) Photo by: Valentino Vallicelli
Origin and Habitat: Garden origin (Nursery produced cultivar)
Synonyms:
See all synonyms of Parodia werneri
Accepted name in llifle Database:
Parodia werneri
Hofacker
Cactaceae Consensus Init. 6: 12, nom. nov. 1998 [replaced synonym: Notocactus uebelmannianus Buining]
Synonymy: 24
Description: Variegated Parodia werneriSN|19997]] (syn: Notocactus uebelmannianusSN|19998]]) are very rare in cultivation and some of these variegated plants are particularly priced by collectors. All variegates are mutants. Something has gone wrong with the cellular structure of the growth tip (apical meristem) of the plant. As a result of this mutation, chlorophyll is missing from some or all layers of the plant epidermis. The odd variegate appears in many seedling batches in a small percentage (especially among hybrid seeds) and are generally separated from normal plants. Variegated plants grow slower and are generally smaller than non-variegates of the same species. Coloured areas are also generally weaker, and more susceptible to fungus, sunburn and other defects. A large well grown variegate Parodia is truly an achievement. These are harder to grow well than they appear.
Habit: The standard Parodia werneriSN|19997]] is a nice cactus usually solitary, sometimes branching basally to form small clumps. It has glossy green body with appressed spines and bears a ring of the most amazing magenta to royal purple flowers every spring.
Stem: Shiny dark green with sectors, patches or stripes with distinct shades of yellow or orange, globular or short/squatty up to 12 cm tall and 17 cm in diameter.
Ribs: 12-16, flat, round, more ore less chinlike.
Areoles: Round, large, dull white or creamy white-felted, each with a shallow groove below.
Central spines: Usually absent.
Radial spines: About 6 spider-like, 10 to 30 mm long, appressed against the stem body, one pointing downward, unequal, white to greyish.
Flower: Small about 5 cm in diameter, short funnel-form, shiny, wine red to deep magenta of various tones, or pure yellow (Parodia werneriSN|19997]] f. flaviflora). Both purple and yellow flower colours can exist side by side in some populations and the yellow being the most abundant. Therefore the more commercial but less representative purple flowered form was made the species and the more typical yellow flowered the variety.
Blooming season: Spring to early summer, once it reaches about 7 cm in diameter if kept well it will flower every year.

Subspecies, varieties, forms and cultivars of plants belonging to the Parodia werneri group
Bibliography: Major references and further lectures
1) David R. Hunt "Cactaceae Systematics Initiatives: Bulletin of the International Cactaceae" Systematics Group.
2) Curt Backeberg "Cactus Lexicon" Sterling Publishing Company, Incorporated, 1978
3) Hiroshi Hirao "Colour encyclopaedia of cacti" Japan 1979 (Japanese language and script)
4) Willy Cullmann, Erich Götz (Dozent Dr.), Gerhard Gröner "The encyclopedia of cacti" Portland, OR: Timber Press, 1986
5) David Hunt, Nigel Taylor "The New Cactus Lexicon" DH Books, 2006 ISBN 0953813444, 9780953813445
6) Hans Hecht "BLV-Handbuch der Kakteen" BLV, 1991 (German language and script)
7) Edward Anderson "The Cactus family" Timber Press, Incorporated, 2001
8) James Cullen, Sabina G. Knees, H. Suzanne Cubey "The European Garden Flora Flowering Plants: A Manual for the Identification of Plants Cultivated in Europe, Both Out-of-Doors and Under Glass" Cambridge University Press, 11/Aug/2011
9) N. L. Britton, J. N. Rose "The Cactaceae. Descriptions and Illustrations of Plants of the
Cultivation and Propagation: Variegated cacti are regarded as choice and difficult in cultivation, but despite that many of them are relatively easy to grow. But be aware that they cannot tolerate prolonged exposure to direct sun light (especially during the hottest summer days), so grow them in half-shade or under filtered sun. They are sometime seen as grafted plants, but some of this colourful plants (those with some chlorophyll) are able to grow on their own roots and are priced by collectors.
Soil: Use mineral well-permeable substratum with little organic matter (peat, humus).
Watering: Water sparingly from March till October, and keep perfectly dry in winter, at temperatures from 5 to 15 degrees centigrade. (In general these plants are more tender and cannot endure freezing temperatures). In the rest period no high atmospheric humidity!!
Propagation: By seeds, grafting or cutting. Because the variegation is due to the presence of two kinds of plant tissue, propagating the plant must be by a vegetative method of propagation that preserves both types of tissue in relation to each other. A most common way way to cultivate this partially de-coloured cultivars is to graft them onto another cactus which has chlorophyll and which will provide sugar to the mutant scion. The chlorophyll containing bottom part of the graft, called the stock, can be any number of different columnar cactus species.
Remarks: Seeds from variegated parents often give raise to some variegated seedlings too.