Donate now to support the LLIFLE projects.
Your support is critical to our success.
Parodia werneri Photo by: Valentino Vallicelli
Origin and Habitat: It is native to Brazil in the area of Rio Grande Do Sul
Habitat: It grows in flattened rocky terrains amongst agricultural land. It is seriously endangered in its native habitat as much of the land is cultivated for arable crops or grazing pasture.
Synonyms:
See all synonyms of Parodia werneri
Accepted name in llifle Database:
Parodia werneri
Hofacker
Cactaceae Consensus Init. 6: 12, nom. nov. 1998 [replaced synonym: Notocactus uebelmannianus Buining]
Synonymy: 24
Description: Parodia werneriSN|19997]] is a a nice cactus usually solitary, sometimes branching basally to form small clumps. It has glossy green body with appressed spines and bears a ring of the most amazing magenta to royal purple flowers every spring.
Replaced synonym: Notocactus uebelmannianusSN|19998]] Buining, Kakt. and. Sukk. 19(9): 175-176 (1968), non Parodia uebelrnannlana Ritter, Kakt. Siidamer. 2: 425-426 (1980). On transfer to Parodia since a Parodia uebelmannianaSN|11821]] already existed the name of uebelmannianus was changed to Parodia werneri, hence the name Parodia werneri is the current accepted Scientific name but many growers and plant sellers still use the old name Notocactus uebelmannianusSN|19998]], so you may come across it under both names.
Stem: Shiny dark green, globular or short/squatty up to 12 cm tall and 17 cm in diameter.
Ribs: 12-16, flat, round, more ore less chinlike.
Areoles: Round, large, dull white or creamy white-felted, each with a shallow groove below.
Central spines: Usually absent.
Radial spines: About 6 spider-like, 10 to 30 mm long, appressed against the stem body, one pointing downward, unequal, white to greyish.
Flower: Small about 5 cm in diameter, short funnel-form, shiny, wine red to deep magenta of various tones, or pure yellow (Parodia werneriSN|19997]] f. flaviflora). Both purple and yellow flower colours can exist side by side in some populations and the yellow being the most abundant. Therefore the more commercial but less representative purple flowered form was made the species and the more typical yellow flowered the variety.
Blooming season: Spring to early summer, once it reaches about 7 cm in diameter if kept well it will flower every year.
Subspecies, varieties, forms and cultivars of plants belonging to the Parodia werneri group
Bibliography: Major references and further lectures
1) David R. Hunt "Cactaceae Systematics Initiatives: Bulletin of the International Cactaceae" Systematics Group.
2) Curt Backeberg "Cactus Lexicon" Sterling Publishing Company, Incorporated, 1978
3) Hiroshi Hirao "Colour encyclopaedia of cacti" Japan 1979 (Japanese language and script)
4) Willy Cullmann, Erich Götz (Dozent Dr.), Gerhard Gröner "The encyclopedia of cacti" Portland, OR: Timber Press, 1986
5) David Hunt, Nigel Taylor "The New Cactus Lexicon" DH Books, 2006 ISBN 0953813444, 9780953813445
6) Hans Hecht "BLV-Handbuch der Kakteen" BLV, 1991 (German language and script)
7) Edward Anderson "The Cactus family" Timber Press, Incorporated, 2001
8) James Cullen, Sabina G. Knees, H. Suzanne Cubey "The European Garden Flora Flowering Plants: A Manual for the Identification of Plants Cultivated in Europe, Both Out-of-Doors and Under Glass" Cambridge University Press, 11/Aug/2011
9) N. L. Britton, J. N. Rose "The Cactaceae. Descriptions and Illustrations of Plants of the
Parodia werneri
Photo by: Alexander Arzberger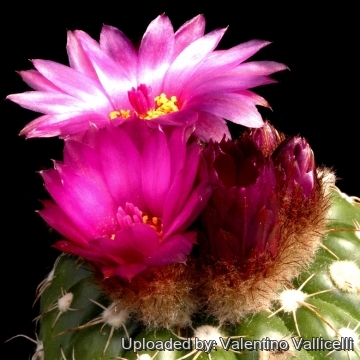 Parodia werneri
Photo by: Valentino Vallicelli
Parodia werneri
Photo by: Valentino Vallicelli
Parodia werneri
Photo by: Valentino Vallicelli
Parodia werneri
Photo by: Valentino Vallicelli
Parodia werneri
Photo by: Valentino Vallicelli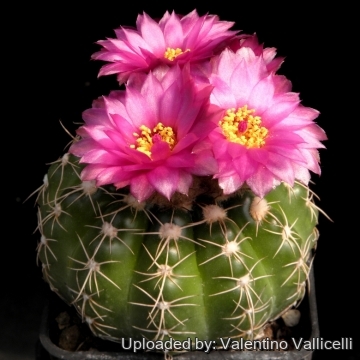 Parodia werneri
Photo by: Valentino Vallicelli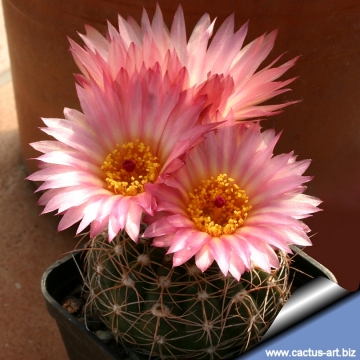 Parodia werneri
Photo by: Cactus Art
Cultivation and Propagation: Parodia werneriSN|19997]] (syn: Notocactus uebelmannianusSN|19998]]) is easy to grow and quite resistant to neglect. Nevertheless, it is appropriate to provide adequate growing conditions in order to obtain abundant blooms.
Growth rate: It is a relatively rapidly growing species that will make large clumps given the best conditions.
Soils: It needs a standard cactus mix soil with an excellent drainage. Prefer a low pH compost, avoid substrata too rich in limestone.
Repotting: This plant needs plenty of space for its roots, repotting should be done every other year or when the it has outgrown its pot. It is rot prone and should be planted in a shallow pot. Use pot with good drainage.
Watering: Needs regular water in spring to autumn in summer (it is more demanding than other cactus), but do not overwater, keep dry in winter or give them a very small amount about once a month in winter to prevent shrinkage and root loss.
Fertilization: Feed with a high potassium fertilizer in summer. Regular water in spring to autumn. I tend to
Hardiness: It is moderately frost resistant if kept dry and hardy to -4° C for short periods (depending on varieties and growing conditions). However warmth throughout the year will increase the grower's success (at temperatures from 5 to 15 degrees centigrade during rest season).
Exposition: The plant tolerates bright situations which encourages flowering and heavy spine production, but is likely to suffer from sun scorch or stunted growth if over exposed to direct sunlight during the hottest part of the day in summer. It grows well with filtered sunlight or afternoon shade.
Uses: It is an excellent plant for container growing. It look fine in a cold greenhouse and frame or outdoor in a rockery. It is also used as a rootstock for grafting delicate and slow growing cactus species.
Pests & diseases: It may be attractive to a variety of insects, but plants in good condition should be nearly pest-free, particularly if they are grown in a mineral potting-mix, with good exposure and ventilation. Nonetheless, there are several pests to watch for:
- Red spiders: Red spiders may be effectively rubbed up by watering the plants from above.
- Mealy bugs: Mealy bugs occasionally develop aerial into the new growth among the wool with disfiguring results, but the worst types develop underground on the roots and are invisible except by their effects.
- Scales: Scales are rarely a problem.
- Rot: This species is particularly easy and accommodating, seldom suffer of cryptogamic diseases. Rot it is only a minor problem with cacti if the plants are watered and "aired" correctly.
Propagation: Direct sow after last frost, offsets (if available) . Seeds germinate in 7-14 days at 21-27° C in spring, remove gradually the glass cover as soon the plants will be well rooted (ca 1-2 weeks) and keep ventilated, no full sun for young plants! To make a cutting twist off a branch and permit it to dry out a couple of weeks, lay it on the soil and insert the stem end partially into the soil. Try to keep the cutting somewhat upright so that the roots are able to grow downward.