Donate now to support the LLIFLE projects.
Your support is critical to our success.
Since 4 Aug 2013
sponsored link
Accepted Scientific Name: Rebutia canigueralii Cárdenas
Cact. Succ. J. (Los Angeles) 36: 26, figs. 1964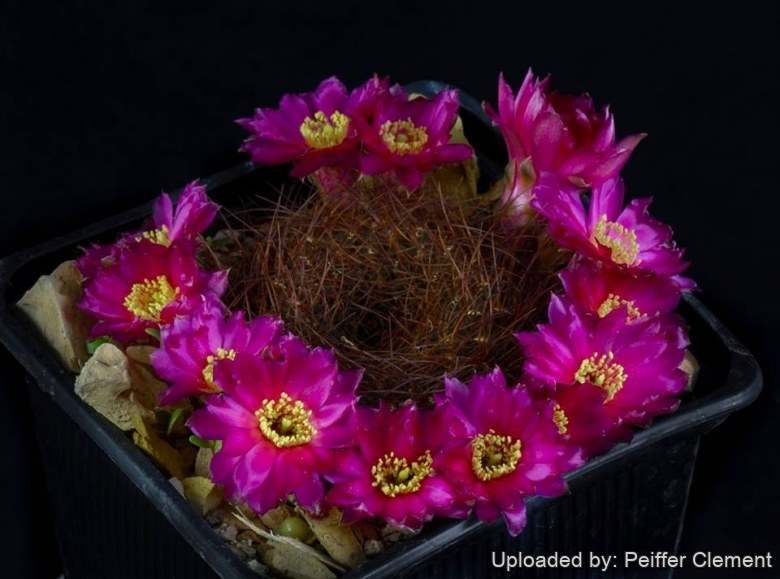 Sulcorebutia frankiana Photo by: Peiffer Clement
Origin and Habitat: Sucre to Los Alamos and adjacent areas, Chuquisaca, Bolivia.
Altitude: 2700-3400 metres above sea level.
Habitat and Ecology: Sulcorebutia albaSN|15093]] is found in rocky outcrops on top of hills and at the base of rocky ridges in deep soil amongst grass and shrubs together with a Echinopsis obrepandaSN|21037]]. It is also often found growing close to Rebutia canigueraliiSN|5130]] subs. alba (Sulcorebutia frankianaSN|15083]]) and flowering at the same time with no apparent hybridization.
Synonyms:
See all synonyms of Rebutia canigueralii
Description: Sulcorebutia frankianaSN|15093]] (often listed as Weingartia frankianaSN|5181]]) is one of the several forms of the very variable Rebutia canigueralii which form a complex of related taxon. The "frankiana" distinguish for the small-bodies with fox-brown spines and pink to magenta flowers.
Habit: It is a slow growing solitary cactus occasionally offsetting from the base to form clumps of many heads.
Stem: Solitary or offsetting from the base, small, dark-green, green to dark purple A characteristic of this species is that the offsets develop roots while still attached to the mother. Individual stems 2-4 cm tall, 3-5(-6) cm in diameter.
Ribs: With raised tubercles. In older plants tubercles are arranged in up to 13 spiral line merging in the apex.
Areoles: Narrow with short white felt.
Roots: Conical.
Radial spines: 10-18 fine, bristly, tight, pectinate, pointing diagonally and downward, brown, fox-brown or reddish. Sometime interlaced.
Central spines: None.
Flowers: About 4 cm in diameter, from the basal part of the stem, usually pink to dark-magenta or dark-red.
Phenology: Flowers are produced in late spring and remain open for three or four days.
Subspecies, varieties, forms and cultivars of plants belonging to the Rebutia canigueralli group
Bibliography: Major references and further lectures
1) James Cullen, Sabina G. Knees, H. Suzanne Cubey "The European Garden Flora Flowering Plants: A Manual for the Identification of Plants Cultivated in Europe, Both Out-of-Doors and Under Glass" Cambridge University Press, 11/Aug./2011
2) David Hunt, Nigel Taylor "The New Cactus Lexicon" DH Books, 2006
3) Edward F. Anderson "The Cactus Family" Timber Press, 2001
4) Anderson E. F.: "The Cactus Family" Timber Press, Portland, Oregon, 2001
5) Ritter Fr.: "Kakteen in Südamerika" Spangenberg, 1980
6) John Pilbeam "Sulcorebutia and Weingartia: A Collector's Guide" Timber Press, 1985
Sulcorebutia frankiana
Photo by: Alexander Arzberger
Sulcorebutia frankiana
Photo by: Peiffer Clement
Cultivation and Propagation: Rebutia canigueraliiSN|5130]] var. frankiana is a mountainous plants with a thick taproots and is susceptible to overwatering, it grows rather slowly and need a very good drainage to avoid rotting. It requires also an appropriate air circulation and is sometime grafted to avoid root problems.
Soil: It loves a very permeable, coarse mineral soil.
Repotting: It require a deep pot suited to accommodate the swollen root, repotting with fresh potting-mix should be done every other year or when the plant has outgrown its pot. However, repotting doesn't necessarily mean they'll need larger containers. To prevent rottenness it is also advisable to surround its root neck by very rough sand or grit, this help a fast water drainage.
Sun Exposure: Light shade when young, full sun later ( light shadow my be useful in the hot summer days)
Hardiness: Plants are and quite frost hardy -5 (-15)° C but preferably overwinter in a cool place (at 0/10°C). They need to be kept in a cool place during winter rest. This is important for the flowers, as well as for their health. Without this cool winter period, they normally won't get many buds.
Watering: It requires moderately watering through the growing season. This can be done weekly or more frequently during the summertime, if the weather is sunny enough, but allow to dry fully before watering again. Kept this way, plants will show a healthy growth. Keep rather dry as soon as the temperature starts dropping in October and keep it strictly dry throughout the winter quiescent period since ot is very sensitive to any moisture excesses. The plants may survives outside without protection in winter (cold hardy to -5° ) but is then somewhat prone to rot, too.
Fertilization: Give an occasional high potassium liquid feed during the active growing period.
Garden uses: It is a fine plant for a rock garden or container, contrasts well with agaves, yuccas, and low-growing flowering plants. Nice planted with Agave utahensisSN|581]], another very hardy species.
Pest and diseases: They are generally fairly easy to grow, especially if kept pest-free. They are susceptible to, scale insects and spider mite. Watch carefully for infestations of stem and root mealy bugs, and damage from these may well initiate fungal attack.
Propagation: Seed, cutting, grafting. Take cuttings spring or summer, let them dry till the ends callous well. Then replant them in fresh cactus soil that is ever so slightly moist, and keep it that way till they root. Surface sowing is the best; seeds germinate in 14-28 days at 20° C, remembering that seedlings dislike strong light and dry conditions.