Donate now to support the LLIFLE projects.
Your support is critical to our success.
Since 4 Aug 2013
Euphorbia horwoodii f. cristata Photo by: Valentino Vallicelli
Origin and Habitat: Nursery selected form (cultivated variety)
Synonyms:
See all synonyms of Euphorbia horwoodii
Description: The Euphorbia horwoodii f. cristata is a nice crested form with fan-shaped branches with pale greysh-blue and
olive green zig-zag bands. There exist also the standard species, not crested, which is a dwarf succulent that in the juvenile stage forms a sphere with completely reduced branches and form compact side-arms later as it gets old. Mature plants about 5 cm high and 12 cm in diameter. But rarely cultivated plants on a graft retain their incredibly compact, highly evolved habit and often become almost a thorn bush with long messy side branches up to 30 (or more) cm in diameter. There seems to be several quite different looking clones known in cultivation.
Root: Fibrous.
Stem: Younger seedlings develop a depressed globose body 3–5 cm in diameter, bearing usually spineless small spine-shields in 5 to 7 vertical rows, the branches are extremely short and completely retained within the spherical body an not clearly discernible. Older specimens produce tightly packed branches in 5 to7 vertical series. Branches straight, rarely rebranching, 10-15 mm thick, up to 5 cm long (but up to 15 cm long in cultivation), pale greyish- green or greysh-brown with darker markings; tubercles flattened.
Spine-shields: Obovate, about 2-5 mm long, 1-4 mm wide, quite distanced.
Stipular spines: Asbsent or produced only when the branches begin to elongate from the globose body about 3-10 mm long.
Spines: Vestigial, but evident on seedling plants (absent on mature specimen).
Inflorescences: Forms solitary cymes; peduncle and cyme-branches 2-3 mm long.
Flowers: Male and female cyathia yellowish on the same plant, 3,5 mm in diameter.
Fruit: Capsule 2,5 mm long and 3 mm in diameter, vaguely 3-lobed.
Seeds: 2 mm long and 1,4 mm in diameter, finely tuberculate.
Subspecies, varieties, forms and cultivars of plants belonging to the Euphorbia horwoodii group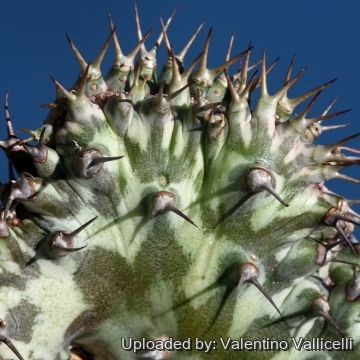 Euphorbia horwoodii f. cristata
Photo by: Valentino Vallicelli
Euphorbia horwoodii f. cristata
Photo by: © Plantemania
Euphorbia horwoodii f. cristata
Photo by: Valentino Vallicelli
Euphorbia horwoodii f. cristata
Photo by: Valentino Vallicelli
Euphorbia horwoodii f. cristata
Photo by: Valentino Vallicelli
Send a photo of this plant.
The gallery now contains thousands of pictures, however it is possible to do even more. We are, of course, seeking photos of species not yet shown in the gallery but not only that, we are also looking for better pictures than those already present.
Read More...
Cultivation and Propagation: It does best in a mineral soil, good drainage is essential. Water sparingly during the summer months and keep dry in winter. In the short growing season it likes ample water and in this period it grows rather quickly, though not for a long time. When not in growth, Euphorbia horwoodii is killed right away, when given too much water. It is a slow growing long lived plant and once established, it will be content in its position and with its soil for years. It can tolerate moderate shade, and a plant that has been growing in shade should be slowly hardened off before placing it in full sun as the plant will be severely scorched if moved too suddenly from shade into sun.
Propagation: It can be reproduced by cuttings or grafting.