Donate now to support the LLIFLE projects.
Your support is critical to our success.
Since 4 Aug 2013
Kalanchoe gastonis-bonnieri Photo by: Giuseppe Distefano
Origin and Habitat: Northwestern Madagascar. Introduced as a garden plant, it is now naturalized in tropical areas in the Amazon, Africa, Asia, Australia and elsewhere in the tropics.
Habitat: Kalanchoe gastonis-bonnieriSN|27797]]SN|27797]] is found on calcareous rocks in low open forest. It is often in association with: Euphorhia milii, Euphorhia turucalli, Euphorhia viguieri (Euphorbiaceae), Pachypodium baroniiSN|14804]]SN|14804]], Cynanchum eurychitoides (Asclepiadaceae) and Commiphora aprevalii (Burseraceae).

Synonyms:
See all synonyms of Kalanchoe gastonis-bonnieri
Accepted name in llifle Database:
Kalanchoe gastonis-bonnieri
Raym.-Hamet & H.Perrier
Ann. Sci. Nat., Bot. sér. 9, 16: 364–366 1912
Synonymy: 3
Common Names include:
ENGLISH:
Tree of Life, Sprouting Leaf, Sprout Leaf Plant, Palm Beachbells, Miracle Leaf, Leaf of Life, Good Luck Leaf, Giant Kalanchoe, Donkey ear plant, Donkey's ear, Life Plant, Donkey ears
MALAGASY:
Mananasilaitra
PORTUGUESE (Português):
Perrier planta-da-vida
SPANISH (Español):
Oreja de burro, Hojerilla, Ojaransín
Description: Kalanchoe gastonis-bonnieriSN|29116]]SN|27797]] is popular for its waxy red candelabras and large rosettes of purple-blotched, light green foliage and has some of the biggest leaves of all the species.
Habit: It is a fast growing perennial or biennial succulent with erect stems, usually branched only from the base, the whole plant is glabrous.
Leaves: Ovate-lanceolate, pointed tapered into a short, wide stalk, large and often enormous, from 15 to 50 cm long, but only 5-8 cm broad. At first upright, then bent and touching the ground with their end. Light green to bronze-green covered with a waxy white powder when young to look overall grey-green and splotched with maroon-brown blotches. Veins neat well spaced. Margins heavily jagged, sawtooth-like, when young, then rather serrated. These leaves often have small plantlets (bulbils) developing along the leaf margin near the the tip. These bulbils take root without leaving the leaf blade that feeds them like a stolons. At the time of flowering, all the leaves starts drying and bending downward.
Inflorescence: Terminal, biparous, bearing a compact large cyme, stalk 60-90 cm tall branching near the top with several clusters of hanging flower-buds. Usually it is a monocarpic specie, but sometimes it happens that the foot keeps some living buds and gives rise a new plant the following year.
Blooming season: In habitat (Antananarivo) the infloerescence begins to rise in autumn and opens in early winter (beginning of June). The whole flowering process lasts nearly 2 months at which point the "mother plant" declines but the many plantlets on the leaves develop rapidly to bloom within 2 to 3 years.
Flowers:* About 5 cm long. Buds pale peach-colored darkening and becomeing the calyces holding the, yellowish-green or darker reddish-salmon petals with flared tips and yellow interior. Filaments almost white with yellow anthers. Flowers of K. Gastonis-Bonnieri are similar to those of Kalanchoe pinnataSN|27797]]SN|29116]] but are smaller, and the calyxes are less inflated.
Chromosome number: 2n = 34.
Bibliography: Major referencens and further lectures
1) S. H. J. V. Rapanarivo "Pachypodium (Apocynaceae)" CRC Press, 01/Jun/1999
2) Bryophyllum gastonis-bonnieri (Raymond-Hamet & H. Perrier) Lauzac-Marchal in: "Flora of North America"Vol 8 [http://www.efloras.org]
3) Jacobsen, H. "Lexicon of Succulent Plants." Poole, Dorset: Blandford Press. 1970 (Trans. Lois Glass 1977).
4) Pierre Boiteau, Lucile Allorge-Boiteau "Kalanchoe (Crassulacées) de Madagascar: systématique, écophysiologie et phytochimie" KARTHALA Editions, 1995
5) Clive Innes "Complete Handbook of Cacti and Succulents" Van Nostrand Reinhold Company, 01/Dec/1981
6) Eggli, U. "The Illustrated Handbook of Succulent Plants; Crassulaceae." Berlin: Springer-Verlag. 2003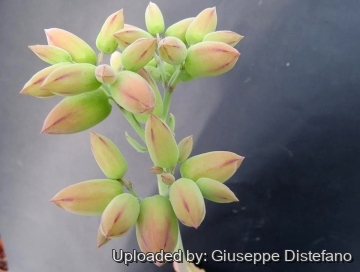 Kalanchoe gastonis-bonnieri
Photo by: Giuseppe Distefano
Kalanchoe gastonis-bonnieri
Photo by: Giuseppe Distefano
Kalanchoe gastonis-bonnieri
Photo by: Giuseppe Distefano
Send a photo of this plant.
The gallery now contains thousands of pictures, however it is possible to do even more. We are, of course, seeking photos of species not yet shown in the gallery but not only that, we are also looking for better pictures than those already present.
Read More...
Cultivation and Propagation: Kalanchoe gastonis-bonnieriSN|27797]]SN|27797]] are very easy pot plants due to their drought tolerance. Great in a hanging baskets or as a specimen or mass planted in a dry garden. They are absolutely gorgeous as a cut flower in a tall stemmed green vase. However the flowers are produced only by healthy plants grown on optimal conditions.
Potting mix: They thrive in nutrient porous soils consisting of equal parts of loam and sand, with pumice or lava grit added to ensure good drainage.
Repotting: Repot them in Autumn and left outside in a bright but cool and dry location until first frost. The cool temperature along with the shorter days at the back of the Solarium where the light levels are relatively low stimulate the production of abundant flower buds.
Hardiness: Kalanchoe gastonis-bonnieriSN|27797]]SN|27797]] isn't hardy to severe freeze, but seem to tolerate everything else. It need to be covered at least and housed in cold climates.
Exposure: Plant in full sun to partial shade, but will grow in pretty deep shade without much trouble.
Salt Tolerance: Medium.
Maintenance: Be careful with this species in outdoor culture, once it gets into a planting bed it is almost impossible to get rid of it, a few tiny plantlets seem to survive any attempt to weeding them out every time, and then they reproduce like crazy again. Good thing they don't have nasty roots- they can be pulled or scooped away where not wanted. It is best to grow them outside over the summer in an oversized pot so they grow large quickly with the extra fertilizing.
Propagation: This succulent produces its offspring at the margin of its leaves but every part of it will root and grow new plants.