Donate now to support the LLIFLE projects.
Your support is critical to our success.
Since 4 Aug 2013
Crassula rupestris Photo by: Valentino Vallicelli
Origin and Habitat: From Vanrhynsdorp in the west to the Fish River valley in the Eastern Cape.
Habitat: Crassula rupestris grow abundantly in rocky slopes or among boulders amongst other low bushes in the western slopes of mountains near the mouth of the Orange River.
Synonyms:
See all synonyms of Crassula rupestris
Common Names include:
ENGLISH:
Rosary plant, Kebab bush, Concertina plant, Rock Crassula, Rosary Vine, Necklace Vine
AFRIKAANS (Afrikaans):
Sosatiebos, Inrygertjie, Bergkraaltjies
CHINESE (中文):
翠星
DANISH (Dansk):
Kinesiske penge
GERMAN (Deutsch):
Felsen-Dickblatt
RUSSIAN (Русский):
Крассула скальная
Description: Crassula rupestris is a colourful and free-flowering, erect, spreading or decumbent much branched shrublets up to 500 mm high, with a fine display of greyish or pinkish leaves that have horny red or yellow margins. The leaves, borne on opposite sides of the shoots, connect at the base to give the foliage the appearance of a string of beads. Produces dense heads of many pink or white flowers in close bunches at the ends of the branches.
Stem: Round branched a palm and more in height clothed by leaves, with old leaves usually deciduous.
Root: Perennial branched.
Leaves: In closely-set opposite pairs, fleshy, ovate, to lance-shaped, quite entire, approximate convex and carinated beneath, obtuse or rounded, 3-15 mm long, 2-13 mm broad, smooth, glabrous or distinctly soft-hairy, leaf bases fused into a fleshy disc, glaucous-green, brownish-red or purple with red or yellow margin.
Inflorescences (thyrses): Capitate, trichotomous, short-stalked, rounded. Peduncle up to 20 mm long and partly hidden by upper leaves, with spreading bracts at least 3 mm long at base of inflorescence.
Flowers: White or pinkish. Pedicels glabrous of a purplish colour. Calyx lobes narrowly to broadly triangular, c. 1 mm long, pointed, glabrous, fleshy, glaucous-green often tinged red.
Corolla tubular, fused basally for 0,4-0,6 mm, white and more or less tinged pink or red. Stamens with brown anthers. Squamae oblong to square, 0,4-0,9 x 0,3-0,6 mm, usually truncate, rarely somewhat cuneate, fleshy yellow.
Blooming season: Spring (flowering in habitat from June to October).
Subspecies, varieties, forms and cultivars of plants belonging to the Crassula rupestris group
Bibliography: Major references and further lectures
1) John Wilkes "Encyclopaedia Londinensis" Volume 5 1810
2) George Don, Philip Miller "A General System of Gardening and Botany: Founded Upon Miller's Gardener's Dictionary, and Arranged According to the Natural System" Volume 3 C. J. G. and F. Rivington, 1834
3) Werner Rauh "The Wonderful World of Succulents: Cultivation and Description of Selected Succulent Plants Other Than Cacti" Smithsonian Institution Press, 1984
4) Doreen Court "Succulent Flora of Southern Africa" CRC Press, 01/giu/2000
5) Stuart Max Walters "The European Garden Flora: Dicotyledons" (Part I) Cambridge University Press, 1989
6) Gordon D. Rowley "The illustrated encyclopedia of succulents" Crown Publishers, 01/Aug/1978
7) Urs Eggl "Sukkulenten-Lexikon. Crassulaceae (Dickblattgewächse)." Eugen Ulmer, Stuttgart 2003
8) Hermann Jacobsen "Abromeitiella to Euphorbia" Blandford Press, 1960
9) Hermann Jacobsen "A handbook of succulent plants: descriptions, synonyms, and cultural details for succulents other than Cactaceae" Volume 1 Blandford Press, 1960
10) Toelken, H.R. 1997. "A revision of the genus Crassula" in southern Africa. Annals of the Bolus Herbarium 8,1-595.
11) Dr J.P. Roux "Flora of South Africa" 2003
12) Van Jaarsveld, E., Van Wyk, B-E. & Smith, G. "Succulents of South Africa." Tafelberg, Cape Town. 2000
13) John Manning "Field Guide to Fynbos" Struik, 2007
14) Reader's Digest Association "A-Z of rock garden & water plants" Reader's Digest Association, 01/Dec/1995
15) Vera Higgins "Succulent Plants Illustrated" Blandford Press, 1949
16) Leon Nell "The Garden Route and Little Karoo" Struik Publishers, 01/Jan/2003
17) Domitilla Raimondo "Red list of South African plants 2009" South African National Biodiversity Institute, 2009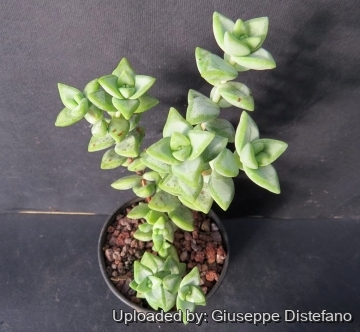 Crassula rupestris
Photo by: Giuseppe Distefano
Send a photo of this plant.
The gallery now contains thousands of pictures, however it is possible to do even more. We are, of course, seeking photos of species not yet shown in the gallery but not only that, we are also looking for better pictures than those already present.
Read More...
Cultivation and Propagation: Crassula rupestris are of easy cultivation and relatively low maintenance, which makes them a good houseplant, and can be an excellent subject for the beginning succulentophile (they can grow easily on window sills, verandas and in miniature succulent gardens where they are happy to share their habitat with other smaller succulent plants, or in outdoor rockeries). They are spring and autumn grower (summer dormant).
Soil: They prefer a very porous potting mix to increase drainage. A acid soil is ideal. You can grow a plant in a 6-10 cm pot for years and have perfectly happy plants. For best results, use a shallow pot.
Watering: Provide some water all year around, in the wild most of the growth occurs during spring and autumn. During the hot summer months, the soil should be kept moist but not overly wet. During the winter months, water only when the soil becomes completely dry. Wet soil quickly causes root and stem rot, especially during chilly winter months, but can re-root if taken care of. No water should ever be allowed to stand around the roots. Low ambient humidity is always needed.
Fertilization: The plants are fertilized only once during the growing season with a balanced fertilizer diluted to ½ the recommended strength.
Sun Exposure: They need full sun or bright, filtered light with ample airflow to stay compact, but avoid direct blasting sun in mid summer (with sun exposure the leaf develops a nice brownish tint), they do not do well in full shade as they tend to etiolate, fall over and rot easily.
Pest & diseases: Crassulas are sensitive to mealybugs.
Rot: Rot is only a minor problem with Crassula if the plants are watered and "aired" correctly. If they are not, fungicides won't help all that much. Care must be given in watering, keeping them warm and wet while growing, and cooler and dry when dormant.
Hardiness: Although the plants will survive mild frost if kept dry (hardy as low as -5° C) they should be protected from frost to prevent scarring. USDA 9b-12
Use: It is an excellent potted plant great for windowsill culture as well as in rock gardens. Indoors only in brightest position.
Pruning: Remove dead flower spikes only.
Propagation: They are easily propagated by the removal of off shoots, remove a lateral shoot and insert the basal part buried in the soil. This shoot should root within a month, and small offshootd will form at the base. They can also be grown from seed.