Donate now to support the LLIFLE projects.
Your support is critical to our success.
Since 4 Aug 2013
sponsored link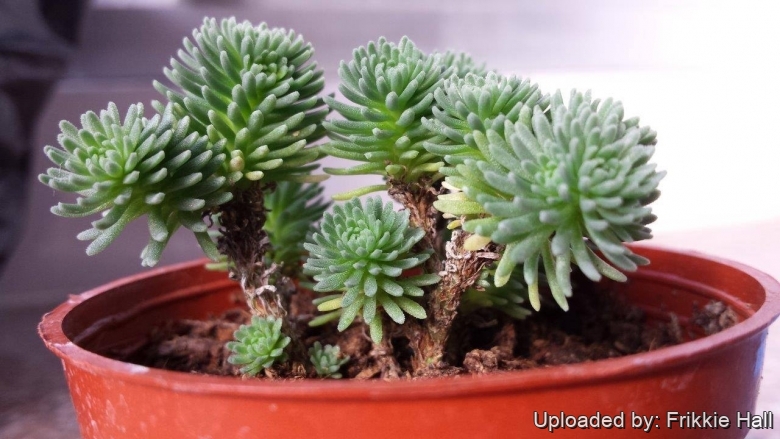 Sedum multiceps Photo by: Frikkie Hall
Origin and Habitat: Algeria (Kabylia and in the surroundings of Constantine)
Habitat: It grows especially on limestone rocks.
Synonyms:
Common Names include:
ENGLISH:
Miniature Joshua Tree, Baby Joshua Tree, Joshua Tree, Pigmy Joshua tree
Description: The pygmy Joshua tree (Sedum multiceps) is an Algerian stonecrop of unusual growth. It forms mats of congested woody stems set with foliage-tipped branches and covered in August with large yellow stars. Most of the tiny leaves are in clusters near the tips of the branches, giving the appearance of a miniature "Joshua Trees" (Yucca brevifolia) that grow in the American Southwest.
Habit: Sedum multiceps is a perennial partly deciduous hairless, much-branched sub-shrub. The leafy non-flowering shoots are erect or ascending, much branched, and end in a densely imbricate tuft of leaves and rarely grows more than 15 cm hight, but spreads rapidly when well sited.
Stem: It has a thick, trunk-like main stem with short branches, becoming brown and woody.
Leaves: Alternate, fleshy, very densely arranged, linear-oblong, obtuse glaucous greyish-green, Papillose, 6 mm lomg with a flat upper surface.
Flowers: Stalkless, star-shaped, bright yellow, about 13 mm across. Petal oblong-lanceolate, mucronate, wide-spreading.
Blooming season: It flowers during summer months.
Bibliography: Major references and further lectures
1) Hermann Jacobsen "Handbook of Succulent Plants" volume 2 Blandford Press 1960
2) James Cullen, Sabina G. Knees, H. Suzanne Cubey "The European Garden Flora Flowering Plants: A Manual for the Identification of Plants Cultivated in Europe, Both Out-of-Doors and Under Glass" Cambridge University Press, 11/ago/2011
3) "Sedum multiceps" in: Journal of the Royal horticultural Society 46: 264 (1920-1921)
4) S. H. Scott "The Observer's Book of Cacti and Other Succulents" F. Warne, 1958
5) "Sedum multiceps" in: Gardener's Chronicle 6: 204 (1876) & 10: 717 1878
Sedum multiceps
Photo by: Giuseppe Distefano
Sedum multiceps
Photo by: Carolina González
Sedum multiceps
Photo by: Giuseppe Distefano
Send a photo of this plant.
The gallery now contains thousands of pictures, however it is possible to do even more. We are, of course, seeking photos of species not yet shown in the gallery but not only that, we are also looking for better pictures than those already present.
Read More...
Cultivation and Propagation: The Dwarf Joshua trees is always an interesting plant and easy to grow in container or in the rock garden in frost free areas. It is tough, sun and drought tolerant, but also will do well in partial-shade. The plants make active growth in fall/winter, unlike most other stonecrop and propagate easily. Few plants need less attention than sedums.
Soil: Porous soil with adequate drainage. Outdoors it does not prefer rich loamy soil; gritty dirt with pea gravel suits it.
Repotting: Repot dwarf Joshua trees only if you see roots coming out of the pot's drainage holes.
Fertilization: Feed them once a season with a water-soluble foliage houseplant fertilizer diluted to half strength. For outdoor plants, cut old stems back to ground level in the spring, and apply a small amount of general-purpose fertilizer. Water well to move the fertilizer down to the roots.
Wateing: It takes little water & could rot if watered too often. During water thoroughly when soil is dry to the touch. It is not quite as succulent as the majority of the species and wilts although it can take a great deal of drought, it seem to do better with regular (but moderated) watering and it is best to refrain from watering it until the rootball has dried out completely. During the winter months, plants are watered very little. Its succulent leaves will store enough water to survive for long time. For outdoor plants, additional watering is rarely needed, except during extended droughts.
Exposition: It need full sun to light shade with ample airflow, but a sunny spot is nicest, though in warmer climates it needs protection from too much sun because it is not very heat tolerant.
Frost Tolerance: Protect from frost. They are intolerant of frost.
Uses: Use them in rock gardens, dish gardens or as a fast-spreading ground cover for dry areas, especially on slopes.
Propagation: This is a tough plant which spreads easily by cuttings in summer. Remove a small piece of stem and left for a period of 2-3 days to callous. Then insert the end of the stem into a container filled with fast-draining potting soil. Water it well, then put the pot in a bright spot out of direct sunshine. Water it whenever the top inch of soil feels dry. In a few weeks it will develop healthy roots. It can also be propagated by seeds; sprinkle the seeds over the surface of damp seed-starting medium; the seeds need light to germinate so don't cover with more medium. Cover the container with plastic wrap and place it in a brightly-lit spot where the temperature stays 10-15° C. Germination should take 15 to 30 days, but it can be erratic. Some seeds may germinate months later, especially if they are sown outdoors.