Donate now to support the LLIFLE projects.
Your support is critical to our success.
Since 4 Aug 2013
sponsored link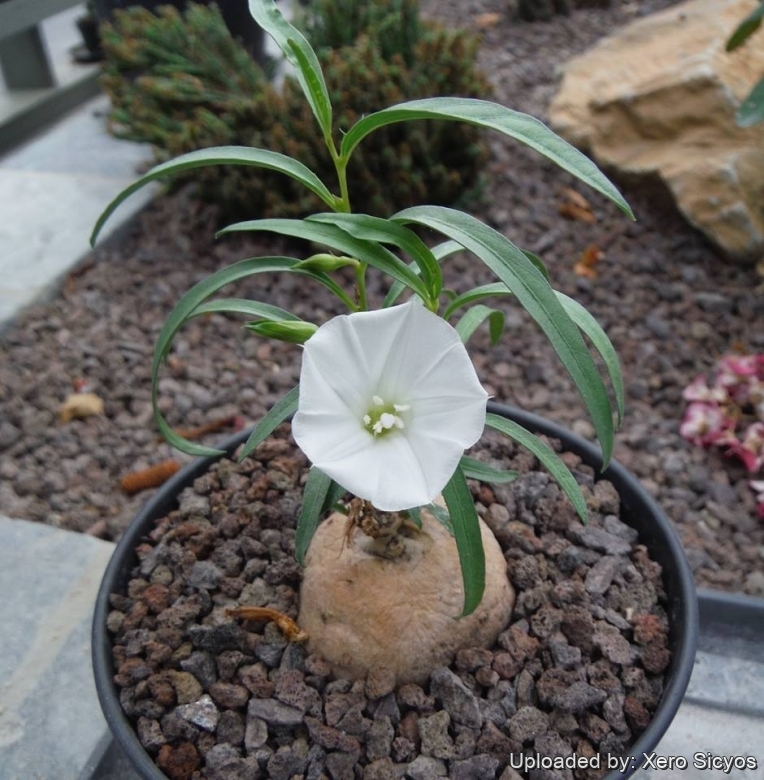 Ipomoea simplex Photo by: Xero Sicyos
Origin and Habitat: Ipomoea simplex is endemic to the central and eastern parts of southern Africa (Eastern Cape, Free State, Gauteng, KwaZulu-Natal, Limpopo, Mpumalanga).
Habitat and ecology: This species grows in grasslands and savannas, often on rocky ridges. Flowering time September to April (summer). It grows in localities with sparse and uncertain rainfall, prone to fire in the dry season, harsh winter conditions, in the company of other plants with long taproots, thick tuberous roots and underground woody stems, all adaptations to the demands of their habitat.
Synonyms:
See all synonyms of Ipomoea simplex
Accepted name in llifle Database:
Ipomoea simplex
Thunb.
Prodr. Pl. Cap. 36 1794.
Synonymy: 3
Common Names include:
ENGLISH:
Entire-leaved Ipomoea, Dwarf white ipomoea, simple stalked Ipomoea
SOTHO (SOUTHERN) (seSotho):
Seakhoe, seakgwa, akgwe, sehwakge, sewecliwetla
XHOSA (isiXhosa):
Igonsi
ZULU (isiZulu):
Igonsi
Description: Ipornoea simplex is a small, usually unbranched erect, hairless, perennial herb up to 10 cm high, with a tuberous rootstock not unlike those of a potato. The leaves are almost stalkless, long, narrow and tapering. I. simplex is close to both to Ipomoea bolusianaSN|23340]]SN|1008]] and Ipomoea welwitschiiSN|1008]]SN|23340]], but can be easily recognised by its smaller, white flowers usually opening 1 at a time, and simple leaves.
Rootstock (caudex): Solitary, globose, obovoid, oblong or fusiform, 4-7(-10) cm long and 2.5(-4) cm in diameter.
Stem: Persistent stems slender, erect, gnarled and rough, usually partly underground (1-9 cm long) woody), producing annually during spring herbaceous above ground branches that are slender, suberect, somewhat angular and furrowed, but feeble and scarcely able to support themselves woody at the base, glabrous, as is every part of the plant. After flowering the annual stems die down nearly to the tuber.
Leaves: Alternate, usually close together, 3-10 cm long, 1-1.2 cm wide, linear or linear-lanceolate, frequently recurved, entire, or sometimes with a few pinnately arranged lobes to 1.5 cm long, 1-6 mm wide. Blade tapering and almost petioled at the base, cuneate, rounded to shallowly subcordate the margins waved, quite entire. Apex acute to acuminate. Petioles nearly absent.
Flowers: Solitary in leaf axils from the lower part of the stem, handsome, each on a short peduncle, erect, pale cream to almost white. Peduncles less than 6 mm long. Bracteoles variable in size, linear to linear-subulate. Pedicels short. Calyx 12 mm long. Sepals lanceolate or oblong-lanceolate, acute, and at the apex somewhat recurved, sub-equal, inner ones longer, 9-15 mm long. Corolla broadly funnel-shaped, about 2.5-3.5 cm long, 2-2.5 cm in diameter, white, shallowly lobed. Stamens five, inserted at the base of the tube, included, two long, and three short. Filaments subulate, downy at the base, style included. Stigma large, capitate, two-lobed, granulated.
Fruit (capsule): Ball-shaped, glabrous up to 7-9 mm in diameter.
Seeds: Dark brown, 4-5 mm across, with brownish velvety fuzz.
Bibliography: Major references and further lectures
1) Urs Eggli "Illustrated Handbook of Succulent Plants: Dicotyledons" Springer Science & Business Media, 2002
2) J.P. Roux, "Flora of South Africa", 2003
3) J. G. Baker and C. H. Wright "Flora Capensis", Vol 4, 1904
4) Raimondo, D., von Staden, L., Foden, W., Victor, J.E., Helme, N.A., Turner, R.C., Kamundi, D.A. and Manyama, P.A. 2009. "Red List of South African Plants". Strelitzia 25. South African National Biodiversity Institute, Pretoria.
5) Foden, W. & Potter, L. 2005. Ipomoea simplex Thunb. National Assessment: Red List of South African Plants version 2017.1. Accessed on 2017/09/10
6) Rodney Moffett, "Sesotho Plant and Animal Names and Plants Used by the Basotho", AFRICAN SUN MeDIA, 01 October 2010
7) John Medley Wood, Maurice Smethurst Evans, "Natal Plants: Descriptions and Figures of Natal Indigenous Plants, with Notes on Their Distribution, Economic Value, Native Names, &c", Volumi 1-2 publisher not identified, 1899
8) Braam Van Wyk, Sasa Malan, Timothy Kemper Lowrey, Anne Pienaar, "Field Guide to the Wild Flowers of the Witwatersrand & Pretoria Region: Including the Magaliesberg & Suikerbosrand", Struik, 1988
9) Wikipedia contributors. "Ipomoea simplex." Wikipedia, The Free Encyclopedia. Wikipedia, The Free Encyclopedia, 30 Aug. 2017. Web. 11 Sep. 2017
10) Ipornoea simplex in: Annals of Horticulture, 1847
11) Ipornoea simplex in: Curtis's Botanical Magazine of 1846
12) "Medicinal and Poisonous Plants of Southern and Eastern Africa" - Watt and Breyer-Brandwijk (E&S Livingstone 1962)
13) Ipornoea simplex in: Botanische Jahrb
Ipomoea simplex
Photo by: © Plantemania
Send a photo of this plant.
The gallery now contains thousands of pictures, however it is possible to do even more. We are, of course, seeking photos of species not yet shown in the gallery but not only that, we are also looking for better pictures than those already present.
Read More...
Cultivation and Propagation: Ipomoea simplex is a handsome green house plant. It flowers in July and requires only a very small pot and no trellis.
Traditional uses: This species is notable for its large tuber or root, often eaten raw by Xhosa and Sotho herd boys.