Donate now to support the LLIFLE projects.
Your support is critical to our success.
Since 4 Aug 2013
Senecio anteuphorbium f. cristata Photo by: Valentino Vallicelli
Origin and Habitat: Cultivated. Garden origin.
Synonyms:
See all synonyms of Senecio anteuphorbium
Description: Senecio anteuphorbiumSN|19323]]SN|19323]] forma cristata is a very rare and nice succulent with a thin crested trunk. The grey-blue stem will form a convoluted fan-shaped cluster. The comb-shaped foliage is arranged only at the top of the trunk.
The standard Senecio anteuphorbium is a summer dormant deciduous suberect or scrambling shrub that can grow to 90 to 250 cm tall and wide, sometimes forming ragged thickets.
Stem: Ascending or arching, long joined, round, up to 12 mm in diameter, fleshy, glabrous, pale gray green, dotted and glaucous and striated with darker longitudinal lines; stems often much branched, with a characteristic "sea coral-like" look.
Leaves: Ephemeral, sessile, oblong-elliptic, obovate to cuneate appressed along the stems near the branch tips, 5-15 mm long, 2-6 mm wide, 2 mm thick, grey-green glaucous.
Inflorescence: Terminal few-headed umbelliform cymes up to 6 cm long bearing 3 to 7 spongy, rayless, discoid, capitula (flower heads) up to 2 cm in diameter that have white or greenish disk flowers with yellow stigmas and anthers. Contrarily to most succulent Senecio species that have usually foetid smelling flowers Senecio anteuphorbiumSN|19323]]SN|19323]] has sweetly fragrant blooms. Pappus inconspicuous 12-16 mm long.
Bloomtime: Fall/Winter.

Subspecies, varieties, forms and cultivars of plants belonging to the Senecio anteuphorbium group
Senecio anteuphorbium f. cristata
Photo by: © Plantemania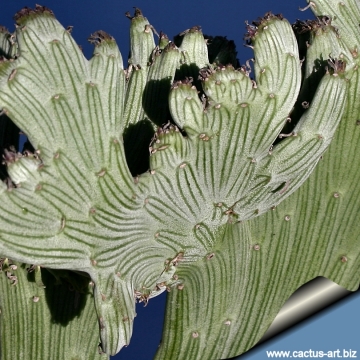 Senecio anteuphorbium f. cristata
Photo by: Cactus Art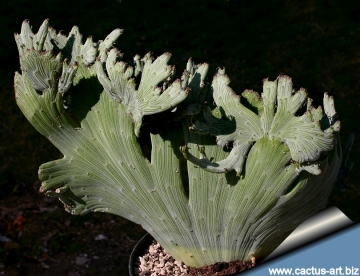 Senecio anteuphorbium f. cristata
Photo by: Cactus Art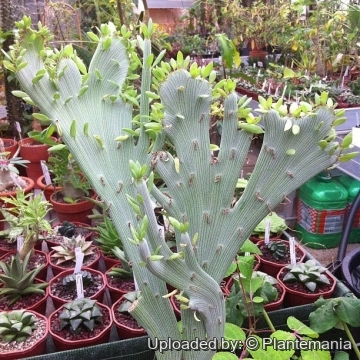 Senecio anteuphorbium f. cristata
Photo by: © Plantemania
Senecio anteuphorbium f. cristata
Photo by: Cactus Art
Send a photo of this plant.
The gallery now contains thousands of pictures, however it is possible to do even more. We are, of course, seeking photos of species not yet shown in the gallery but not only that, we are also looking for better pictures than those already present.
Read More...
Cultivation and Propagation: Senecio anteuphorbiumSN|19323]]SN|19323]] is a fast grower, good succulent ground cover in frost free zones and also a great container plant for full sun to partial shade. It is probably a winter grower and need water from October, when the new leaves can be seen forming on the growing tip In April the leaves begin to go yellow and drop off, so now it rests quite dry in to summer. But others suggest to water it moderately all year round as it tends to be an opportunistic plant that tend to grow in each time of the year whenever it has enough water in fair weather and rest when temperatures are too hot or too cool and may have several or sometimes no growth cycles in a year. It must be grown very hard in the nursery as close to the natural conditions as possible. This ensures that it keeps its compact habit. Fire resistant.
Soil: Give the plant a well drained, airy, growing medium which mainly consists of non organic material such us clay, pumice, lava grit, and only a little peat or leaf-mould.
Irrigation: It prefers to be on the dry side with good but infrequent waterings but looks best with regular watering in hot months. Less water during winter. No water should ever be allowed to stand around the roots. But it adapts to different growing conditions from extreme heat and drought, to high moisture as it has a low rot potential.
Hardiness: Hardy to approx to -5 degrees Celsius, it is cultivated in open air in the tropical and warm Mediterranean climate, with temperatures which it is good to keep over the 5°C, best 10-12°C, but can withstand light frost for short periods if very dry, in these situations it will better resist if sheltered by the winter rains, seen that the humidity and low temperatures render it more sensitive to rottenness. Plants in containers however, suffered major leaf loss. USDA Zone 9b to 12.
Exposure: Full sun to filtered light.
Maintenance: The flower stems need to be removed to keep a tidy appearance. This species do tend to get sort of leggy, which is particularly a problem if grown as a potted plant, and yearly pruning is often necessary to shape. Like quite small pots, repot in very later winter, early spring.
Propagation: It is easy to propagate by cuttings in late spring to summer, just take a cutting of the plant let it dry for 1 or 2 weeks and stuff it in the ground (preferably dry, loose, extremely well draining soil).
Crested growth: Unlike 'monstrose' varieties of plants, where the variation from normal growth is due to genetic mutation, crested growth can occur on normal plants. Sometimes it's due to variances in light intensity, or damage, but generally the causes are unknown. A crested plant may have some areas growing normally, and a cresting plant that looks like a brain, may revert to normal growth for no apparent reason. Any normal shoots should be removed to promote the growth of the crest.