Donate now to support the LLIFLE projects.
Your support is critical to our success.
Since 4 Aug 2013
Raphionacme procumbens Photo by: Sándor Horváth
Origin and Habitat: South West Africa: Mozambique, Zimbabwe, Swaziland and South Africa (KwaZulu-Natal, Limpopo, and Mpumalanga).
Altitude range: 350 - 1900 metres above sea level.
Habitat and ecology: This species grows in grassland and open woodland.
Synonyms:
Description: Raphionacme procumbensSN|32366]] is a perennial caudiciform asclepiad with herbaceous, procumbent annual hairy stems up to about 40 cm long, arising from a swollen underground, globose rootstock (caudex), up to 15 cm in diameter. Leaves are opposite, in well-spaced intervals, ovate and woolly-hairy. The deciduous flowers are small, star-shaped, green with purple trifid outer corona lobes at the centre, and are born in dense terminal globose heads.
Derivation of specific name: 'procumbens' (Latin), prostrate. A prostrate herb with stems lying along the ground; procumbent.
Tuber (caudex): Sub-spherical tuber, up to 15 cm in diameter, underground in the wild, often raised in cultivation.
Stem: Aerial shoot few to many, procumbent, branching at the base. Branches 15-40 cm long, softly villous-pubescent, brownish.
Leaves: Simple, arranged in an alternate or opposite position, in well-spaced intervals. Petiole 2-8 mm long. Lamina 2.5-7 cm long, 6-7 mm broad, narrowly oblong, oblong-lanceolate or elliptic-lanceolate, acute or obtuse and apiculate, leathery, dark green and velvety above with rather long soft spreading hairs, pale green and more densely velvety beneath, the margins entire. Petiole 3-13 mm long, velvety.
Inflorescences: Numerous, subglobose cymes in the upper leaf axils, about 12 mm in diameter, rather densely many-flowered, pendent on recurved or spreading, densely velvety. Peduncles 4-10 mm long, shortly villous-pubescent on all parts to the outside of the corolla. Bracts 2-3 mm long, subulate. Pedicels 2.5-3 mmlong, curved. Sepals 2.5-3 mm long, sometimes united into a short tube at the base, ovate-lanceolate, acuminate. Corolla-tube 1 mm long. Corolla lobes, green to greenish-yellow, maroon or violet at the base about 2.5-4 mm long, 1.5-2 mm broad, lanceolate or oblong-lanceolate, obtuse, with slightly incurved margins, glabrous on the inner face. Corona reddish to purple, fleshy, papillose, 3-segmented. Corona-lobes arising at the mouth of the corolla-tube, trifid, with the middle tooth scarcely 2 mm long and 3–4 times as long as the lateral teeth, but shorter than the anthers, which are connivent into an acute cone 1 mm long, with connate tips.
Blooming season: Summer (October- January).
Fruits (follicles): A single pendulous follicle, ovoid, 3.5- 4.5 cm long, pointed.
Bibliography: Major references and further lectures
1) N. E. Brown. "Raphiacme procumbens" In: "Flora of Tropical Africa" Vol 4, 1904.
2) Foden, W. & Potter, L. 2005. "Raphionacme procumbens Schltr." National Assessment: Red List of South African Plants version 2015.1. Accessed on 2016/01/17
3) Mapaura, A. & Timberlake, J. (eds) "A checklist of Zimbabwean vascular plants" Southern African Botanical Diversity Network Report No. 33 Sabonet, Pretoria and Harare Page 67.2004
4) Hyde, M.A., Wursten, B.T., Ballings, P. & Coates Palgrave, M. (2016). "Flora of Zimbabwe: Species information: Raphionacme procumbens."
http://www.zimbabweflora.co.zw/speciesdata/species.php?species_id=145390, retrieved 17 January 2016
5) Venter, H.J.T. "A Taxonomic revision of Raphionacme (Apocynaceae: Periplocoideae)" South African Journal of Botany 75(2) Pages 332 - 333. (Includes a picture). 2009
6) Gerrit Germishuizen "Transvaal Wild Flowers" Macmillan South Africa (Publishers), 1982
7) Urs Eggli, Leonard E. Newton "Etymological Dictionary of Succulent Plant Names" Springer Science & Business Media, 11 March 2004
Raphionacme procumbens
Photo by: Sándor Horváth
The fruit: a A single pendulous follicle, 3.5- 4.5 cm long, ovoid and pointed.
Photo by: © Plantemania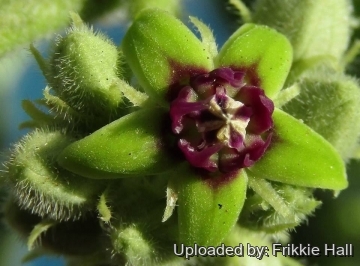 Raphionacme procumbens
Photo by: Frikkie Hall
Send a photo of this plant.
The gallery now contains thousands of pictures, however it is possible to do even more. We are, of course, seeking photos of species not yet shown in the gallery but not only that, we are also looking for better pictures than those already present.
Read More...
Cultivation and Propagation: In cultivation the plants are usually grown in semi shade, with the tubers wholly or (preferably) partially exposed to prevent scorching and rotting of the roots. This plant can take a good deal of water during active growth and should be watered only when not dormant. Keep dryish in winter. It should be overwintered in the greenhouse at temperatures over 12°C (avoid letting temperatures drop lower than 5° C). Use a very draining but rich soil. An error in cultivation may produce unsightly holes in the tuber.
Reproduction: This species can be reproduced by seeds.