Donate now to support the LLIFLE projects.
Your support is critical to our success.
Since 4 Aug 2013
Accepted Scientific Name: Adenium obesum Roem. & Schult.
Syst. Veg., ed. 15 bis [Roemer & Schultes] 4: 411. 1819
Adenium arabicum Photo by: © Plantemania
Fruiting habit at Djebel Haraz, Yemen.
Origin and Habitat: Adenium arabicumSN|111]]SN|111]] is native to a narrow strip near the coast on the western half of the southern Arabian peninsula (in Yemen and Saudi Arabia).
Habitat and ecology: It grows in an extremely arid environments squeezed in among granite rocks and cliffs together with several species of Euphorbia and many wild flowers.
Synonyms:
See all synonyms of Adenium obesum
Common Names include:
ENGLISH:
Adan bush, Desert rose, Elephants Foot,
ITALIAN (Italiano):
Rosa del deserto
Description: Adenium arabicumSN|116]]SN|111]] ia a remarkable succulent plant with a grotesquely swollen trunk which resembles a miniature baobab tree. It is a local or morphological form of Adenium obesumSN|116]]SN|116]], but commonly used to be know as a separate species and very popular with 'fat plant' collectors. Adenium arabicumSN|111]]SN|111]] is similar in appearance to Adenium obesumSN|116]]SN|116]], but creates a massive, more squat and fat caudex without much differentiation between trunk and branches and is the most succulent and "desert like" species. The fleshy trunks and short naked branches are also somewhat more coloured in purple to dark brown. It also has larger thick fleshy leaves shiny on the upper and lower surface, unlike Adenium obesumSN|111]]SN|116]] and is an extremely drought tolerant plant. Flowers, similar in many ways to those of Frangipani, range from pink to red and sparkles when sunlight shines on them. The form of the plant varies in habit and most plants in cultivation are hybrids, yet only a few cultivar names have a valid description. Plants grown from seed produce the most amazing shapes of caudex on just 10 years. It is monoecious and self-sterile.
Stem: 2–5 m tall, but usually much smaller, very fleshy, with a distinct irregular swollen base, or caudex up to 1 (-2) m in diameter. The caudex can be globose to conical with smooth, pale greyish-green, brown or black smooth epidermis. The branches are short, usually upright, tortuous and irregularly spaced . The plant contains a copious sticky watery or white sap that flows from broken stem as well as from other plant parts like leaves, roots etc.
Roots: Fleshy taproot.
Leaves: Spirally arranged in a terminal rosette on the ends of the branches, falling during the dry season, simple entire, spathulate to obovate, fleshy, leathery in texture, hairless, shiny dark green to bluish-green above, paler green and dull below, 5–12(-17) cm long and 2–6(-8) cm broad. The apex is rounded and the base tapers into a very short petiole usually less than 2 mm long.
Flowers: Bisexual, regular, very showy and found in multiples in short-stalked, terminal inflorescences . The flowers are tubular with flared lips 2–5 cm long, with the outer portion 4–6 cm diameter with five petals and wavy or crinkled margins. The flowers range from carmine-red to pinkish, often with a whitish blush outward of the throat. Sepals oval 6-12 mm long, pedicel 5-9 mm long.
Blooming time: It is capable of flowering all year, even sparingly during the winter, but it is more floriferous during the dry periods of Spring and Autumn. Flowers appear often before leaves on deciduous branches, and for a time the crown is adorned only with flowers as new leaves emerge below the flowers. The flowers opening for 2-3 days.
Fruit (capsules): The fruit is a twin follicle about 10-22 cm long resembling the horns of a steer, which release hundreds of seeds. The two follicles are united at the base, narrowly oblong, slightly recurved, pale grey-green to grey-brown, and tapering at both ends. When matured, the follicles dehisce (split) along one side to release the seeds.
Seeds: Long narrow cylindrical, 10-14 mm long, brown slightly scabrid, with a long silky dirty-white to golden-brown hairy tuft (pappus) at each end so that the seed is blown along the ground like an axle with two wheels.
Chromosome number: 2n = 22
Subspecies, varieties, forms and cultivars of plants belonging to the Adenium obesum group
Bibliography: Major references and further lectures
1) Werner Rauh "The Wonderful World of Succulents: Cultivation and Description of Selected Succulent Plants Other Than Cacti" Smithsonian Institution Press, 1984
2) Urs Eggli "Illustrated Handbook of Succulent Plants: Dicotyledons" Springer Science & Business Media, 2002
3) Guides and Handbooks of Africa Publishing Company "Welcome to Aden: A Comprehensive Guidebook" Guides and handbooks of Africa publishing Company, 1963
- Plants grown from seed produce the most amazing shapes of caudex on just 10 years.
Photo by: Xero Sicyos
Adenium arabicum from seed.
Photo by: © Plantemania
Adenium arabicum seedling. They start Yoga from the time of birth.
Photo by: K.k. Agrawal
Adenium arabicum
Photo by: Xero Sicyos
Adenium arabicum Djebel Haraz, Yemen.
Photo by: © Plantemania
Adenium arabicum
Photo by: © Plantemania
Adenium arabicum 'Haraz'
Photo by: © Plantemania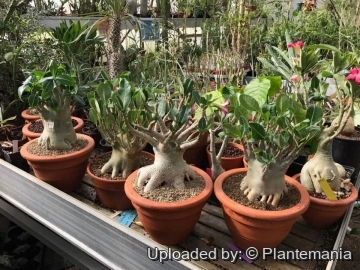 Adenium arabicum
Photo by: © Plantemania
Cultivation and Propagation: Originally from arid to semi-arid regions, Adenium obesumSN|116]]SN|116]] is nonetheless frequently cultivated in humid tropical or semi-tropical areas. It is nearly evergreen if grown in a warm greenhouse or tropical conditions a and watered, but can loose its leaves and forced into a long winter dormancy in cooler climate. New growth begins early in spring. Outdoors it thrives on a xeric watering regime as required by cacti. Under ideal conditions, it can live for hundreds of years.
Pots and soils: It like pots with generous drain holes on sides and bottom, need a very porous potting medium media (add pumice, vulcanite, perlite, sand or brick chips into regular soil, or a cactus mix) seeing that the main trunk is planted with the majority of the roots below the caudex line. Its rare that adeniums will use the upper third of their soil and often this area serves like a mulch or support for the stem. Avoid choosing a very deep pot as this might encourage an oblong (carrot-shaped) underground caudex. Outdoors they adapt to a wide range drained soils.
Fertilization: To make plants develop a large swollen base/trunk and to increase flowering, they require a fertilizer rich in potassium, phosphorus and micronutrient without a too high nitrogen content. Fertilize regularly while the plant is growing.
Exposition: Bright filtered light is best but in areas where light is not as burning, plants may be kept outdoors in full sun unprotected but remember that caudex is very susceptible to sun scalding. Plant becomes leggy in the shade and its flowering reduced.
Water: Water plants preferably in the early mornings until the soil is well wetted and let excess water drains from the pot base. Watering can be done as they become drier during active growth season. Never allow plants to dry out too often as this causes them to go into early dormancy. Many plants simply never get enough water to grow and flower adequately so keep them active and growing by providing them with all the essential necessities. Water sparingly during winter months.
Drought Tolerance: High.
Hardiness: It is frost sensitive and cannot endure freezing temperatures (U.S.D.A. Zone: 10a-12). If temperatures regularly fall below 2° C, the plant should be grown in a container for moving into a cold protected area. Partial defoliation may also occur at other times in response to weather change. As an indoor plant ensures a minimum temperature in winter of 10 °C. Where year-round temperature is sufficiently warm, desert rose will not become dormant and deciduous and may be ever-blooming.
Salt Tolerance: Medium.
Maintenance: They should be re-potted frequently until they attain their desired size. Plant appearance varies from plant to plant so prune accordingly. Pruning above the leaves is more likely
to produce multiple branching than pruning further down on the plant on bare stem. Pinching or pruning should be done once a year during the growing season. Pruning during winter often fails to generate robust branching.
Uses: Specimen plant; patio; flowering container plant; Bonsai, rock gardens, pool side.
Bonsai: Adenium obesumSN|116]]SN|116]] is suitable for most bonsai styles, it is a relatively fast grower: a seedling can develop into a rewarding bonsai in as little as five years. Many specimens develop interesting large, twisted bases and roots. Branches can be wired and growing tips pruned or pinched to encourage branching and compact. Keeping a plant root-bound is one method of achieving a bonsai plant. After the first 3 year's of the plant's life, raise the plant at each re-potting, exposing more and more of the underground caudex and roots.
Pests & diseases: Occasional aphids, mealybugs, scales and leaf spots. It is especially susceptible to spider mite infestation.
Warning: All parts of Desert Rose are potentially very poisonous and should be kept out of reach of children and animals. It must be handled with care. avoiding direct contact by always using gloves or covering your hands with plastic bags when handling it.
Propagation: Seed, grafting or cuttings. Seeds are placed on the surface of the soil mixture for germination. Seeds germinate easily, and seedlings grow without any special attention. Seedlings are also grown as the rootstock for grafted plants. The numerous hybrids are propagated mainly by grafting on to seedling rootstock. While plants grown from seed are more likely to have the swollen caudex at a young age, with time many cutting-grown plants cannot be distinguished from seedlings. Propagation by cutting is also possible, cut end shoots and let dry for a day or two. Be careful of the toxic sap. Stick shoots into a pot of moist soil, and provide bottom heat. Keep soil moist. The best time for either method is in the spring.