Donate now to support the LLIFLE projects.
Your support is critical to our success.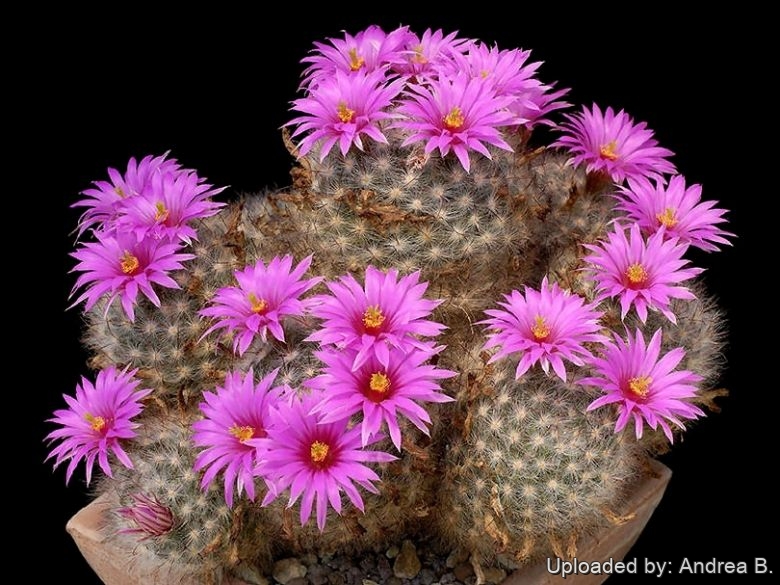 Mammillaria guelzowiana Photo by: Andrea B.
( 7 cm flowers) This is one of the most spectacularly flowered species and some say that this is the most beautiful of all the Mammillarias. It has soft stems obscured by spines, When not in flower, the body is not much different from the familiar Mammillaria bocasana
Origin and Habitat: Mammillaria guelzowianaSN|5405]]SN|5405]] is found west of Nazas in Durango, Mexico an additional population has been recorded at north of Mina de Navidad.
Altitude range: It grows at an altitude of 1300-1700 metres above sea level.
Habitat: Grassy mountain tops on volcanic rocky outcroppings in semi-desert together with Thelocactus heterochromusSN|15814]]SN|15814]], Coryphantha longicornisSN|10216]]SN|10216]], Echinofossulocactus multicostatusSN|1726]]SN|1726]], Echinocereus durangensisSN|8503]]SN|7082]], Echinocereus pectinatusSN|7082]]SN|8503]], Fouquieria splendensSN|15717]]SN|15717]], and Opuntia imbricataSN|8157]]SN|8157]].
Mammillaria guelzowianaSN|5405]]SN|5405]] was common. This species had an estimated population size of more than 10,000 plants in 1994. A subsequent visit in 2000 revealed a population reduced by more than 95% to less than 500, apparently largely a result of the 1997 freeze on Mexico's altiplano. It is critically Endangered. The major threats for this species are temperature extremes, and probably illegal collecting.
Synonyms:
See all synonyms of Mammillaria guelzowiana
Accepted name in llifle Database:
Mammillaria guelzowiana
Werderm.
Z. Sukkulentenk. iii. 356 (1928)
Synonymy: 4
Cultivars (1):
Common Names include:
RUSSIAN (Русский):
Маммиллярия Гюльцова
SPANISH (Español):
Biznaguita, Biznaguita
Description: Mammillaria guelzowianaSN|5405]]SN|5405]] is a soft small solitary or clustering cactus, with the stems obscured by spines, but this specie tends to impress because of its bright magenta flower about 6 cm in diameter - very large for a Mammillaria!
Stem: Globose depressed apically, 4-10 cm in diameter up to 7 cm high. Without latex.
Tubercles: Conical to cylindrical, flabby. The axil is naked.
Radial spines: 60-80, many white hair-like, with some other tan stiff radials, twisted, smooth, to 15 mm long.
Central spines: 1 - 6, slender, needle-like, reddish brown to yellow, 8 - 25 mm (0.3 - 1 in) long, one hooked.
Flowers: Bell shaped to funnelform Bright pink to intense purplish red with light scent, to 4 cm long and 7 cm in diameter.
Blooming season: June/July
Fruits: Nearly globose, pale red or yellowish white, to 8 mm long.
Seeds: Black.
Subspecies, varieties, forms and cultivars of plants belonging to the Mammillaria guelzowiana group
Bibliography: Major references and further lectures:
1) James Cullen, Sabina G. Knees, H. Suzanne Cubey "The European Garden Flora Flowering Plants: A Manual for the Identification of Plants Cultivated in Europe, Both Out-of-Doors and Under Glass" Cambridge University Press, 11/Aug/2011
2) Stuart Max Walters "The European garden flora. 3.[Angiospermae], Dicotyledons. [Casuarinaceae to Aristolochiaceae]" Cambridge University Press, 1989
3) Edward Anderson "The Cactus family" Timber Press, Incorporated, 2001
4) Hiroshi Hirao "Colour encyclopaedia of cacti" Seibundo Shinkosha, 1979
5) David R Hunt; Nigel P Taylor; Graham Charles; International Cactaceae Systematics Group. "The New Cactus Lexicon" dh books, 2006
6) Fitz Maurice, W.A. & Fitz Maurice, B 2013. Mammillaria guelzowiana. The IUCN Red List of Threatened Species. Version 2015.2. <www.iucnredlist.org>. Downloaded on 07 July 2015.
Mammillaria guelzowiana
Photo by: Colin Bundred
Mammillaria guelzowiana
Photo by: Julio C. García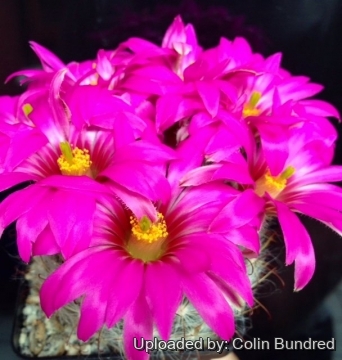 Mammillaria guelzowiana
Photo by: Colin Bundred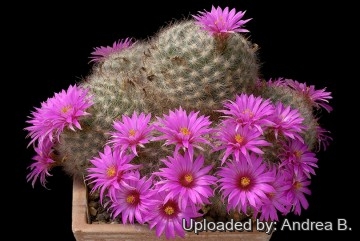 Mammillaria guelzowiana
Photo by: Andrea B.
Mammillaria guelzowiana
Photo by: Valentino Vallicelli
Mammillaria guelzowiana
Photo by: Valentino Vallicelli
Mammillaria guelzowiana
Photo by: Alexander Arzberger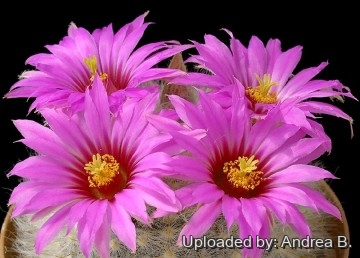 Mammillaria guelzowiana
Photo by: Andrea B.
Cultivation and Propagation: It is one of the more difficult species to grow long enough to produce clumps, but if grown correctly, it will reward the grower with generous displays of purple flowers; plants should be allowed to become crowded in their pot. Keep in shallow pots.
Watering Needs: Need regular water but do not water again until dry as it is specially sensitive to over watering. Also, it is a species that is dormant in the winter and require very little water (maybe even none) during the cold months.
Frost Tolerance: Light frost protection required. Minimum of 5ºC for safe growing (but hardy up to -5°C or less.)
Sun Exposure: High levels of light are needed to flower and for good spine development. Can be sunburned if moved from shade/greenhouse into full sun too quickly. During the spring it may be able to take full sun until the heat arrives at the end of spring. In an area that has hot afternoon sun, it may be able to take full morning sun, but requires afternoon shade or afternoon light shade.
Propagation: Seeds (usually) or offsets that appear at the base; leave them attached to form a cluster, or wait until they are 1/3 the size of the parent and then detach and plant.