Donate now to support the LLIFLE projects.
Your support is critical to our success.
Since 4 Aug 2013
sponsored link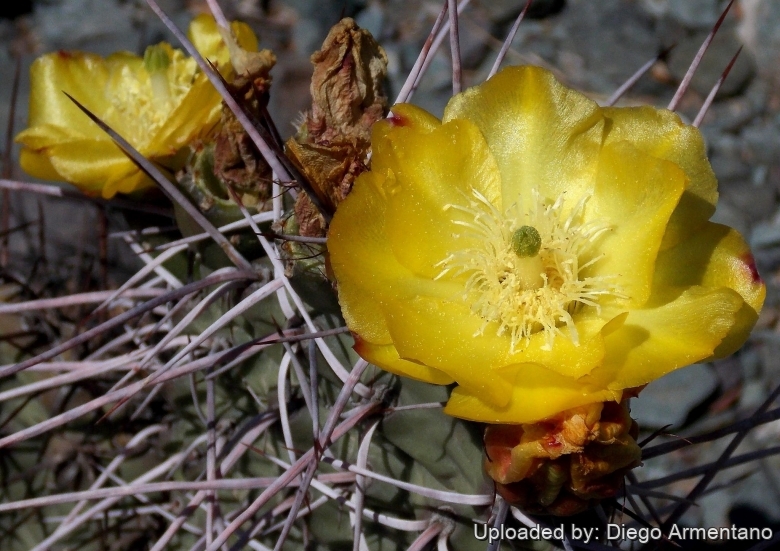 Opuntia sulphurea Photo by: Diego Armentano
Purmamarca, Province of Jujuy, Argentina, 2325 metres above sea level.
Origin and Habitat: Dry parts of north- western Argentina (Catamarca, Chaco, Córdoba, Jujuy, La Rioja, Mendoza, Neuquén, Río Negro, Salta, Santiago del Estero, Santa Fe, Corrientes, Formosa, Buenos Aires, San Luis, San Juan, and Tucumán) recorded also from Chile, Bolivia (Cochabamba, Santa Cruz, and Tarija. In Paraguay, it is present in Boquerón and Alto Paraguay departments) and western Uruguay. It is also naturalised in localised areas of southern Queensland (Australia), and elsewhere. Opuntia sulphureaSN|32053]]SN|32053]] is is widely distributed, is common and abundant throughout its range
Altitude range: Opuntia sulphureaSN|32053]]SN|32053]] grows between sea level and 3,500 metres above sea level.
Habitat and Ecology: This cactus grows in stony areas in dry places, such as hillsides, clearings of the xerophilous mountains, and in disturbed woodlands. Markedly nitrophilous, it likes areas that are eutrophied due to livestock . It also grows in clayey soils. Some marginal subpopulations may be affected by agricultural activities. However, this does not represent a major threat to the species. It is favored by livestock grazing. It was verified that the population of O. sulphurea increased from 1.3 plants/100 m2 in the lightly grazed area to 15.9 plants/100 m2
in the overgrazed area, and this increase was favoured by agamic propagation via cladodes and facilitated for the livestock.
Synonyms:
See all synonyms of Opuntia sulphurea
Common Names include:
SPANISH (Español):
penca, penquilla, penca chica
Description: Opuntia sulphureaSN|32053]]SN|32053]] is a low and spreading or erect shrub, forming broad clumps 1 to 2 meters in diameter, 30-40 cm high. The joints are conspicuously tuberculate. The spines are very dense and stiff, whitish at first, but somewhat yellowish, horncolored, brownish to red in age. Several varieties of this species, some of which have been described, are given, such as laevior, major, minor, and pallidior. Three subspecies are recognized, the nominate, Subsp. brachyacantha and Subsp. spinibarbis. All have sulphur yellow flowers (hence the specific name) .
Stems: Joints flattened, oblong to obovate, (8-)12 to 25(-30) cm long, , 3-7 cm wide, thick, strongly tuberculate, glabrous, usually green but sometimes purplish; terminal joints easily detached.
Leaves: Conical, about 2-3.5 mm long.
Areoles: Small, white, borne on protuberances.
Glochids: Yellowish red to brown.
Spines: 1 to 8, acicular, stiff, thick, generally straight but sometimes curved and twisted, spreading, 3 to 10 cm long, yellowish, brownish, red or grey, but sometimes quite pale (white and pink) at first.
Flowers: About 4 cm. long, yellow.
Fruit: with a deep umbilicus, short, about 1 cm. long.
Subspecies, varieties, forms and cultivars of plants belonging to the Opuntia sulphurea group
Bibliography: Major references and further lectures
1) Hunt, D., Taylor, N. and Charles, G. "The New Cactus Lexicon." dh Books, Milborne Port, UK. 2006.
2) N. L. Britton, J. N. Rose: "The Cactaceae. Descriptions and Illustrations of Plants of the Cactus Family." Vol I, The Carnegie Institution of Washington, Washington 1919
3) Oakley, L., Pin, A. & Duarte, W. 2013. Opuntia sulphurea. The IUCN Red List of Threatened Species 2013: e.T152651A661678. http://dx.doi.org/10.2305/IUCN.UK.2013-1.RLTS.T152651A661678.en. Downloaded on 22 November 2015.
4) Australia. Bureau of Flora and Fauna "Flora of Australia: Phytolaccaceae to Chenopodiaceae" Australian Government Publishing Service, 1984
5) Anderson, E. F. "The cactus family" [lists as "O. sulfurea" G. Don]. 2001.
6) Backeberg, C. "Die Cactaceae." 412–413.1958.
7) Backeberg, C. "Das Kakteen Lexikon." 331–332.1977.
8) Benson, L. "The cacti of the United States and Canada." [mentions].1982.
9) George, A. S., ed. 1 "Flora of Australia." [lists as O. sulphurea G. Don ex Loudon]. 1980.
10) Hosking, J. R. et al. "Distribution and biological control of cactus species in eastern Australia." Pl. Protect. Quart. 3:120. 1988.
11) Iliff, J. "The Andean opuntias: an annotated checklist of the indigenous non-platyopuntioid opuntias (Cactaceae - Opuntioideae) of South America". Succ. Pl. Res. 6:234. 2002.
12) Lazarides, M. & B. Hince. "CSIRO Handbook of Economic Plants of Australia." [lists as O. sulphurea G. Don ex Loudon].1993.
13) Liberty Hyde Bailey Hortorium. "Hortus third." [lists as O. sulphurea D. Don].1976.
14) Zuloaga, F. O. & O. Morrone, eds. "Catálogo de las plantas vasculares de la República Argentina. I. Pteridophyta, Gymnospermae y Angiospermae (Monocotyledonae), II. Dicotyledonae." Monogr. Syst. Bot. Missouri Bot. Gard. 60, 74., 1999 1996.
15) ***Adolfo María, H. "Nóm. Pl. Recol. Valle Cochabamba" 2: 17–86. Colegio La Salle, Cochabamba. 1966.
16) De la Barra, N. B. "Reconstr. Evol. Paisaje Veg. Cochabamba" i–v, 1–174. Tesis, Universidad Mayor San Simón, Cochabamba.1997.
17) Foster, R. C. "A catalogue of the ferns and flowering plants of Bolivia." Contr. Gray Herb. 184: 1–223.1958.
18) Navarro, G. "Catálago ecológico preliminar de las cactáceas de Bolivia." Lazaroa 17: 33–84.1996.
19) Saravia, E. F. W "Estud. Veg. Prov. Campero Mizque Cochabamba" i–v, 1–92. Tesis, Universidad Mayor de San Simón, Cochabamba.1996.
20) Serrano, M. & J. Terán. "Identific. Esp. Veg. Chuquisaca" 1–129. PLAFOR, Intercooperación, Fundación Ceibo, Sucre.1998 [2000].
21) E. Méndez "Opuntia sulphurea, an indicator of overgrazing in Larrea divaricata scrublands. Western Mendoza. (Argentina)" Revista de la Facultad de Ciencias Agrarias Tomo XXXVIII. N° 1. Año 2006. 27-34.
Pucara de Tilcara (Argentine province of Jujuy). Opuntia sulphurea growing on Trichocereus pasacana.
Photo by: Diego Armentano
Opuntia sulphurea
Photo by: Valentino Vallicelli
Opuntia sulphurea
Photo by: Valentino Vallicelli
Send a photo of this plant.
The gallery now contains thousands of pictures, however it is possible to do even more. We are, of course, seeking photos of species not yet shown in the gallery but not only that, we are also looking for better pictures than those already present.
Read More...
Cultivation and Propagation: Opuntia sulphureaSN|32053]]SN|32053]] is a low maintenance plant that tolerate considerable neglect and will naturalize, it is drought-tolerant; and suitable for xeriscaping. Easy to cultivate outdoor in dry, sandy or gravely, well-drained soils. May be grown in clay soils as long as drainage is good and soils do not remain wet, it is very adaptable both in acid, neutral and basic (alkaline) soils, but prefers a pH in the range 6 to 7.5. No serious insect or disease problems.
Watering Needs: Outdoors little or no water once established, in the green house irrigate regularly from March to october, keep fairly dry in winter, tolerate dry condition but suffer if exposed to prolonged and severe drought. A position at the base of a south-facing wall or somewhere that can be protected from winter rain is best for this plant, but is however resistant to moisture and rain.
Sun Exposure: Full sun (only), in semi shaded position wont produce many flowers.
Frost hardiness: They are reasonably cold hardy , tolerating temperatures down to -5° to -12° C (USDA: 8-10) depending on clone, they are also quite tolerant of winter wet. (In good drained soils)
Propagation: Propagated by cuttings of leaf pads at any time in the growing season. (Allow cut surface to callus over before planting).