Donate now to support the LLIFLE projects.
Your support is critical to our success.
Since 4 Aug 2013
sponsored link
Pereskia aculeata Photo by: Julio C. García
Origin and Habitat: Pereskia aculeata is is widely distributed. It has been recorded from Brazil (Maranhão, Pernambuco, Alagoas, Sergipe, Bahia, Minas Gerais, Ceará and Espírito Santo), eastern Paraguay, eastern Argentina (Bonaire, Sint Eustatius and Saba), Venezuela (Miranda, Carabobo, and Distrito Federal, Falcón, Zuliá, Táchira, and Bolívar), French Guiana, Guyana, Suriname, Panama,Central America, the Caribbean (Cuba, Curaçao, Dominican Republic, Dominica, Haiti, Lesser Antilles and Trinidad and Tobago,Saint Martin (French part); Sint Maarten (Dutch part)), northern South America and in Florida in the U.S and Mexico, but perhaps only as an escape. It was once recorded from Peru. The species is also cultivated and an aggressive invader in parts of the world where it has been introduced.
Altitude range: It occurs from sea level to 1,200 metres above sea level.
Habitat and Ecology: This species occurs in humid to sub-humid evergreen forests on inselbergs of gneiss or granite and also on limestone. The plant is often seen growing over vegetation and rocks. Capuchin and brown howler monkeys feed on the fruits of P. aculeata, and in some regions of Brazil they are its main dispersers. This species is common and widespread. The population trend is decreasing at the same rate as the forest in which it occurs; however, the species is still quite abundant. This plant is a declared weed in South Africa where it does extensive damage to forest areas by smothering indigenous trees. The plant has a tendency to form large, impenetrable clumps and the spines on the stems make control of large infestations difficult. The plants can regrow from leaves or pieces of stem.
Synonyms:
See all synonyms of Pereskia aculeata
Accepted name in llifle Database:
Pereskia aculeata
Mill.
Gard. Dict., ed. 8. s.p. 1768
Synonymy: 14
Cultivars (1):
Common Names include:
ENGLISH:
Barbados Gooseberry, Blade apple, Lemon vine, West Indian gooseberry, Barbados Shrub, Leafy Cactus, Rose Cactus, Surinam Gooseberry, Ora-pro-nobis
CHINESE (中文):
木麒麟
DUTCH (Nederlands):
Blad apple
FRENCH (Français):
Ronce d'Amérique, Groseillier des Barbades
LITHUANIAN (Lietuvių):
Dygliuotoji pereskija
RUSSIAN (Русский):
Барбадосский крыжовник, Переския колючая, Переския шиповатая, Переския акулеата
SPANISH (Español):
Ramo de Novia, Jasmin de Uvas, Grosellero, Camelia Blanca, Bugambilia Blanca, Sacharosa (Argentina)
SWEDISH (Svenska):
Trädkaktus
Description: Pereskia aculeata is a shrub, at first erect, but the branches often long, clambering, and growing to 10 m tall in trees. Like other members of the genus Pereskia, these plants are unusual cacti with spiny non-succulent stems and large leaves. In tropical America the plant climbs over walls, rocks, and trees, and at flowering time is covered with showy, fragrant blossoms, followed by beautiful clusters of yellow berries, but its strong, almost offensive odour makes it objectionable for growing near habitations. This species consists of several races, differing in shape and size of the leaves and in colour of the flowers.
Stems: Scrambling vine s 3 to 10 meters long and 2–3 cm thick.
Leaves: Short-petioled, simple, entire, lanceolate to oblong, or ovate, short-acuminate at the apex, tapering or rounded at base, 4–11 cm long and 1.5–4 cm broad, and deciduous in the dry season.
Spines: Spines in the axils of the leaves of younger stem, paired, rarely in threes, short, and hooked. Spines on older, lower part of stem solitary or 2 or 3 together, slender, woody and straight.
Flowers: Numerous in panicles or corymbs, white, pale yellow, or pinkish, 2.5 to 5 cm broad strongly scented; ovary leafy and often spiny.
Fruit: A rounded berry, translucent white to light yellow, orange or red, 1.5 to 2 cm in diameter, when mature quite smooth. The fruit are also edible, containing numerous small seeds. It somewhat resembles the gooseberry in appearance and is of excellent flavour.
Seeds: Black, somewhat flattened, 4 to 5 mm in diameter; hilum basal, circular, depressed, or crater-shaped.
Chromosome number: 2n = 22
Subspecies, varieties, forms and cultivars of plants belonging to the Pereskia aculeata group
Pereskia aculeata

Mill.

: has long, clambering stems and growing to 10 m tall. Has showy, fragrant blossoms, followed by beautiful clusters of yellow berries. Distribution: most parts of south and central America, Caribbean, Florida and Mexico.

Pereskia aculeata cv. godseffiana

: has salmon-yellow leaves with the underneath side a pinkish-purple.
Bibliography: Major references and further lectures.
1) Nathaniel Lord Britton, Joseph Nelson Rose "Cactaceae: Descriptions and Illustrations of Plants of the Cactus Family" vol. 1 The Carnegie Institution of Washington, Washington 1919
2) Edward Anderson "The Cactus family" Timber Press, Incorporated, 2001
3) James Cullen, Sabina G. Knees, H. Suzanne Cubey "The European Garden Flora Flowering Plants: A Manual for the Identification of Plants Cultivated in Europe, Both Out-of-Doors and Under Glass" Cambridge University Press, 11/Aug/2011
4) David R Hunt; Nigel P Taylor; Graham Charles; International Cactaceae Systematics Group. "The New Cactus Lexicon" dh books, 2006
5) Ulises Guzmán, Salvador Arias, Patricia Dávila, "Catálogo de cactáceas mexicanas" Universidad Nacional Autónoma de México, Mexico 2003, p.114.
6) Urs Eggli, Leonard E. Newton: "Etymological Dictionary of Succulent Plant Names" Birkhäuser 2004
7) "Grocer's Encyclopedia: The Encyclopedia of Food and Beverage", by Artemas Ward, New York, http://www.hear.org/Pier/wra/pacific/pereskia_aculeata_htmlwra.htm 1911
8) Pooley, E. "A Field Guide to Wild Flowers; KwaZulu-Natal and the Eastern Region." 1998
9) Wikipedia contributors. "Pereskia aculeata." Wikipedia, The Free Encyclopedia. Wikipedia, The Free Encyclopedia, 16 May. 2014. Web. 29 Jul. 2014
10) Morton, J.F. X "Fruits of Warm Climates." Julia Morton 20534 SW 92 Ct., Miami Fl. 1987
11) Peter Hanelt, Institute of Plant Genetics and Crop Plant Research, W. Kilian "Mansfeld's Encyclopedia of Agricultural and Horticultural Crops: (Except Ornamentals)" Springer Science & Business Media, 10/Apr/2001
12)Forest & Kim Starr "Pereskia aculeata (Barbados gooseberry, leaf cactus)". Plants of Hawaii. <http://www.starrenvironmental.com>. Downloaded on 20 August 2014.
13) Taylor, N.P., Zappi, D., Braun, P. & Machado, M. 2013. Pereskia aculeata. The IUCN Red List of Threatened Species 2013: e.T46508A3006142. http://dx.doi.org/10.2305/IUCN.UK.2013-1.RLTS.T46508A3006142.en. Downloaded on 16 July 2016.
14) Juliana P. Castro, Luiz G.R. Souza, Lânia F. Alves, Ana E.B. Silva, Marcelo Guerra & Leonardo P. Felix. 1073 Marhold (ed.) "IAPT/IOPB chromosome data 15" TAXON 62 (5) • October 2013: 1073–1083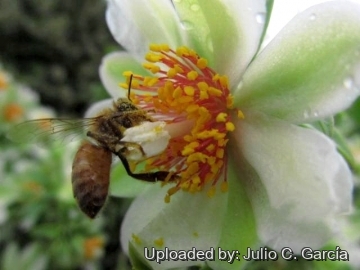 Pereskia aculeata
Photo by: Julio C. García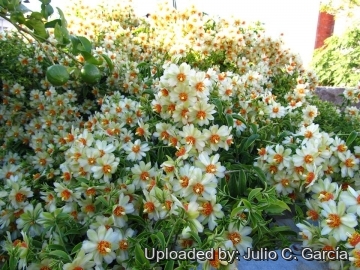 Pereskia aculeata
Photo by: Julio C. García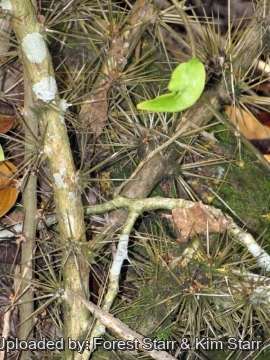 Stems with spines at Iao Tropical Gardens of Maui, Maui, Hawaii (USA). May 22, 2012.
Photo by: Forest Starr & Kim Starr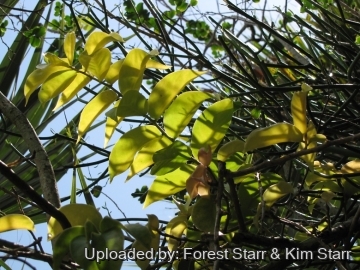 Leaves at Iao Tropical Gardens of Maui, Maui, Hawaii (USA). May 22, 2012.
Photo by: Forest Starr & Kim Starr
Pereskia aculeata aculeata.
Photo by: Alexander Arzberger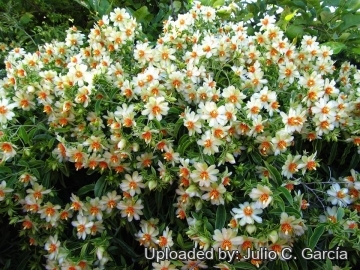 Pereskia aculeata
Photo by: Julio C. García
Stems with leaves and spines at Iao Tropical Gardens of Maui, Maui, Hawaii (USA). May 22, 2012.
Photo by: Forest Starr & Kim Starr
Pereskia aculeata
Photo by: Julio C. García
Cultivation and Propagation: Nearly indestructible, Pereskia aculeata requires full sun or light shade (but withstand dense shade) and well drained soils, preferably rich neutral organic soils, but may tolerate acidic ones and is suited for tropical or subtropical climates but may survive very light frosts (if very short).
Growing rate: It is a fast grower, and will quickly become large landscape masterpieces in just a few years. It is a long lived plant and once established, it will be content in its position and with its soil for years.
Waterings: Water regularly during the active growing season from March to September. No water should ever be allowed to stand around the roots. Keep almost completely dry in winter. It is drought resistant, but leaves drop during drought.
Hardiness: Considered frost tender, but surprisingly cold hardy outdoors and also very sun hardy for a succulent plant. It likes warmth (recommended minimum winter temperature 10° C) however plants kept perfectly dry can can survive low temperatures, approx. to -3°C., but for safe cultivation it is best to avoid freezing temperatures. Never let the roots chill. Deciduous below 4°C.
Maintenance: Can be pruned for shape and branching.
Plant Pests: Prone to mealy bugs and rarely scale.
Uses: Often used for edges it is planted by pushing cutting into the ground, its spiny stem soon forming a capital barrier, sometimes grown as a climber, as a basket plant, or in the form
of a pyramid. The leaves and fruits are edible, containing high quantities of protein (20 to 30% of protein in the dry leaf matter), iron and other nutrients, and it is a popular vegetable in parts of the Brazilian state of Minas Gerais under the name of ora-pro-nóbis. The leaves are used in green salads, or can be cooked. In rural Brazil, the leaves, stems and fruits are also used for food for animals.
Propagation: It's very easy to propagate from cuttings or seeds, contrarily to most other cacti, Pereskia cuttings should be planted immediately without a dry out period. (you can also let them sit in a jar of water)