Donate now to support the LLIFLE projects.
Your support is critical to our success.
Mammillaria supertexta
Hort. Reg. Monac. (1829) 128, nomen; et ex Pfeiff. Enum. Diagn. Cact. 25.
Family: CACTACEAE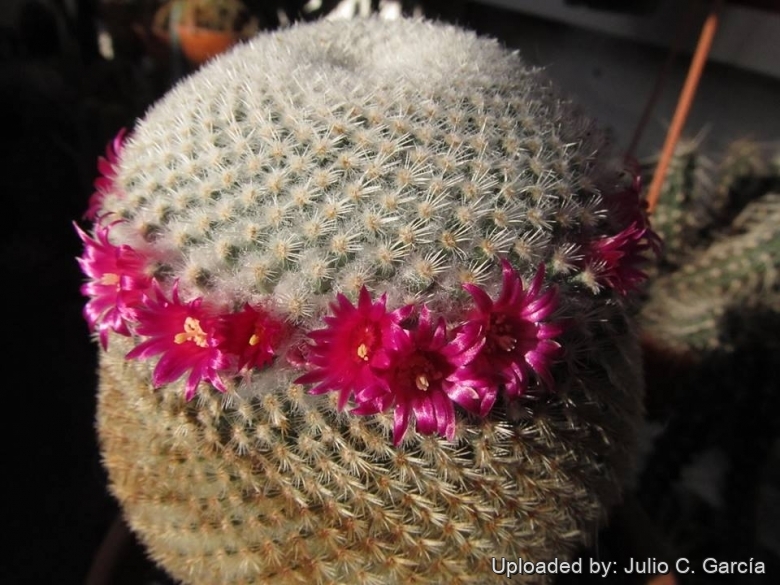 Mammillaria supertexta Photo by: Julio C. García
Origin and Habitat: This species is endemic to the Tehuacán-Cuicatlán Valley, occurring only in the Mexican state of Oaxaca. (extent of occurrence aproximately 2,000 km2, known from five locations)
Altitude: 400-2200 metres above sea level.
Habitat and Ecology: The species occurs in tropical deciduous forests, Pinus-Juniperus forests and xerophyllous scrub, often hanging from limestone cliffs together with Mammillaria carneaSN|9372]]SN|23756]], Mammillaria sphacelataSN|23756]]SN|9372]], Neobuxbaumia tetetzoSN|6411]]SN|6411]], Pachycereus hollianusSN|7437]]SN|7437]], Myrtillocactus geometrizansSN|8050]]SN|8050]], Myrtillocactus geometrizansSN|8050]]SN|8050]] var. grandiareolatus, Ferocactus robustusSN|4280]]SN|21488]], Ferocactus recurvusSN|21488]]SN|4280]], and Hechtia lapostolii. This species is listed as Endangered and in continuing decline due to expanding cattle and farming activities. The species is generally uncommon but densities are variable and range from 150 individuals/hectare to 6,000 individuals/hectare.
Synonyms:
See all synonyms of Mammillaria supertexta
Accepted name in llifle Database:
Mammillaria supertexta
Mart.
Hort. Reg. Monac. (1829) 128, nomen; et ex Pfeiff. Enum. Diagn. Cact. 25.
Synonymy: 12
Description: Mammillaria supertextaSN|20905]]SN|20905]] is a clump forming cactus with small purple flowers in a ring around the sides of the stem. Its body is densely covered by crowded tubercles bearing short spines and abundant wool in their axils.
Habit: Simple at first, later branching basally and from the sides to form clumps.
Stem: Obovate to globose, green, 10-13 cm tall, 8-10 cm in diameter somewhat umbilicate at apex.
Tubercles: Small, 2-4 mm long, ovate to conical, crowded, not lactiferous. Axils very woolly, so that the tubercles are almost completely covered.
Spine-areoles: Tomentose when young.
Radial spines: 16-18, slender, stiff, bristle-like, chalky white, spreading lower ones longest, to 5 mm.
Central spines: Usually 2 (sometimes 1 or 3, occasionally missing), very short, less than 3 mm long, rigid, white with dark brown tips
Flowers: Small, lateral (rather than near apex) pale to deep purplish red.
Blooming season: It flowers in autumn (in habitat in November)
Fruits: Clavate bright red to crimson. They are 8 to 16 mm long and 3 to 5 mm thick. Seeds: Brown.
Chromosome number: 2n=22, x=11.
Bibliography: Major references and further lectures
1) David Hunt, Nigel Taylor "The New Cactus Lexicon" DH Books, 2006
2) John Pilbeam (1999) "Mammillaria The Cactus File Handbook" Nuffield Press.
3) Edward F. Anderson "The Cactus Family" Timber Press, 2001
4) James Cullen, Sabina G. Knees, H. Suzanne Cubey "The European Garden Flora Flowering Plants: A Manual for the Identification of Plants Cultivated in Europe, Both Out-of-Doors and Under Glass" Cambridge University Press, 11/ago/2011
5) Nathaniel Lord Britton, Joseph Nelson Rose "Cactaceae: Descriptions and Illustrations of Plants of the Cactus Family" vol. 4 The Carnegie Institution of Washington, Washington 1923
6) Arias, S. & Zavala-Hurtado, A. 2013. Mammillaria supertexta. In: IUCN 2013. IUCN Red List of Threatened Species. Version 2013.2. <www.iucnredlist.org>. Downloaded on 27 November 2013.
7) Ulises Guzmán, Salvador Arias, Patricia Dávila: "Catálogo de cactáceas mexicanas." Universidad Nacional Autónoma de México, Mexiko-State 2003
8) Florencia Briones, Guadalupe Palomino & Armando Garcia "Chromosome analysis of Mammillaria supertexta, M. crucigera and M. haageana and their comparison with M. san-angelensis (Cactaceae)" in Caryologia: International Journal of Cytology, Cytosystematics and Cytogenetics Volume 57, Issue 3, 2004
Mammillaria supertexta
Photo by: Carolina González
- WM4570 (Collector: Wendell Minnich) Locality: West of Rio Salado Bridge, Oaxaca, Mexico
Photo by: Valentino Vallicelli
Mammillaria supertexta
Photo by: Valentino Vallicelli
Mammillaria supertexta
Photo by: Carolina González
Cultivation and Propagation: It is a free-flowering and relatively easy plant to grow.
Exposition: Full sun to light shade.
Watering: Water regularly in summer but do not over-water. Keep dry in winter. Hardy down to -4°C.
Growing tips: It is better that they be repotted regularly. Repotting will increase the number and size of stems, and will increase the number of flowers produced. Repot yearly until it reaches about 3 cm in size, then every two or three years will suffice. Repotting is best done at the end of winter, but it can be done at other time, too. Do not water for a couple of weeks after repotting, in order to reduce risk of root rot via broken roots.
Propagation: Seeds or offsets if available.