Donate now to support the LLIFLE projects.
Your support is critical to our success.
Since 4 Aug 2013
Sclerocactus parviflorus Photo by: Valentino Vallicelli
RP108 from Green River, Emery County, Utah, USA. Strong grower, very attractive with great colourful spines.
Origin and Habitat: Sclerocactus parviflorus is the most widely distributed species among the genus, it ranges from northern Arizona to Colorado, northern New Mexico and southeast Utah.
Altitude range: It is distributed mostly along the great river system above the 1000 m up to 2100 m over sea level.
Habitat and ecology: It lives on many type of soil, such sandy, gravelly, or clay hills, mesas, and washes, desert grasslands, especially on red sandstone under sparse sage brush, salt bush, black brush and junipers trees, on cracked clay plains etc. The species is found in trade and collected from the wild, but this is not a major threat. The species is threatened by oil and gas exploration, mining, grazing, and off highway vehicle activity.
Synonyms:
See all synonyms of Sclerocactus parviflorus
Common Names include:
ENGLISH:
Eagle-claw Cactus, Devil's-claw Cactus, Blessing Devil's-claw Cactus, Longspine Fishhook Cactus, Small Flower Fishhook Cactus, Fishhook Cactus, Smallflower fishhook cactus
Description: Sclerocactus parviflorus is the most frequent and well known cactus of the cold American deserts. Due to its vast region of origin the plants vary in the amount and colouring of hooked central spines as well as in flower colour. The plant dimensions vary from minuscule plants of only a few cm living almost buried in the ground, to the largest plants up to 45cm and 15 cm in diameter. The scientific classification of this plant has been controversial. Many names, forms, subspecies or varieties have been proposed and changed.
Stems: Usually unbranched, but also branched near the base, 4.5–45 cm tall, 3.5-14.5 cm in diameter, depressed-spheric, spheric, cylindrical, or elongated-cylindric, with tubercles evident on ribs.
Spines: Often obscuring stems; radial spines 8-17 per areole, usually white, sometimes brown or purplish pink, 6-36 mm; central spines 4-8 per areole, 1-5 hooked usually purple- black, hooked, 15-72 mm; lateral spines 2-6 per areole, similar to centrals, usually shorter and not not hooked usually white (rarely gray, straw colored, pink, or reddish brown), flat to angled straight (rarely contorted).
Flowers: The crown of campanulate flowers in late spring are spectacular, pleasantly perfumed, usually rose to purple, pink, but also multicolour, yellow or (rarely) white.
Blooming season (in habitat): April-May (spring)
Fruits: 10-30 mm long, 10-15 mm in diameter Green turning reddish pink with a few membranous fringed scales irregularly dehiscent.
Seeds: Dark brown to black, 2.5–3.5 × 1.5–3 mm; testa with rounded papillae.
Subspecies, varieties, forms and cultivars of plants belonging to the Sclerocactus parviflorus group
Bibliography: Major references and further lectures
1) Sclerocactus parviflorus Clover & Jotter [family CACTACEAE] in Kenneth D. Heil, J. Mark Porter, Flora of North America, Vol 4
2) Edward Anderson "The Cactus family" Timber Press, Incorporated, 2001
3) James Cullen, Sabina G. Knees, H. Suzanne Cubey "The European Garden Flora Flowering Plants: A Manual for the Identification of Plants Cultivated in Europe, Both Out-of-Doors and Under Glass" Cambridge University Press, 11/Aug/2011
4) David R Hunt; Nigel P Taylor; Graham Charles; International Cactaceae Systematics Group. "The New Cactus Lexicon" dh books, 2006
5) Porter, J.M. 2013. "Sclerocactus parviflorus." The IUCN Red List of Threatened Species. Version 2014.3. <www.iucnredlist.org>. Downloaded on 21 December 2014.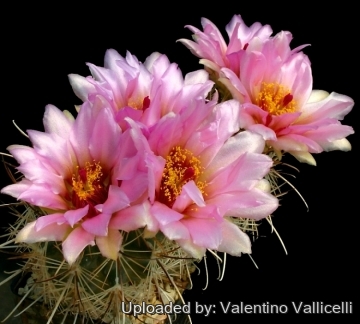 Sclerocactus parviflorus
Photo by: Valentino Vallicelli
Sclerocactus parviflorus
Photo by: Valentino Vallicelli
Sclerocactus parviflorus
Photo by: Peiffer Clement
Sclerocactus parviflorus
Photo by: Cactus Art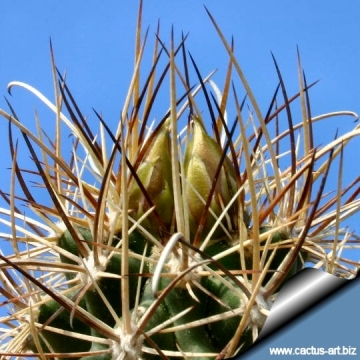 Sclerocactus parviflorus
Photo by: Cactus Art
Sclerocactus parviflorus
Photo by: Agócs György
Sclerocactus parviflorus
Photo by: Valentino Vallicelli
Sclerocactus parviflorus
Photo by: Cactus Art
Cultivation and Propagation: Rarely seen in cultivation, it needs perfect drainage to flourish. It is quite difficult to grow on its own roots and to propagate (only 2-3 percent of seeds germinate). Mature individuals easily rot and die.
It is indispensable to provide a greenhouse with good ventilation and full sun exposure. Keep totally dry during winter. It can tolerate temperature below zero (-20° C). Plants grafted on hardy Opuntia humifusa stock are quite easy to grow, and no special skill is required.
Propagation: Seeds are extremely difficult to germinate (only 2-3 percent of seeds germinate). Grafting is often used to speed growth rate and to create a back-up for plants in collection.