Donate now to support the LLIFLE projects.
Your support is critical to our success.
Since 4 Aug 2013
sponsored link
Accepted Scientific Name: Coryphantha pseudoechinus subs. laui
Cactaceae Syst. Init. 11: 20. 2001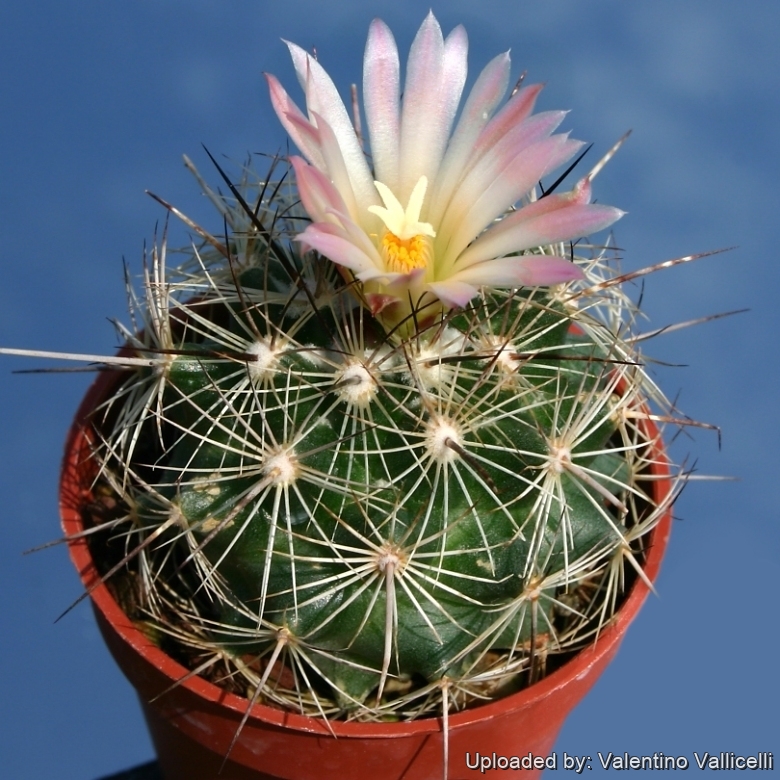 Coryphantha magentae Photo by: Valentino Vallicelli
LAU 1244 Sierra de la Paila, Coahuila, Mexico 1600-2200m This is the nice pink/magenta flowering form of C. laui. The flowers last briefly, they are fully expanded at high noon (if in brilliant sunlight), and wilt after only an hour or two. They bloom from April through August.
Origin and Habitat: Mexico (Coahuila, Sierra de la Paila, 1600-2200 m. )
Field number: Lau 1244
Synonyms:
See all synonyms of Coryphantha pseudoechinus
Common Names include:
ENGLISH:
Prickly Beehive Cactus, Rhinoceros Cactus, Sea-urchin cactus
Description: This variety is very similar to the standard Coryphantha echinus, with the exception of magenta (Hence the name) flowers and slightly different skin and spination colour.
Flowers: Ranging from pale pink to rich magenta-red.
Subspecies, varieties, forms and cultivars of plants belonging to the Coryphantha pseudoechinus groupp
Bibliography: Major references and further lectures
1) Edward Anderson "The Cactus family" Timber Press, Incorporated, 2001
2) James Cullen, Sabina G. Knees, H. Suzanne Cubey "The European Garden Flora Flowering Plants: A Manual for the Identification of Plants Cultivated in Europe, Both Out-of-Doors and Under Glass" Cambridge University Press, 11/Aug/2011
3) David R Hunt; Nigel P Taylor; Graham Charles; International Cactaceae Systematics Group. "The New Cactus Lexicon" dh books, 2006
Coryphantha magentae
Photo by: Cactus Art
Send a photo of this plant.
The gallery now contains thousands of pictures, however it is possible to do even more. We are, of course, seeking photos of species not yet shown in the gallery but not only that, we are also looking for better pictures than those already present.
Read More...
Cultivation and Propagation: In cultivation it is quite sensitive to over-watering (rot prone), and needs good drainage. Keep drier in winter. Like other species from the USA. it blooms quite early, but needs about 8-10 years to reach the typical, definite outlook. It needs full sun; and is hardy to -16° C or less for short periods of time
Propagation: Offsets (seldom available) or by seeds.