Donate now to support the LLIFLE projects.
Your support is critical to our success.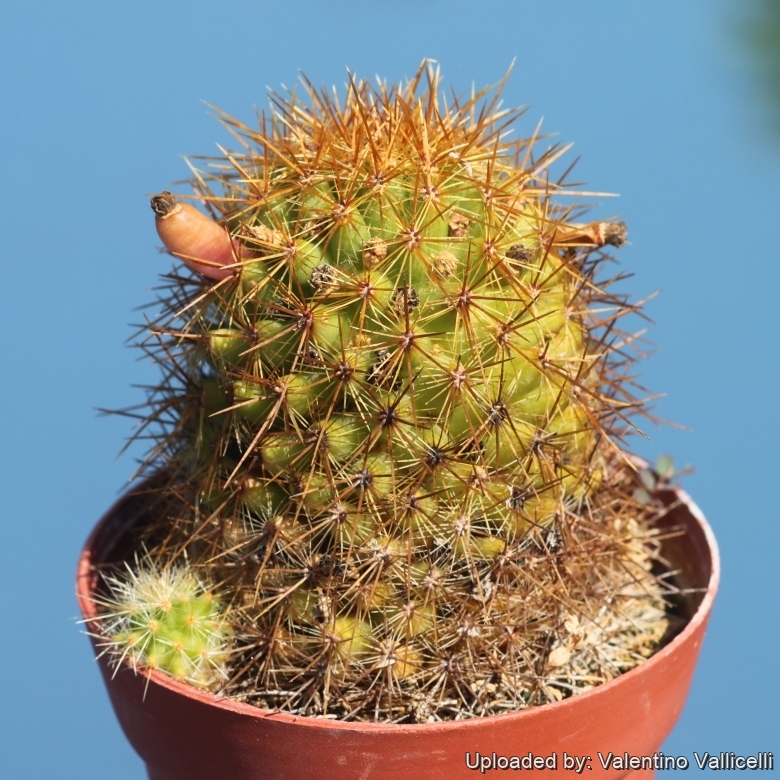 Mammillaria rekoi subs. aureispina Photo by: Valentino Vallicelli
Origin and Habitat: North of Quiotepec and Yolox, Oaxaca (Mexico, Northern America)
Altitude range: 1.200 - 1.800 metres above sea level.
Synonyms:
See all synonyms of Mammillaria rekoi
Description: Mammillaria rekoiSN|13403]]SN|13403]] subs. aureispina (A.B.Lau) D.R.Hunt is a variant form of Mammillaria rekoiSN|13403]]SN|13403]] with needle-like, yellow to amber-brown spines. It will reward the growers with a ring of fine purplish flowers circling the crown of the plant.
Stem: Erect, solitary or cespitose, oblong-cylindrical, green, 5-6 cm in diameter, 8-15 cm tall (in shade up to 20 cm). Sometimes with latex.
Roots: Fibrous.
Tubercles: Conical to cylindrical c. 5 mm across, in 13-21series. Axil at first with short yellowish wooll, later naked.
Areoles: Round 3 mm in diameter, at fist with orange or brownish wool, later naked
Radial spine: 20-23, fine, needle-like, golden yellow later white, 5(-7) mm long.
Central spines: 5-7, stouter than the radials, yellow to golden brown, needle-like, straight, about 6 mm long, the lower being the longest (up to 15 mm long).
Flowers: Purplish pink, 10 mm long, 12 mm in diameter, recurving at the tips of the petals.
Fruits: Purplish, reddish below.
Seeds: Brown.
Subspecies, varieties, forms and cultivars of plants belonging to the Mammillaria rekoi group
Bibliography: Major references and further lectures
1) A.Lau Mammillaria rekoi subs. aureispina in: Cactaceas y suculentas mexicanas, Sociedad Mexicana de Cactología. 28(1): 19 1983
2) John Pilbeam (1999) "Mammillaria The Cactus File Handbook" page 245.
3) Edward F. Anderson (2001) "The Cactus Family" page 440.
Cultivation and Propagation: Mammillaria rekoiSN|13403]]SN|13403]] subs. aureispina requires excellent drainage provided by porous cactus soil. Easily clustering, it's an easy bloomer.
Growth rate: Most plants will offset readily, and clumps can be produced in a few years.
Repotting: We suggest repotting every 2-3 years.
Fertilization: During the beautiful season enrich the soil using a fertilizer rich in potassium and phosphorous, but poor in nitrogen, because this chemical element doesn't help the development of succulent plants, making them too soft and full of water.
Exposure: It prefers bright light and ample airflow. Outside full sun or afternoon shade, inside it needs bright light, and some direct sun.
Moisture: Water the soil abundantly when it is dry to the touch. Allow soil to drain thoroughly before watering again. Do not water much in the winter (rot prone). Overwintering: Protect from frost. But it's hardy to -5°C if kept dry.
Propagation: Division, direct sow after last frost.