Donate now to support the LLIFLE projects.
Your support is critical to our success.
Echinopsis densispina Photo by: Valentino Vallicelli
It is a small and quite cold-tolerant species from the high Andes.
Origin and Habitat: Soutnern Bolivia, northern Argentina
Synonyms:
See all synonyms of Echinopsis densispina
Description: Echinopsis densispina is a low growing cactus species with colourful flowers ranging from yellow to orange and red. It is an exceedingly variable species with a bit of variation throughout its range and some taxonomists recognize several varieties. The segregation of the many forms, varieties, and subspecies on the basis of spines morphology and flowers colour, however, is difficult to support, given the continuous range of variation in spination and flower colour over its geographic range.
Habit: Solitary or forming clusters or cushions from a large tap root, it is a very variable specie with several different forms.
Stem: Ovoid, greyish-green, dull green or brown-purplish-green, up to 8 cm tall and 5 cm in diameter.
Ribs: Approximately 17, more or less notched, forming tubercles.
Areoles: Yellowish-white, somewhat sunken, about 5 mm apart.
Spines: Quite variable in form, length and number, forming a close network that shades and in many cases almost hides the body.
Central spines: 0 to 7, brown, with darker tips straight or somewhat curved. Larger at the base, 0,5 to 2 cm long.
Radial spines: 16-22, spreading or sometimes appressed against the stem, bristle-like, flexible, whitish, 4 mm long.
Flowers: The flowers occur in many colours, varying from yellow to orange and red, up to 8,5 cm long.
Subspecies, varieties, forms and cultivars of plants belonging to the Echinopsis densispina group
Bibliography: Major references and further lectures
1) Walther Haage "Cacti as House Plants" Studio Vista, 1965
2) Edward Anderson "The Cactus family" Timber Press, Incorporated, 2001
3) James Cullen, Sabina G. Knees, H. Suzanne Cubey "The European Garden Flora Flowering Plants: A Manual for the Identification of Plants Cultivated in Europe, Both Out-of-Doors and Under Glass" Cambridge University Press, 11/Aug/2011
4) David R Hunt; Nigel P Taylor; Graham Charles; International Cactaceae Systematics Group. "The New Cactus Lexicon" dh books, 2006
5) Curt Backeberg: "Die Cactaceae: Handbuch der Kakteenkunde" Volume V, Gustav Fischer Verlag, Stuttgart New York 1982–1985
6) Lowry, M. 2013. Echinopsis densispina. In: IUCN 2013. "IUCN Red List of Threatened Species." Version 2013.2. <www.iucnredlist.org>. Downloaded on 01 January 2014.
Echinopsis densispina
Photo by: Cactus Art
Echinopsis densispina
Photo by: Carolina González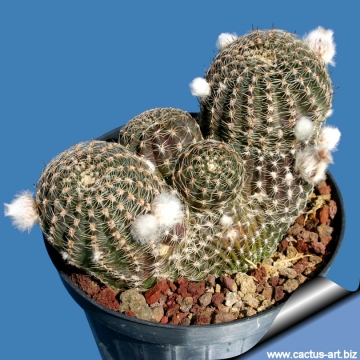 Echinopsis densispina
Photo by: Cactus Art
Echinopsis densispina
Photo by: Valentino Vallicelli
Echinopsis densispina
Photo by: Cactus Art
Send a photo of this plant.
The gallery now contains thousands of pictures, however it is possible to do even more. We are, of course, seeking photos of species not yet shown in the gallery but not only that, we are also looking for better pictures than those already present.
Read More...
Cultivation and Propagation: Echinopsis densispina is a summer-growing species that offers no cultivation difficulty, not as badly affected by moisture as other cactus species. It makes great potted specimens.
Soil: Use a mineral well permeable soil with little organic matter (peat, humus). It grows in limestone areas of Texas (Big Bend area) and adjacent areas of Mexico, so will probably benefit from extra calcium in its soil.
Growth rate: It grows well, though slowly, but it possible to increase the speed of growth to some extent by providing adequate amount of water, warmth, and a liquid fertilizer diluted half strength during the active growing season, but it's susceptible to rotting if too wet. Most plants will offset readily, and clumps can be produced in a few years.
Soil: It needs a very porous, slightly acidic potting medium (add pumice, vulcanite, and perlite). Outdoors it does well on poor, rocky soils.
Fertilization: Feed with a high potassium fertilizer in summer.
Exposure: It likes a sunny position also blasting sun in summer. If grown indoor provide 4 to 6 hours, or more, direct morning or afternoon sun.
Watering: It should be watered regularly in Summer allowing to dry before watering again and kept drier in Winter. It is very drought-tolerant.
Hardiness: It can be grown outdoors in frost-free climates, needs anyway to kept above 5 °C and dry in winter. But it can tolerate temperatures down to -5° C (or even less) for very short periods if very dry and ventilated. During winter month, put them in a cool luminous place and encourage them to enter winter dormancy by withholding water and fertiliser over the winter as they will etiolate, or become thin, due to lower levels of light.
Maintenance: Repot every two years. Needs lots and lots of space to grow, use large shallow container or bowl filled with very porous compost. It like pots with generous drain holes.
Pest & diseases: They are susceptible to fungal diseases if overwatered, but are not nearly as sensitive as many other cacti, especially in warm weather. If kept damp through cold periods, they will invariably suffer.
Propagation: Seeds or cuttings. The seeds may be germinated and grown in containers. Their main requirements consist of high humidity levels, free-draining soil mix, and enough water, light, and nutrition.