Donate now to support the LLIFLE projects.
Your support is critical to our success.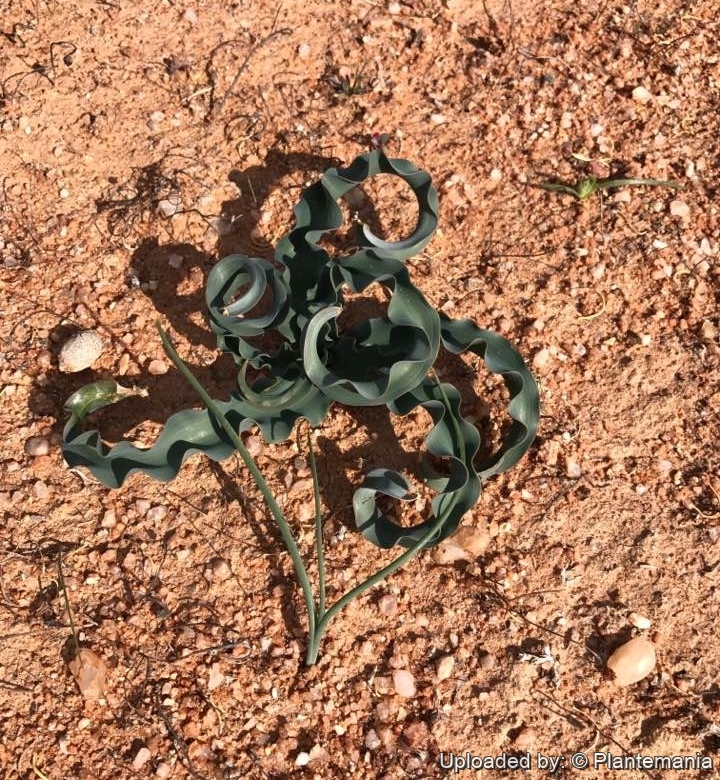 Dipcadi rigidifolium Photo by: © Plantemania
Origin and Habitat: Zimbabwe, Botswana, South Africa (Gauteng, Limpopo, Mpumalanga, Northern Cape, North West)
Altitude range: Up to around 1000-1400 metres above sea level.
Habitat and ecology: Dambo grassland, on sandy soil.
Synonyms:
See all synonyms of Dipcadi rigidifolium
Accepted name in llifle Database:
Dipcadi rigidifolium
Baker
J. Linn. Soc., Bot. Bot. 11: 399 (1870).
Synonymy: 3
Description: Dipcadi rigidifolium is a small perennial-geophyte with three leaves low to the ground. Erect to tightly curled, can be undulating also. The flowers are tubular green.
Bulb: Globose to ovoid, 12-50 mm in diameter, outer tunics thin, light coloured.
Leaves: 2–3 per bulb, linear-lanceolate, erect to tightly curled, glabrous (or slightly ciliated), firm in texture, coriaceous, persistent, 10-30 cm long, 8-25 mm broad low down; ribs close, distinct. Margin thickened, (can be undulating also) yellow, apex acute, base clasping.
Inflorescence: Peduncle less than twice as long as the leaves arcuate at base. Raceme to 50 cm long, secund laxly 5–20 flowered (usually 4 to 6); lower pedicels 3-6 mm long; bracts lanceolate, acuminate, 8-12 mm long.
Flowers: About 1,5 cm long, green (or tannish-brown). Perianth segments green, 15 mm long fused about half way; outer segments linear-convolute, as long as the tube (5-14 mm), spreading, or recurved in upper half with caudate appendages. Inner segments lingulate obtuse, cucullate, connivent, 2 mm shorter than the outer; stamens inserted at the throat of the tube.
Fruits (capsules): Broadly oblong, 3-angled, about 18 mm long.
Bibliography: Major references and further lectures
1) J. G. Baker "Flora Capensis", 1897
2) Foden, W. & Potter, L. 2005. Dipcadi rigidifolium Baker. National Assessment: Red List of South African Plants version 2017.1. Accessed on 2017/07/28
3) Hyde, M.A., Wursten, B.T., Ballings, P. & Coates Palgrave, M. (2017). "Flora of Zimbabwe: Species information: Dipcadi rigidifolium."
http://www.zimbabweflora.co.zw/speciesdata/species.php?species_id=114380, retrieved 28 July 2017
4) Van Wyk, B. & Malan, S. (1988). "Field Guide to the Wild Flowers of the Witwatersrand and Pretoria Region Struik, Cape Town" Pages 298 - 299.
5) Germishuizen, G. & Meyer, N.L. (eds.) (2003). "Plants of Southern Africa: an annotated checklist." Strelitzia 14.: i-vi, 1-1231. National Botanical Institute, Pretoria.
6) Dipcadi rigidifolium Baker in: African Plant Database (version 3.4.0). Conservatoire et Jardin botaniques de la Ville de Genève and South African National Biodiversity Institute, Pretoria, "Retrieved [28-07-2017]", from <http://www.ville-ge.ch/musinfo/bd/cjb/africa/>.
7) Obermeyer, A.A. 1963. "The South African species of Dipcadi." Bothalia 8: 117-137.
Cultivation and Propagation: Dipcadi rigidifolium is a rare winter growing bulb cultivated by African botanical collectors only. Semi desert conditions work best for growth.