Donate now to support the LLIFLE projects.
Your support is critical to our success.
Since 4 Aug 2013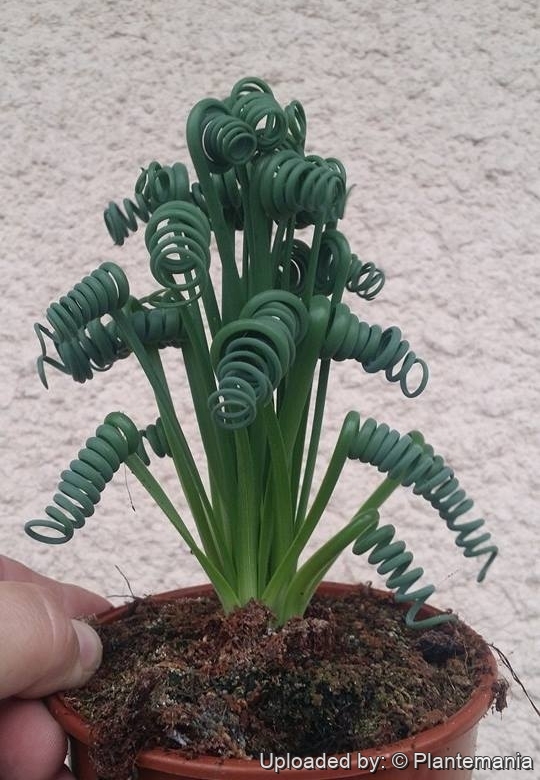 Albuca spiralis Photo by: © Plantemania
Origin and Habitat: Albuca spiralisSN|29272]]SN|29272]] is distributed over a wide area of the Cape from the Peninsula and Worcester throughout the Roggeveld to Namaqualand, South Africa.
Altitude range: 60 - 2255 metres above sea level.
Habitat and ecology: Albuca spiralisSN|29272]]SN|29272]] is a fairly common winter-growing geophyte found in seasonally dry grasslands, open woodlands and Scrublands.
Synonyms:
See all synonyms of Albuca spiralis
Accepted name in llifle Database:
Albuca spiralis
L.f.
Suppl. Pl. 196 (1782)
Synonymy: 5
Common Names include:
ENGLISH:
Spiral leaved albuca, Spiral albuca, Slime lily, Helicopter Plant, Corkscrew Albuca, Curly albuca, Sticky Corkscrew Lily
Description: Corkscrew Albuca (Albuca spiralis) is a small geophyte growing singly or forming small groups by division. This Albuca gives an interesting show even when it is not in flower. During the winter months when it is actively growing its wiry foliage corkscrews and twists in a most fascinating manner. The degree of spiral depends on the clone and the amount of sunlight the plant receives when the leaves started growing. The flowers are green with pale yellow margins, nodding, sweetly scented, reportedly of butter and vanilla, and look like helicopters. The smell can be quite strong on a warm sunny day. After flowering and seed production is complete the bulb goes to sleep for the summer but reliably returns in the autumn to invigorate the winter landscape.
Bulbs: Small, ovoid. In habitat, the bulb grows to a maximum of about 8 to 25 mm long, and 5 to 25 mm wide, but can be twice that size in cultivation. Bulb scales green, fleshy, withering gray and membranous. Tunics not splitting into fibres at the top. The bulb tips are exposed.
Roots: Fibrous and terete.
Leaves: 10–12(-20), form a basal rosette, linear filiform, subterete, 2-15(-22) cm long, 1 mm wide, channelled down the face, upright at bottom then convolute and spirally twisted at end, densely glandular-pubescent, flexuose villose scabrous than the scape. The tightly coiled leaves of Albuca spiralis ensure maximum exposure to weak winter radiation, and reduce the risk of wind damage to valuable photosynthetic tissue. The leaves dry up in summer.
Inflorescence: Peduncle slender, 15-20 cm long with glandular hairs at the base. Raceme laxly (1-)4-5(–6)-flowered; pedicels nodding at the apex, lower 2-2.5 cm long. Bracts lanceolate, 12-18 mm long and 4 mm wide.
Flowers: Diurnal, yellow and nodding. Perianth 15-18 mm long, yellow, banded with green; interior petals vaulted at the tip. Stamens all fertile. Style prismatic, as long as the ovary; stigma tricuspidate with three long fine tips. Ovary obovate-ellipsoidal to spherical
Blooming season: The flowering period is late winter to mid-spring.
Bibliography: Major references and further lectures
1) Philip Miller "The gardeners dictionary" Volume 1 1835
2) John Wilkes (of Milland House, Sussex) "Encyclopaedia Londinensis, or, Universal dictionary of arts, sciences, and literature" Volume 1 1810
3) William Paterson, Vernon Siegfried Forbes, John P. Rourke "Paterson's Cape travels, 1777 to 1779" Brenthurst Press, 1980
4) Richard M. Cowling, Shirley M. Pierce, Colin Paterson-Jones "Namaqualand: a succulent desert" Fernwood Press, 1999
5) Ernst Jacobus van Jaarsveld: Albuca spiralis. In: Urs Eggli "Illustrated Handbook of Succulent Plants: Monocotyledons: Monocotyledons" Springer Science & Business Media, 17/Jul/2001
6) J. G. Baker Flora Capensis, page 253 1897
7) Wikipedia-Autoren, siehe Versionsgeschichte "Albuca spiralis" Wikipedia, Die freie Enzyklopädie. Versions-ID der Seite: 132175047. 15. Juli 2014 <http://de.wikipedia.org/w/index.php?title=Albuca_spiralis&oldid=132175047> 30. Oktober 2014
8) Pacific Bulb Society contributors "Albuca spiralis" Pacific Bulb Society Wiki <http://www.pacificbulbsociety.org> version December 28, 2013, at 09:39 Web. 23 Oct. 2014.
9) Yucca Do Nursery, Inc. "Albuca spiralis" <http://www.yuccado.com/albuca-spiralis.html> Web. 23 Oct. 2014.
Albuca spiralis
Photo by: Xero Sicyos
Albuca spiralis
Photo by: © Plantemania
Albuca spiralis
Photo by: Giuseppe Distefano
Albuca spiralis in habitat, South Africa.
Photo by: © Plantemania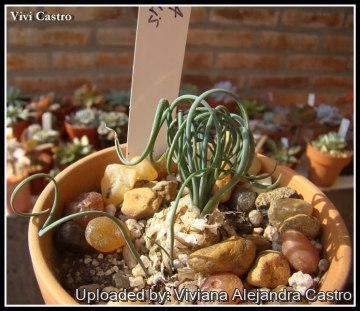 Albuca spiralis
Photo by: Viviana Alejandra Castro
Albuca spiralis
Photo by: © Plantemania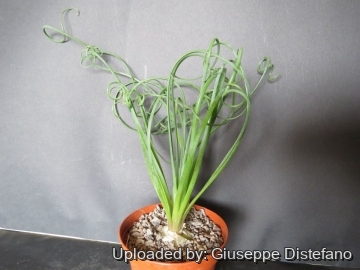 Albuca spiralis
Photo by: Giuseppe Distefano
Send a photo of this plant.
The gallery now contains thousands of pictures, however it is possible to do even more. We are, of course, seeking photos of species not yet shown in the gallery but not only that, we are also looking for better pictures than those already present.
Read More...
Cultivation and Propagation: Albuca spiralisSN|29272]]SN|29272]] is one of the most difficult members to cultivate successfully over an extended period. It is a winter-growing and summer-dormant species that needs to be kept almost dry during its dormancy as the bulbs is disposed to dwindle and rot. Its summer rest must be absolute and does not initiate new foliage until the cooling effects of autumn. This plant may or may not have foliage in the heat of the summer. If it does have foliage, during the hottest part of summer, the foliage and plant may look ratty but as long as the bulb is firm the plant is in good health and it will improve in appearance once new foliage initiates in the autumn. A great plant for the southern rock garden as well.
Exposure: Prefers some direct sun but will scorch in hot, sunny, dry locations.
Waterings: Water sparingly when growing and a little care, it is a definite water-wise species. The curling of the leaf tips is largely dependent on weather conditions. Cool dry conditions encourage the leaf tips to curl, while warm most conditions tends to encourage erect, straight, uncurled leaf tips. If the plants are allowed to dry too much, they will go dormant.
Soil: Coarse river sand or gravel must be incorporated into the growing medium for excellent drainage. It is often suggested to add gravel mulch on the top of the soil, so when the bulbs are dormant the pot remains interesting to view.
Hardiness: In the winter plants can be left outside because the spirally foliage is reliably hardy to – 7° C. In colder areas the plants should be protected in the greenhouse.
Propagation: Division, seeds. Seed germinate easily. It is best to propagate seeds in the autumn through winter in a mixture of moist peat and perlite. Cover the pot and plant with a plastic bag secured by a rubber band to prevent the moisture from escaping. Place in indirect sunlight or under a fluorescent light. Repot in its regular mix after it has been growing for a while. After dividing plant or removing offsets, pot it in its regular potting mix.