Donate now to support the LLIFLE projects.
Your support is critical to our success.
Since 4 Aug 2013
sponsored link
Accepted Scientific Name: Echinomastus warnockii (L.D.Benson) Glass & R.A.Foster
Cact. Succ. J. (Los Angeles) 47: 222 1975.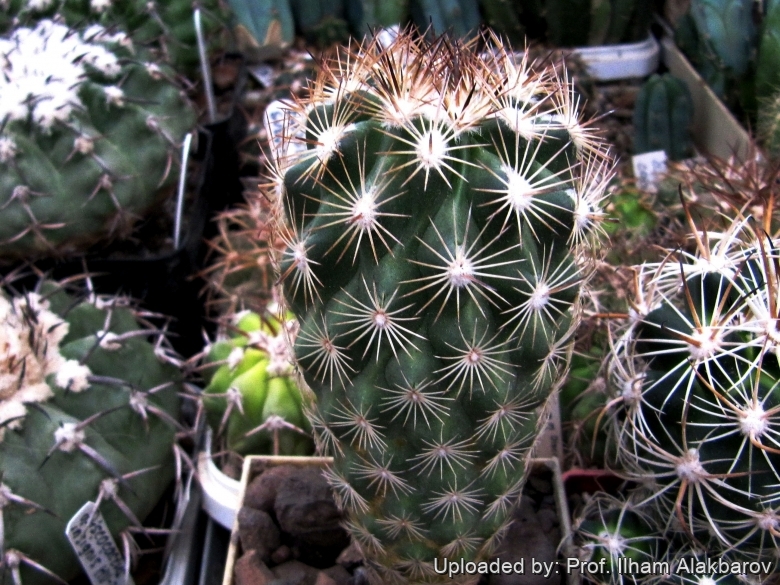 Echinomastus pallidus Photo by: Prof. Ilham Alakbarov
Origin and Habitat: Brewster County, Texas, USA (?).
Synonyms:
See all synonyms of Echinomastus warnockii
Accepted name in llifle Database:
Echinomastus warnockii
(L.D.Benson) Glass & R.A.Foster
Cact. Succ. J. (Los Angeles) 47: 222 1975.
Synonymy: 8
Description: Echinomastus pallidus is the the provisional name of Echinomastus kakui, one of the morphological form of Echinomastus warnockii which is a widespread and variable taxon. It is a small globular cactus distinguished from the type species for its lighter body, paler spines without violet-grey shade or with brown tips (but not always spines are lighter). Today most botanist agree on the fact that all the 'varieties' described until now should all be included in the Echinomastus warnockii.
Echinomastus pallidus, (Echinomastus kakui), belongs to a group of very difficult species to grow on their own roots and is usually grafted for convenience on winter hardy cactus species.
Flowers: Very pale pink to translucent white with a faint midstripe on each petal and a greenish centre. The pale flowers appear most heavily in late winter and early spring.
For more details, see: Echinocactus warnockii
Subspecies, varieties, forms and cultivars of plants belonging to the Echinomastus warnockii group
Echinomastus kakui

Backeb.

: Has (mostly) paler spines. Flowers white to crème with a faint pale pink midstripe on each petal and a greenish centre. Brewster County, Texas, USA (?).

Echinomastus pallidus

Backeb.

: has pale creamy spines mostly without violet-grey shade or with brown tips. Same as Echinomastus kakui.
Echinomastus warnockii

(L.D.Benson) Glass & R.A.Foster
Cultivation and Propagation: Echinomastus warnockii pallidus is a most beautiful cactus but rarely seen in cultivation. It is quite difficult to grow on its own roots. Very easily rot! It's thought that's better to watch this species in photo or in the natural habitat rather than to try to cultivate it. For this reasons the plant is often grafted on a frost hardy stock.
Soil: Use mineral well-permeable substratum with very little organic matter (peat, humus). It needs perfect drainage to flourish.
Repotting: Repotting every 2-3 years. As it is especially prone to rot under-pot in a smaller container filled with very porous compost. Use pot with good drainage.
Exposition: This plant need full sun and above all a very good ventilation, especially in winter. Tends to bronze in strong light, which encourages flowering and heavy spine production.
Watering: Water sparingly during the growing season and keep totally dry during winter. In the rest period no high atmospheric humidity!!Care must be taken with watering as they tends to become swollen and untidy in growth habit if given too much water and shade.
Fertilization: During the growing season enrich the soil using a fertilizer rich in potassium and phosphorous, but poor in nitrogen, because this chemical element doesn't help the development of succulent plants, making them too soft and full of water.
Hardines: It can tolerate temperature below zero (-15° C or less).
Pests & diseases: It may be attractive to a variety of insects to watch for:
- Red spiders: Sensitive to red spider mite. Overhead watering is helpful in controlling mites.
- Mealy bugs: Occasionally mealy bugs they develop aerial into the new growth among the wool with disfiguring results, but the worst types develop underground on the roots and are invisible except by their effects.
- Rot: Rot it is the major threat. If the plants are not watered and "aired" correctly, fungicides won't help all that much. Mature individuals - if the growing conditions are not optimal, easily rot and die.
Remarks: Displaying your cacti on shelves has the added benefit of keeping them off the ground and away from potential rodent or snail damage.
Propagation: Seed or grafting. Seeds germinate in 7-14 days at 21-27° C in spring, remove the glass cover gradually as the plants develops and keep ventilated, no full sun for young plants! The seedlings should not be disturbed until they are well rooted, after which they can be planted separately in small pots. Seeds are relatively difficult to germinate (only a limited percentage of seeds germinate). Grafting is often used to speed growth rate and to create a back-up for plants in collection.