Donate now to support the LLIFLE projects.
Your support is critical to our success.
Since 4 Aug 2013
Micranthocereus streckeri Photo by: Valentino Vallicelli
Origin and Habitat: Brazil (Bahia)
Type locality: West of Seabra, Bahia
Altitude: Around 1100-1300 m asl.
Habitat: The only known small population of Micranthocereus streckeri has a very restricted distribution (with less than 50 individuals) and is found in a dry rocky place, among shrubs. It is threatened by habitat loss. The area of Seabra is rich of succulents species comprising: Stephanocereus luetzelbergii, Tacinga funalis, Tacinga inamoena , Cereus albicaulis, Micranthocereus purpureus, Pilosocereus pachycladus, Pilosocereus glaucochrous, Pilosocereus pentaedrophorus, Cereus jamacaru, Portulaca grandiflora, Facheiroa squamosa, Facheiroa chaetacantha, Leocereus bahiensis, Austrocephalocereus purpureus, Melocactus paucispinus, Melocactus disciformis, Hohenbergia leopoldo-horstii, and Arrojadoa rhodantha ssp. reflexa.
Ecology: The flowers open at night and have adapted to bat pollination.

Synonyms:
Description: Micranthocereus streckeri is a small columnar cactus that branches quite freely from the base (occasionally from higher up), and soon makes a nice clustered specimen, reminiscent of Cleistocactus. The flowers are produced from a a loose and open lateral pseudo-cephalium (modified zone on side of the stem, where areoles develops extra bristles), it is by far the most floriferous species in the genus.
Stems: Short columnar, up to 70 cm tall, and 5,5 cm in diameter, erect, bright blue-green to gray-green, later brownish.
Ribs: About 25, shallow and closely set.
Areoles: Oval, with brownish wool and whitish hairs.
Spines: About 30, dense, fine, needle-like, flexible, yellowish, up to 2,3 cm long with a few bristles up to 10 cm long.
Pseudo-cephalia: Lateral, along the side of the stems near the apex facing the strongest sunlight, well developed, up to 20 cm long and 3,5 cm wide, with dense areole growth, yellowish brown wool to 1,3 cm long, reddish brown bristles to 2,4 cm long, and a few spines. The blossoms emerge from this "cephalium''.
Flowers: Small ("Micrantha'' means small flowers.), up to 22 mm long and 4 mm in diameter, produced in large numbers in clusters, tube-shaped, opening at night, outer perianth segments bright pink to purple, the inner paler. Pericarpel without scales.
Blooming season: Late autumn or early spring and will flower at a relatively small size.
Fruits: Small (1-1,1 cm long and in diameter), juicy, berry-like, top-shaped, purple and without scales.
Bibliography: Major references and further lectures
1) Anderson, Edward F. (2001), "The Cactus Family" Pentland, Oregon: Timber Press, ISBN 978-0-88192-498-5
2) Edward F. Anderson "Das große Kakteen-Lexikon." Eugen Ulmer KG, Stuttgart 2005 (übersetzt von Urs Eggli), ISBN 3-8001-4573-1
3) Keith Grantham, Paul Klaassen "The plantfinder's guide to cacti & other succulents" Timber Press, 18/mag/1999
4) Taylor, N.P. 2002. "Micranthocereus streckeri." 2006 IUCN Red List of Threatened Species
5) Kakteen und andere Sukkulenten. 37: 5, 1986.
6) Theodore H. Fleming, Alfonso Valiente Banuet "Columnar Cacti and Their Mutualists: Evolution, Ecology, and Conservation" University of Arizona Press, 2002
Micranthocereus streckeri
Photo by: Valentino Vallicelli
Micranthocereus streckeri
Photo by: Valentino Vallicelli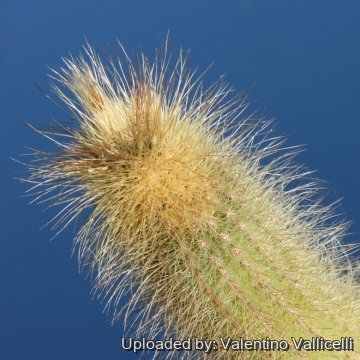 Micranthocereus streckeri
Photo by: Valentino Vallicelli
Send a photo of this plant.
The gallery now contains thousands of pictures, however it is possible to do even more. We are, of course, seeking photos of species not yet shown in the gallery but not only that, we are also looking for better pictures than those already present.
Read More...
Cultivation and Propagation: Micranthocereus streckeri is not particularly difficult on own roots providing it is given a little extra heat during the winter, but this and all its relatives do best when grafted.
Growth rate: It is a relatively rapidly growing and easily flowering species that will make clumps given the best conditions.
Soils: It likes very porous standard cactus mix soil.
Repotting: Use pot with good drainage.
Watering: It should be watered generously during the growing season. Like Cleistocacti, they can exhibit tip die-back if not enough water is given, but do not overwater (Rot prone), keep dry in winter. Water them less than average if in bigger pots, small pots preferred.
Fertilization: Feed with a high potassium fertilizer in summer.
Hardiness: Reputedly sensitive to frost, but less so if kept on the dry side prior to, and during, cold weather. However warmth throughout the year will increase the grower's success (8-12°C during rest season).
Exposition: Outside bright, hot conditions or afternoon shade, inside it needs bright light, and some direct sun. Strong light encourages flowering and heavy wool and spine production.
Uses: It is an excellent plant for container growing. It always looks good and stays small.
Pests & diseases: It may be attractive to a variety of insects, but plants in good condition should be nearly pest-free, particularly if they are grown in a mineral potting-mix, with good exposure and ventilation. Nonetheless, there are several pests to watch for:
- Red spiders: Red spiders may be effectively rubbed up by watering the plants from above.
- Mealy bugs: Mealy bugs occasionally develop aerial into the new growth among the wool with disfiguring results, but the worst types develop underground on the roots and are invisible except by their effects.
- Scales: Scales are rarely a problem.
- Rot: Rot is only a minor problem with cacti if the plants are watered and "aired" correctly. If they are not, fungicides won't help all that much.
Propagation: Division, direct sow after last frost or (often) graft. Seeds germinate in 7-14 days at 21-27° C in spring, remove the glass cover gradually as the plants develops and keep ventilated, no full sun for young plants! To make a cutting twist off a branch and permit it to dry out a couple of weeks, lay it on the soil and insert the stem end partially into the soil. Try to keep the cutting upright so that the roots are able to grow downward.