Donate now to support the LLIFLE projects.
Your support is critical to our success.
Since 4 Aug 2013
sponsored link
Accepted Scientific Name: Phyllanthus mirabilis Müll.Arg.
Prodr. [A. P. de Candolle] 15(2.2): 355. 1866 [late Aug 1866] DC. et al.
Phyllanthodendron mirabile (Phyllanthus mirabilis) Photo by: Xero Sicyos
Origin and Habitat: It is native to Indochina where it is found in Laos, Burma and Thailand: Chiang Mai, Lampang, Lop Buri, Nakhon Sawan; Khon Kaen (Pha Nok Khao), Nakhon Ratchasima, and Saraburi. It is locally common.
Altitude range: 100-1000 metres above sea level.
Habitat and ecology: Limestone ridges but also in bogs. In habitat this plant grows in rich peat and gets a lots of water in the rain-season.
Synonyms:
Common Names include:
ENGLISH:
Leafflower.
ARABIC ( لعربية ):
أملج رائع
RUSSIAN (Русский):
Филантус Мирабилис
THAI (ภาษาไทย):
มะยมทอง
Description: Phyllanthus mirabilis is a shrub, or a small deciduous tree, that may slowly grow to a maximum hight of 8 metres and 30 centimetres in diameter. This small tree found in bogs in Thailand has been described by the Swiss Müller Argoviensis, Johannes (Jean) in 1865. During his youth the base of the trunk takes a caudiciform/succulent shape that usually gradually disappears with its growth. It is the only Phyllanthus to be caudiciform. Another peculiarity of this plant is that the leaves fold together in pairs like butterfly wings at dusk, and open again in the morning. It cultivation it is a nice bonsai plant.
Stem: In youth the base of the stunk becomes fat (caudiciform), with contorted branches. The plants with caudexes are those that grow in the dryer areas where they remain stunted and where caudex never disappears. If the plant is cultivated in the ground (in rich loamy soil) the caudex disappears and the Phyllanthus becomes a tree. If we want the plant keeps all its distinctive characteristics it may be grown in the the way of Bonsai. One should also knows that specimens with caudex of 10 or more centimetres in diameter are certainly very old plants (several decades)
Leaves: Pinnate, glossy green to dark coppery-red (when young), folding at night. This leaves have the distinctive feature to produce new leaflets throughout the growing period. It is deciduous in winter.
Bibliography: Major references and further lectures
1) Ramadasan Kuttan, K.B. Harikumar "Phyllanthus Species: Scientific Evaluation and Medicinal Applications" CRC Press, 29 August 2011
2) Rachun Pooma, Thailand. Krom ?Utthay?n h?ng Ch?t, Satp?, læ Phan Ph??t "A preliminary check-list of threatened plants in Thailand" The Forest Herbarium, National park, Wildlife and Plant Conservation Department, 2005
3) Francis Bugaret "Cactus et plantes succulentes du monde" Editions Quae, 2010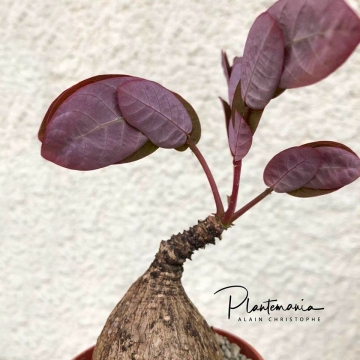 Phyllanthodendron mirabile
(Phyllanthus mirabilis)
Photo by: © Plantemania
Phyllanthodendron mirabile
(Phyllanthus mirabilis)
Photo by: © Plantemania
The picture don't show the real dimensions ! at the base the caudex is 15 cm and plant is 43 cm high.
(Phyllanthus mirabilis)
Photo by: © Plantemania
Phyllanthodendron mirabile
(Phyllanthus mirabilis)
Photo by: Diego Armentano
Cultivation and Propagation: Phyllanthus mirabilisSN|31734]]SN|31734]] is a beautiful shrub that, in difficult growing conditions, produces a caudex. It seems that the growth is very slow and that the subjects with caudexes of twenty centimeters have decades!
Soil: Keep in a rich but well drained mix.
Waterings: They can be watered copiously as long as the medium is open and well drained. As with any normal plant when watering, it is best to do so thoroughly, until a little water comes out through the drain holes. Allow the medium to dry out somewhat between waterings. Reduce watering to once every 1 month during winter. Stop to water around ten degrees. Space plants apart to allow air movement between branches and leaves. This will help with evaporation of extra water droplets collected during watering.
Exposure: It doesn't need much sun.
Propagation: Seed, but can be also propagated by stem or root cuttings.