Donate now to support the LLIFLE projects.
Your support is critical to our success.
Since 4 Aug 2013
sponsored link
Euphorbia knuthii Photo by: Giuseppe Distefano
Origin and Habitat: Mozambique, Southern Africa (Mpumalanea, Bushveld regions in KwaZulu-Natal) and Swaziland
Altitude: 300 m
Habitat: Grows in seasonally wet black soils.
Synonyms:
See all synonyms of Euphorbia knuthii
Accepted name in llifle Database:
Euphorbia knuthii
Pax
Bot. Jahrb. Syst. 34: 83 1904
Synonymy: 3
Description: Euphorbia knuthii is a dwarf spiny succulent shrublet with a tuberous main root, which continues into a serpentine caudex, freely branched from the top. It is sometimes accompanied by a number of underground rhizomes. It is closely allied to Euphorbia squarrosa, and Euphorbia Schinzii.
Roots: Tuberous and rhizomatous. The tuberous roots are very showy and in many plants in cultivation are often raised above the soil. In plants which have been raised from cuttings, these roots tend to be thinner, and are more branched, eventually producing huge masses of many roots. In seed raised plants, the roots tend to be much larger and tend to be less branching.
Main stem (caudex): Partly buried in the ground, with a short or elongated neck merging with the fleshy root. From the central growing point, the caudex produces numerous crowded branches, which look like a bunch of apparently separate plants at the ground level.
Branches: Tufted, simple or branched, initially erect, but more scrambling as they become longer, sinuate, 3-15 cm long (but often much more longer in cultivation) 3- 4-angled, up to 12 mm wide, glabrous, light-green with longitudinal grey-green stripes, but plants grown under very bright light may tend to produce additional reddish pigments. Angles with prominent tubercles up to 12 mm apart and 2-4 mm prominent, deltoid or the upper margins nearly truncate and the lower sloping. While the stems of plants in cultivation are seldom deciduous, it can be argued that this species is geophytic - with the majority of the plant (the tuberous roots) occurring underground, and (under conditions of extreme drought) the stems being shed to conserve water.
Spine shield: 2-6 mm long, coppery brown turning grey with time, oblong, variably decurrent on the lower margin of the tubercle, but not forming a continuous margin.
Spines: 2 (sometime absent) small up to 8 mm long, directed downward and inwards at the base of the shield, brown finally grey.
Stipular spines: Minute and very short.
Leaves: Rudimentary, 3-4 mm long, sessile, lanceolate, very acute, recurved-spreading, glabrous, soon deciduous.
Inflorescences: Flowering-eyes between the tubercles producing a single peduncle up to3 mm long, bearing 1 involucre and a pair of green, scale-like bracts less than 1 mm long; involucre 3-4 mm in diameter, cupshaped, glabrous, green, with 5 nectar glands and 5 transversely rectangular toothed lobes; glands nearly or quite contiguous, about 1 mm in their greater diameter, yellowish or green. Styles united into a stout column 0,5-1 mm long, with spreading bifid lobes 0,3-05 mm long.
Fruits: 3 chambered capsules 4-5 mm in diameter, each containing 3 seed, glabrous, exserted on a recurved pedicel usually 3-6 mm beyond the involucre. These capsules burst upon ripening, dispersing the seed, sometimes to distances exceeding 3 meters.
Seeds: About 3 mm long, ellipsoid or subglobose, smooth, brown.
Phenology: It blooms in mid to late summer and the seed capsules ripe about one month later.
Subspecies, varieties, forms and cultivars of plants belonging to the Euphorbia knuthii group
Euphorbia knuthii

Pax

: is a dwarf spiny freely branched succulent shrublet with a a tuberous root and rhizomes. Branches 3-4 angled

Euphorbia knuthii subs. johnsonii

(N.E.Br.) L.C.Leach

: Plants usually solitary. Roots large tuberous, without rhizomes. Branches 2-3 angled.
Bibliography: Major references and further lectures
1) N. E. Brown, J. Hutchinson and D. Prain "Flora Capensis" Vol 5 Part 2, page 216 (1925)
2) Urs Eggli "Illustrated Handbook of Succulent Plants: Dicotyledons" Volume 2. Springer, 2002
3) Barbara Segall "Botanica: the illustrated A-Z of over 10,000 garden plants and how to cultivate them" Mynah, 1997
4) Hermann Jacobsen "A handbook of succulent plants: descriptions, synonyms, and cultural details for succulents other than Cactaceae" Volume 1 Blandford Press, 1960
5) Werner Rauh "The Wonderful World of Succulents: Cultivation and Description of Selected Succulent Plants Other Than Cacti" Smithsonian Institution Press, 1984
6) Bruce Brethauer "Plant of the Month: Euphorbia knuthii" http://columbus-cactus-club.webs.com/Euphorbia%20knuthii.htm [retrived March 23 2013]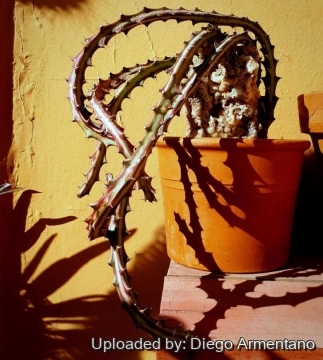 Euphorbia knuthii
Photo by: Diego Armentano
Euphorbia knuthii
Photo by: Valentino Vallicelli
Euphorbia knuthii
Photo by: Valentino Vallicelli
Euphorbia knuthii
Photo by: Valentino Vallicelli
Cultivation and Propagation: Euphorbia knuthii is an easy ornamental plant to grow, and is a particular favourite of caudiciform plant enthusiasts. Cultivation of this plant is the same as that for the other tuberous varieties of Euphorbia, (e.g. Euphorbia stellata, Euphorbia decidua etc.), but it is the easiest of all caudiciform Euphorbias to propagate from cutting. It tolerates any conditions (it is practically indestructible), surviving extended neglect and relatively low light.
Growth rate: It has a seasonally rapid growth. During warmer months this species should produce considerable growth, with each stem adding at least several centimetres of growth, but tubers take many years to enlarge.
Tuberose root exposure: The remarkable tuberous roots are usually raised above the soil line so that these can be seen and more readily appreciated. The plants raised from cuttings produce thinner and more numerous tuberose root, while seed raised plants will tend to produce tubers which are larger, and less branched. For best results roots must be exposed only when plans become mature enough, usually after several years (8-12 or more years) of underground growth, as the exposed portions of the roots will no longer increase in size once they have been lifted above the soil line. In very old plants, the roots can achieve massive proportions, so keep a plant for many years to grow unusually large roots.
Stem pruning: Every year or two in very early spring, trim off all of the stems, cutting them back to the soil line (or to the roots if you grow your plants with the roots partially exposed). After this pruning, allow the plant to heal at least a week to ten days before watering it. The heavy pruning encourages the growth of many additional branches, and keeps the length of each branch comparatively short, and uniform.
Soil and pots: It likes pots with generous drain holes, needs a very airy potting medium which mainly consists of non organic material such us clay, pumice, lava grit, and only a little peat or leaf-mould, seeing that the main trunk is planted with the majority of the roots below the caudex line. It's rare that it will use the upper third of its soil and often this area serves like a mulch or support for the stem. Re-pot every two years.
Fertilization: Need a perfect fertilizer diet in summer. Use preferably a cacti and succulents fertilizer with high potassium content including all micro nutrients and trace elements or slow release fertilizer.
Exposure: Euphorbia knuthii has an excellent heat tolerance, and need full sun to light shade exposures, but can tolerate shade. However shade grown plants will tend to produce fewer, and badly etiolated growth (weak, gangly stems with unusually long internodes, and generally paler green coloration). The colour of this plant is much more marked if grown in full sun. But if it is possible to keep the growth of this species compact, with denser, shorter stems of a more uniform length (rather than looking weedy) such plants can be outright attractive.
Watering: Water regularly during the active growing season. No water should ever be allowed to stand around the roots. Keep almost completely dry in winter. Even though it is extremely drought tolerant, during the active growing season it is best to keep its soil reasonably moist, watering it about once every week. In summer it will also tolerate lots of water, so there is little need to protect these plants from heavier rainfall than normal.
Hardiness: Some cold tolerance. This spurge has tolerated temperatures down to –6ºC and even a little snow. However it can be difficult to get it to look its best without a good amount of heat and sun and so it is only really suited to the tropics (USDA Zones 9-11). Keep the plant cooler in winter, but maintain the light as bright as you can so that any growth which it may produce at this time will not be etiolated. It can be grown outdoors in the summer months to benefit from direct exposure to light, and especially exposure to high summer temperatures.
Rot: Rot it is only a minor problem with Euphorbias if the plants are watered and "aired" correctly. If they are not, fungicides won't help all that much. It is very unlikely to lose this plant from root rot from excessive water.
Known hazards: The latex/sap is poisonous and can cause skin rash, itching and general discomfort, and they should be handled with caution, particularly when pruning.
Propagation: The plant can be reproduced by seeds or cuttings. The seed will loose viability in storage, and may not be viable the following year, so the seed should be planted as soon after harvesting as possible. Germination usually occurs within about a week or two. If you remove an offset, remember to let it dry for some days, letting the wound heal (cuttings planted too soon easily rot before they can grow roots). Lay it on the soil and insert the stem end partially into the substrate. Try to keep the cutting somewhat upright so that the roots are able to grow downward. It is better to wash the cut to remove the latex. The plant may be propagated by branch cuttings which will root in a few weeks. Once growth is strong, the top of the green shoot needs to be cut off again to force the plant to start a caudex. Some plant form a perfectly symmetrical caudex when grown from seed, but form distorted multiple (but often more interesting) caudexes when grown from cuttings.