Donate now to support the LLIFLE projects.
Your support is critical to our success.
Since 4 Aug 2013
sponsored link
Alluaudiopsis fiherenensis
Compt. Rend. Hebd. Séances Acad. Sci. 1934, cxcix. 1651; et in Bull. Soc. Bot. France, 1935, lxxxii.61.
Family: DIDIEREACEAE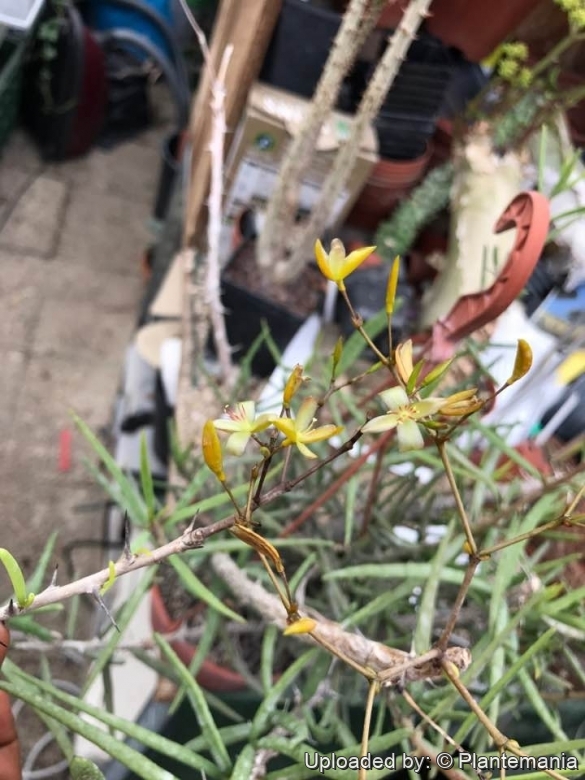 Alluaudiopsis fiherenensis Photo by: © Plantemania
Origin and Habitat: Madagascar (Fiherenana valley near Toliara).
Habitat and ecology: This species grows on limestone in thorny forest.
Synonyms:
Description: Alluaudiopsis fiherenensis is a slow-growing, sprawling and scarcely succulent shrubs, 1.5-2 m tall, much branched from the base. It is distinguished by its twin leaves placed above the solitary thorns, by its androecium with 8-10 stamens. The flowers are pale greenish-yellow and showy.
Branches: Brown turning grey with age.
Leaves: Narrow, linear, in pairs set on edge, 1-4 cm long, 2-5 mm wide (somewhat larger in cultivation).
Spines: Single, stiff 7-20 mm long, beneath each leaf-pair.
Inflorescences (cymes): Terminal, much branched, 7-14 cm long.
Flowers: Pale greenish-yellow, the male with 8 or 10 stamens, the female with a 1 cm style.
Fruit: Ovoid, about 3 -4 mm.
Chromosome number: 2n = 48.
Bibliography: Major references and further lectures
1) Urs Eggli "Illustrated Handbook of Succulent Plants: Dicotyledons" Springer Science & Business Media, 2002
Cultivation and Propagation: Alluaudiopsis fiherenensis is a very rare plant that has the fame to be quite difficult to preserve in cultivation. Grafting on Alluaudia procera or Pereskiopsis (Cactaceae) is recommended.