Donate now to support the LLIFLE projects.
Your support is critical to our success.
Since 4 Aug 2013
sponsored link
Kalanchoe rotundifolia Photo by: Frikkie Hall
Origin and Habitat: Kalanchoe rotundifoliaSN|29139]]SN|29139]] is a small succulent plant widespread from central to northern South Africa, in Botswana, Transvaal and western Orange Free State, coastal and central Natal, eastern Swaziland, the eastern to north-eastern Cape and extending further into Namibia, Zimbabwe, Mozambique, Tanzania and Socotra.
Altitude range: 50-1800 metres above sea level.
Habitat and ecology: Kalanchoe rotundifoliaSN|29139]]SN|29139]] is a very common plant found growing as a pioneer plant usually in shade or half-shade, single or in large comunities under trees or shrubs in bushland, woodland, open and secondary forests, savanna, open veld; sandy, limestone, brackish or rocky soils or on rocks, either in dry or wet habitats, sometimes in salt marshes. It easily establishes on road cuttings, road verges, on rooftops, waste areas and derelict lands. It reproduces naturally by means of vast amounts of very small seed which germinates readily under ideal conditions.
Synonyms:
See all synonyms of Kalanchoe rotundifolia
Common Names include:
ENGLISH:
Common Kalanchoe
AFRIKAANS (Afrikaans):
Nentabos, Plakkie
ZULU (isiZulu):
Umadinsane
Description: Kalanchoe rotundifoliaSN|29139]]SN|29139]] is a common but very variable red-flowered brittle succulent species which grows up to 2 metres tall under favourable conditions. It is one of the most complex and polymorphic of the kalanchoes, although the species name rotundifolia means "with round leaves" it may have leaves that vary from entire to deeply lobed also from one season to the next and now includes many forms (previously considered independent species). Flowers are borne in an inflorescence with a long erect stalk. The flat-topped inflorescence consists of star-shaped orange or red flowers and often become conspicuously twisted when old. The plants also vary in flower colour and time of flowering. The robust red flowering specimens are rewarding garden plants, flowering for many weeks.
Habit: Kalanchoe rotundifoliaSN|29139]]SN|29139]] is a small completely glabrous, sparsely branched perennial shrublets with upright or straggling growth habit or sometimes annual, 0.2-2 metres high, often with sterile small-leaved shoots at the base.
Stem: Erect, terete, usually simple (or two) or sometimes with a branch near the base, rarely branched above at times up to 1.2 m (or more) tall and 2-5(8) mm in diameter below, rather slender above, smooth, soft, light yellow-green to grey-green, sometimes pinkish on lower part, glaucous, often leafless after anthesis, sometimes several floriferous stems from a prostrate base of a main stem; nodes not or slightly raised.
Roots: Rather short and fine.
Leaves: Petiolate to sessile, opposite, glabrous spreading to erect, condensate towards the base of stem, reducing in size and increasingly further apart on the way up and caducous. Petiole 0-25 mm long, not clasping. Lamina elliptic to roundish-ovate, rarely ovate or obovate, (10-)30-50(-85) x (5-)8-25(-55) mm, , usually small, succulent but not very fleshy, rather thin to nearly translucent on drying, acute to rounded, entire, sinuate, dentate, crenate or lobed, flat or slightly concave above, blue-green, rarely yellowish green and usually with a glaucous bloom, sometimes pink in parts.
Inflorescence: Sometimes attaining 37(38) cm. in length composed by sparse, cymes grouped in a round-topped corymb- or panicle-like or sometimes thyrsoid head with several dichasia (sometimes reduced to 1-2 flowers) usually small (2-14 cm long, 3.5-10 cm across), slender, erect, floriferous only at the extremity, the lower ones up to 27 cm long. Pedicels of dichotomies 2.5-8 mm long.
Flowers: Erect tubular, four-petaled, red or orange. Calyx with lobes narrowly triangular, 0,5-1.5 mm long, acute, nearly free, rigid on drying, caducous at fruiting time. Corolla tube, 6-13 mm long, up to 4 mm in diameter slender to subglobose in the lower part, contracted above the carpels into a narrower cylindrical-tubular portion twisted at fruiting-time pale glaucous to green at the base, bright pink to scarlet above, turning pale pink to hyaline. Lobes narrow, very acute (but not apiculate) twisted at the apex, orange, salmon to deep red or brick, 2.5-5 x 1-2.5 mm. Anthers 0,6-0,8 mm long. Filaments 0.75-1.25 mm long; anthers 0.3-0.5 mm, ovate, dark red, included, the upper ones just below the base of the corolla-limb. Squamae linear, 2.5-3.5 mm long, gradually tapering towards apices. Styles 0.3-0.5 mm long. All flower parts are in fours.
Blooming season: The flowering period occurs through autumn and early winter (February until June in habitat), but some variation occurs with the region;.
Fruits (follicles): Oblong, four-angled 4-7 mm long, dark red.
Seeds: c. 1 mm long.
Bibliography: Major references and further lectures
1) Forest & Kim Starr "Kalanchoe rotundifolia (Common kalanchoe)". Plants of Hawaii. <http://www.starrenvironmental.com>. Web. 27 Sep. 2014.
2) Wikipedia contributors. "Kalanchoe" Wikipedia, The Free Encyclopedia. Wikipedia, The Free Encyclopedia, 5 Jun. 2014. Web. 20 Oct. 2014.
3) Doreen Court "Succulent Flora of Southern Africa" CRC Press, 01/Jun/2000
4) R. Fernandes "Flora Zambesiaca" FZ, Vol 7 Part 1, page 3 1983
5) Dr J.P. Roux "Flora of South Africa" 2003
6) Bernard Descoings: "Kalanchoe rotundifolia". In: Eggli: "Illustrated handbook of succulent plants." Crassulaceae: 2003
7) Thompson T. Mutshinyalo, Walter Sisulu, National Botanical Garden May 2001. "Kalanchoe rotundifolia (Haw.) Haw." SANBI - South African National Biodiversity Institute, South Africa. <http://www.plantzafrica.com> Web. 20 Oct. 2014.
8) Botha, C.J. (Christoffel Jacobus); Venter, Elna "Kalanchoe rotundifolia" URI: http://hdl.handle.net/2263/8439 Institutional Repository of the University of Pretoria. Web. 20 Oct. 2014.
9) Operation Wildflower "Kalanchoe rotundifolia" <http://www.operationwildflower.org.za> Web. 20 Oct. 2014.
10) Robert J. Roddin "Ethnobotany of the Kwanyama Ovambos" Mbg Press Orders, Department 26, 1999
11) Ecoman - Landscape Design Specialist "Kalanchoe rotundifolia" URI: http://www.ecoman.co.za/green/green_docs/kalanchoe_rotundifolia.html Web. 20 Oct. 2014.
12) Tolu Odugbemi "A Textbook of Medicinal Plants from Nigeria" Tolu Odugbemi, 2008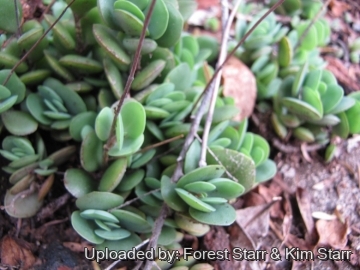 Leaves at Ulana St Makawao, Maui, Hawaii (USA). February 18, 2011.
Photo by: Forest Starr & Kim Starr
Habit at Haleakala Hwy Kula, Maui, Hawaii (USA). June 24, 2014.
Photo by: Forest Starr & Kim Starr
Habit at Ulana St Makawao, Maui, Hawaii (USA). February 18, 2011.
Photo by: Forest Starr & Kim Starr
Orange flowers twisted aged petals at Haleakala Hwy Kula, Maui, Hawaii (USA). June 24, 2014.
Photo by: Forest Starr & Kim Starr
Cultivation and Propagation: Kalanchoe rotundifolia is a delightful garden plant suitable for low watering and maintenance conditions, grows well among trees, also in limited sunlight. It puts up a brave show in clumps among trees and shrubs. If planted directly in a garden bed, it can easily reach 40 (or more) cm and produces showy heads of orange or red blossoms. It is also used in cactus/succulent or rock gardens and is suitabile as a green roof plant. Green roofs with shallow low nutrient soils provide an ideal growing environment for these very attractive flowering plants. Growing this kalanchoe in a container or pot restricts their growth. They are absolutely gorgeous as a cut flower in a tall stemmed green vase.
Potting mix: They thrive in nutrient poor soils, possibly acidic or neutral, consisting of equal parts of loam and sand, with pumice or lava grit added to ensure good drainage.
Exposure: Mature plants do best in full sun to partial shade. Indoors, it does best in bright light, but not direct sun through a window.
Watering: It needs moderate watering in autumn and spring while in summer it should be watered thoroughly and allowed to dry before watering again. In winter give only occasional watering (only when the plant starts shrivelling), but it will generally grow even in winter if given water. These plants will survive on neglect and are very drought resistant often growing where there is virtually no soil. Over-watering is the most common cause of plant failure. It can resist also to long drought periods
Fertilization: From the end of spring to the beginning of autumn, feed the plant with a monthly dose of fertiliser. Pruned plants may be given a dose of full strength fertilising as a boost. Be careful not to over fertilize.
Frost resistance: The plant can be cultivated in open air only in the zones with tropical, subtropical and, marginally, warm temperate climate and it is hardy to -2° C for short periods but cannot tolerate hard freezes. USDA Zones 9B - 12.
Disease and pest resistance: Kalanchoe rotundifoliaSN|29139]]SN|29139]] are susceptible to attack by thrips and red spider mites if they are grown in nutrient rich well watered medium and for this reason is to be periodically controlled in order to effect a quick intervention if necessary.
Traditional uses: Kalanchoe rotundifoliaSN|29139]]SN|29139]] is traditionally used by the Zulu as a charm to make one invisible.
Propagation: This is an easy plant to propagate from both seed and cuttings. Can be grown from seed, often seeding itself once it is established in an area. The seeds of these plants are very fine and must be collected as soon as they are ripe before they disperse. The best time to sow these seeds will be early spring in order to give them plenty of time to grow before late autumn. Sowing may be done either in seedling containers or directly into the garden. The basal leaves tend to form new leaves and form new plants spontaneously, the old basis sometimes persisting and supporting the leaves that sprout new plants in spring; some old plants will survive into a second and third year; cuttings from the base of older plants or the soft tips grow easily in sandy soil, semi-shade and with mild watering.
Warning: Parts of Kalanchoe pinnata are poisonous if ingested. All members of Kalanchoe are toxic for livestock, birds and small animal, due to the presence of poisonous cardio-active glucosides substances as the Cotyledon species that cause loco disease or nent.