Donate now to support the LLIFLE projects.
Your support is critical to our success.
Since 4 Aug 2013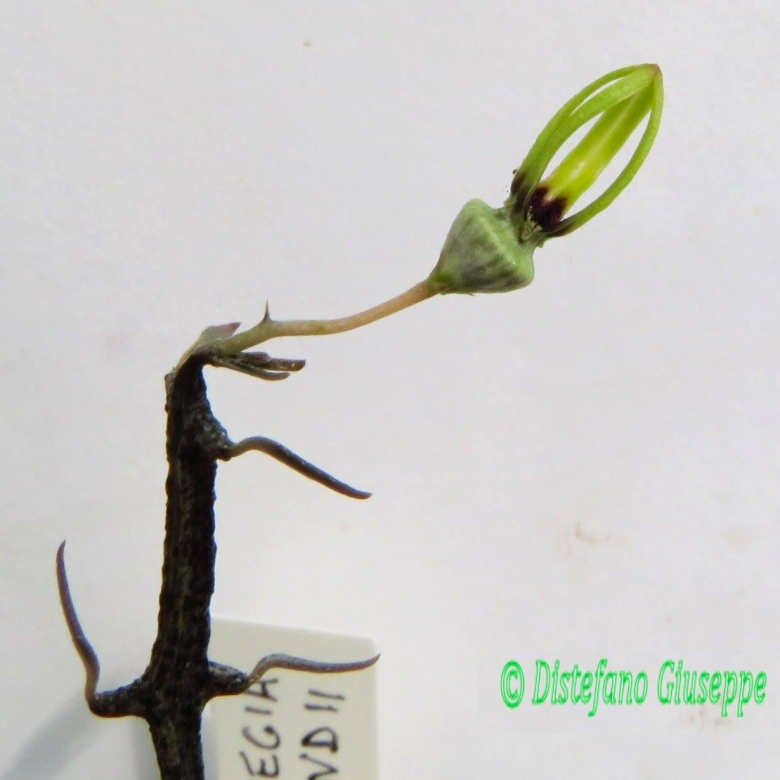 Ceropegia armandii Photo by: Giuseppe Distefano
Origin and Habitat: Tolinara, Madagascar .
Habitat and ecology: This species grows on sand in Alluaudia montagnaciiSN|33532]]SN|33532]] forest near Itampolo.
Synonyms:
Description: Ceropegia armandiiSN|33244]]SN|33116]] is a highly succulent and stapeliad-like succulent from a small tuber. The slender stems climb into shrubs and trees or spread on the ground rooting below. These stems are grey flecked with bronze, lizard-like, 4-sided with opposite, decussate, conical tubercles, each tipped with an early-falling, scale-like leaf. The flower have a short corolla-tube to 5 mm tall, with a narrow neck and 5 linear lobes forming an ovoid cage 1-1.2 cm tall pallid green with darker vertical veining, lobes are purple at the base. Although the floral structure of Ceropegia armandii is the same as Ceropegia dimorpha, its vegetative parts are quite different. This species perverse in cultivation, but treasured by collectors of oddities.
Derivation of specific name: This member of the Asclepiadaceae family was given this name by by Rauh in 1963 in honour of Armand Rakotozafy (Tsimbazaza Herbarium, Antananarivo), Madagascan teacher and co-discoverer of the taxon.
Tuber: Occasionally with a tuberous subterranean hypocotyl, up to 3 cm long, 2 cm in diameter.
Stems: Stapelia-like, succulent, 10-30 cm long, 20-30 mm thick, but rapidly elongating when flowering, often branched at base, initially creeping and rooting (or climbing on other vegetation), latter 4-angled, flattened, with decussately-arranged podaria (tubercles), grey-green flecked with bronze or dark olive-green. Tubercles dark green to nearly black, rough-verrucose, lizard-like, with persistent short recurved bases of petioles. Internodes short, strongly flattened, base broad, narrow above. Podaria elongate, thick, conical, initially horizontally spreading, later curved downwards 5-15 mm tall, 8-18 mm long at the base.
Leaves: Early-falling, succulent, scale-like, ovate, acute, divaricate, dark green, 5-10 mm long, 2 -4 mm wide, shortly acuminate, covered with short, white hairs, shortly petiolate. Stipules minute.
Inflorescences: Terminal, 1-4 flowered, with fleshy peduncle 8-10 mm long, only on thin, erect, winding, stems 1-1.5 (several) meters long, with round axis; internodes elongate; podaria reduced to simple nodular thickening; similar structure to Ceropegia dimorpha.
Flowers: Pedicels 5-10 mm long. Sepals narrowly lanceolate, 2 mm. Corolla short tubular 14-18 mm long. Corolla base inflated (top-shaped), 5 mm long, 4- 5 mm wide, outside grey-green, darker veined, inner surface white, mottled with black-purple, apically abruptly constricted, with stiff, downward pointing hairs. Corolla lobes 5, small, 10-12 mm long, arching, united at tips to form a globose widely opening cage, dark violet spotted at base, with white and violet vibratile hairs. Corona purple-yellowish, 3.5 mm across, basally fused into a shallow bowl. Corona lobes bilobed into narrow triangular appendages, 2 mm long, erect, inside with short hairs, tips connivent. Inner corona 2 x 0.4 mm, linear, erect-connivent, tips partly overlapping. Pollonia ellipsoid-ovoid.
Fruit: The fruit is a twin follicle about 10-15 cm long resembling the horns of a cow. The two follicles are narrowly fusiform, grey-green, warty, united at the base, completely spreading, and slightly recurved.
Blooming season: Autumn.
Related species: Ceropegia armandii, Ceropegia dimorpha and Ceropegia pseudodimorpha form a distinct group because of their apparent lack of a distinct corolla tube. The flowers of the other dimorphic Ceropegia species, Ceropegia bosseri, Ceropegia hofstaetteri, Ceropegia petignatii, and Ceropegia simoneaeSN|33116]]SN|33244]], have a well-developed floral tube.
Bibliography: Major references and further lectures
1) Werner Rauh, Herman Schwartz "Succulent and xerophytic plants of Madagascar", Volume 2, Strawberry Press, 1998
2) Focke Albers, Ulrich Meve "Illustrated Handbook of Succulent Plants: Asclepiadaceae" Springer Science & Business Media, 06 December 2012
3) Urs Eggli, Leonard E. Newton "Etymological Dictionary of Succulent Plant Names" Springer Science & Business Media, 29 June 2013
4) A. B. Graf "Tropica: Color Cyclopedia of Exotic Plants and Trees from the Tropics and Subtropics" Roehrs, 1978
5) Sajeva & Costanzo "Succulents: the Illustrated dictionary." 1995
6) Stuart Max Walters "The European Garden Flora: A Manual for the Identification of Plants Cultivated in Europe, Both Out-of-doors and Under Glass", Volume 6, Part 4
Cambridge University Press, 01 December 2000
7) W. Rauh, Institut de Botanique Systernatique de l'Universite de Heidelberg. "CEROPEGIA ARMANDII RAUH, UN CEROPEGIA NOUVEAU DE MADAGASCAR" Adansonia n.s., 4: 419 1964 <http://www.bhl-europe.eu/static/a031zctz/a031zctz_full_pdf.pdf>
Ceropegia armandii
Photo by: Giuseppe Distefano
Ceropegia armandii
Photo by: Giuseppe Distefano
Cultivation and Propagation: Ceropegia armandiiSN|33116]]SN|33116]] is a xerophytic plant adapted to dry soils, that can be grown in greenhouses with other succulents, but it can also be grown on window-sills. It is reputed quite difficult to grow, but orived to be very easy; slight warmth in winter and normal cactus cultivation methods, and it grows like mustard and cress. During the growing period it requires heat, light and adequate watering. Sometime a plant that formerly grew very well, suddenly dies off. But in fact this 'dying' is a quite normal part of the life cycle in this species. However the flowers are most interesting and worth the trouble, only bearing in mind that this species benefits from slightly warmer winter than others.
Growth rate: It is a relatively rapidly growing and easily flowering species that will make clumps given the best conditions.
Soils: It likes very porous mineral cactus mix soil (mildly acidic), but can become too elongated if compost is too rich.
Repotting: This plant needs plenty of space for its roots, repotting should be done every other year or when the it has outgrown its pot. Use pot with good drainage.
Watering: It needs regular watering, especially during the hottest summer days; provide also some light watering if the green house temperatures in winter are elevated. Either excessive or very scarce watering can induce rot.
Fertilization: Feed with a high potassium fertilizer in summer.
Frost Tolerance: For safe cultivation it is best to avoid freezing temperatures (minimum 10° C). In the rest period no high atmospheric humidity!!
Growing practices: The pencil- like stem grows over a meter long and racks or other long cane-like structures are needed to climb up.
Sun Exposure: Best for half-shade but grow well in full sun and shade too. Tends to bronze in strong light, which encourages flowering, but is likely to suffer from sun scorch or stunted growth if over exposed to direct sunlight during the hottest part of the day in summer.
Propagation: Seeds and cuttings. The downwards growing stick-like mottled branches root easily in regular well drained Cactus mix. Cuttings will root only in hot weather. Cuttings must be kept very dry to root. Seeds germinate readily if they are sown when fresh.