Donate now to support the LLIFLE projects.
Your support is critical to our success.
Since 4 Aug 2013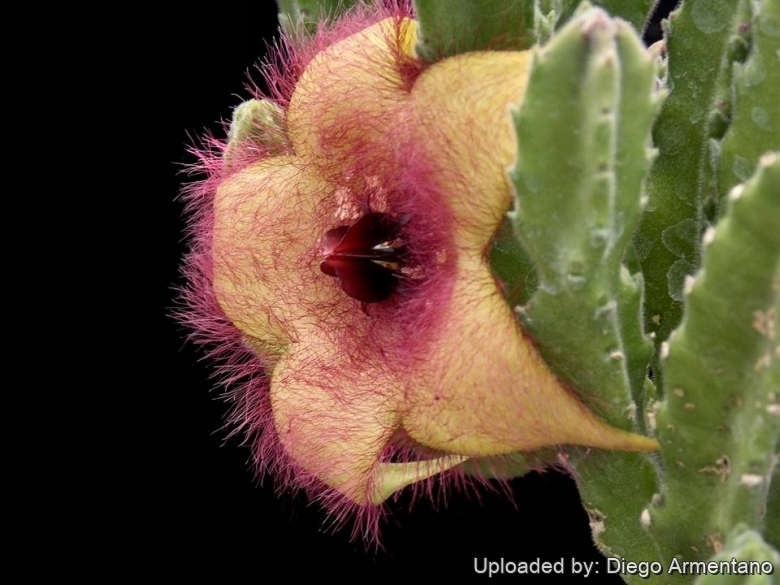 Stapelia unicornis Photo by: Diego Armentano
Origin and Habitat: Stapelia unicornis is confined to the southern parts of the Lebombo in South Africa ( Mpumalanga and KwaZulu-Natal) and in the border between Swaziland and Mocambique, and in Swaziland.
Habitat and ecology: Stapelia unicornis grows on shallow clayey soils, ledges and rocky outcrops.
Synonyms:
Description: Stapelia unicornis is a stem succulent that resembles a cactus; the branches are erect to decumbent, velvety, spineless, quadrangular in cross-section and determinate, quadrangular in cross-section and determinate, ceasing growth when less than 15 cm cm tall, may form stout clumps up to1 m in spread. The striking star-shaped flowers, are ochreous yellow and about 100 mm in diameter. The five spreading lobes are finely cross-striated with raised reddish lines, covered with silky hairs, tips tapering and recurving. The centre of the flower is almost bowl-shaped. It is strictly related to Stapelia gigantea but has smaller flowers with a decidedly bowl-shaped limb and is immediately identifiable by its different inner corona lobes.
Derivation of specific name: The inner coronal lobe completely joined to the dorsal wing, giving rise to the name, 'unicornis'. (From Latin "uni-", one-, and Lat. '-cornis', horned; for the single (joined) inner corona lobe.
Stems: 4-angled, erect or creeping, decumbent-ascending, forming clumps or sometimes freely creeping, branching from the base, pale green, up to 15 cm long, 1-1.5 cm thick, 4-ribbed, with rather prominent tubercle-teeth, densely softly pubescent, pale green.
Leaves: Rudiments, pubescent, acute, 2.5 mm, soon drying, persistent as white wrinkled tips
Inflorescence: Inflorescence shortly pedunculate at stem base, flowers developing singly successively. Pedicels less than 3 cm long finely hairy. Sepals 5.9 mm long, 2 -2.5 mm wide pubescent. Corolla ochre-yellow, 8-13 cm in diameter, wrinkles delicately red-brown or purple, fused part bowl-shaped. Corolla-lobes 28-48 mm long, curved outwards, outside shortly pubescent, inside hairy, (clavate) hairs pale purple, long, margins of the corolla-lobes hairy, clavate, and purple. Corona dark purple, almost sessile. Corolla-lobes 5-6 mm, linearly long-attenuate, concave, erectly diverging, revolute. Inner-corona lobes 8-9 mm, erect, touching each other, dorsal wings 3-4 mm broad, fused with the apical appendage, equally long; opening to the nectar cavity transversely elliptic. Pollinia yellowish, 0.8 x 0.6 mm, D-shaped. There is some variation in the extent to which the limb is bowl-shaped, in the precise shape of the inner corona lobe (although the wing is always united with the inner horn for the whole of its length) and in the overall colour of the corolla. However, characters such as these are all subject to considerable variation.
Phenology: This species flowers in October in and fruits in August.
Chromosome number: 2n = 22
Bibliography: Major references and further lectures
1) Manyama, P.A. & Kamundi, D.A. 2006. Stapelia unicornis C.A.Lückh. National Assessment: Red List of South African Plants version 2015.1. Accessed on 2016/03/10
2) Focke Albers, Ulrich Meve "Illustrated Handbook of Succulent Plants: Asclepiadaceae: Asclepiadaceae" Volume 4 Springer Science & Business Media, 2002
2) L. C. Leach "A Revision of Stapelia L.: (asclepiadaceae)" Aloe Books, 1985
3) Doreen Court "Succulent Flora of Southern Africa" A.A. Balkema, 2000
4) Urs Eggli, Leonard E. Newton "Etymological Dictionary of Succulent Plant Names" Springer Science & Business Media, 29 June 2013
5) Bruyns, P.V. "Stapeliads of southern Africa and Madagascar," vol. 1. Umdaus Press, Hatfield, Pretoria. 2005
6) Van Wyk, B-E. & Gericke, N. "People's plants: a guide to useful plants of southern Africa." Briza Publications, Pretoria. 2000
Cultivation and Propagation: Stapelia unicornis is an easy obliging blooming plant when mature, which is happy in any average succulent house.
Soil: Since roots are quite shallow, use a cactus mix or add extra perlite or pumice to regular soil potting soil. A gritty, very free-draining compost is suitable, and clay pots help the plants to dry out between watering.
Watering: Stapelia require moderately watering through the growing season but enjoy plenty of water and some fertiliser in hot weather, this helps them to flower freely. Water more sparingly in winter according to temperatures. But, as with most asclepiads, it is unwise to leave them wet in cold weather.
Hardiness: Winter care presents no problems at 5°C with plenty of light.
Sun Exposure: Partial sun or light shade.
Pest and diseases: Stapelia species vary in their susceptibility to rotting, but are generally fairly easy to grow, especially if kept pest-free. They are very susceptible to stem and root mealy bugs, and damage from these may well initiate fungal attack. If you do have problems with a stem or with basal rotting, you can reliably isolate the healthy parts, dry them off, and re-root them in moist compost.