Donate now to support the LLIFLE projects.
Your support is critical to our success.
Since 4 Aug 2013
sponsored link
Bijlia tugwelliae Photo by: Cactus Art
Origin and Habitat: Northern mountains of Little Karoo desert, Prince Albert, Western Cape, South Africa. Extent of occurrence 370 km².
Habitat and ecology: This species grows in gravelly flat areas, Stones: broken quartzite, quartzitic sandstone.and dolerite. Subpopulations in immediate vicinity of Prince Albert (within commonage) have suffered most due to urban development, those on private land were impacted upon by grazing. South of town a small reserve (fencing funded by BSCS) has been made for Bijlia and Lithops localis.
Synonyms:
Common Names include:
ENGLISH:
Iceplant
Description: Bijlia tugwelliae is a nicely clumping perennial that forms succulent mats. It is closely related to Hereroa.
Stems: Compact with 3-5 branches.
Leaves: In 2 to 3 pairs in each stems, 6-9 cm long, up to 10 mm broad, about 24 mm in diameter, fleshy, smooth relatively stiff, hard to the touch, upright, finger-like tubular-falcate to laterally compressed, keeled, almost crescent shaped, sometime paddle-form, the keel rounded and much extended, never eccentric, pale whitish, yellowish-green, blue-green to pinkish, smooth, waxen with a thick layers of crystals in the outer epidermis wall. Every year a few new leaves grow from the central stem. The whitish colouring the leaves is due to the crystal layer in the outer epidermal walls, and this layer cannot be rubbed off.
Flowers: 1-3 on a short stalk, bracteolate, long lasting, pale tan, white to bright yellow up to 5 cm broad, petal about 20-22 mm long in two series, with green nectar-glands visible as raised portion of a ring no filamentous staminodes, stamens in an erected bundle.
Blooming season: Flowers usually in late winter, but sometime in autumn too.
Fruit: Big ovate deeply seated between the leaves, persistent, opening completely, 5-locular with high valeve rims, covering membrane present with big hooked closing bodies.
Seeds: Light brow, testa somewhat raised, 0,75 to 0,85 mm long and 0,5 to 0,6 mm broad.
Bibliography: Major references and further lectures
1) Heidrun E. K. Hartmann "Aizoaceae A – E" Springer (2001)
2) H.Kurzweil & P.Chesselet "Studies in the genus Machairopliyllum (Mesembryanthemaceae), with notes on some related genera" Bothalia 33,1: 19-39(2003)
3) Cact. Succ. J. (Los Angeles) 67: 219 (1995).
4) Vlok, J.H. & Raimondo, D. 2008. Bijlia tugwelliae (L.Bolus) S.A.Hammer. National Assessment: Red List of South African Plants version 2015.1. Accessed on 2015/12/02
5) Doreen Court "Succulent Flora of Southern Africa" CRC Press, 01 June 2000
Bijlia tugwelliae
Photo by: Cactus Art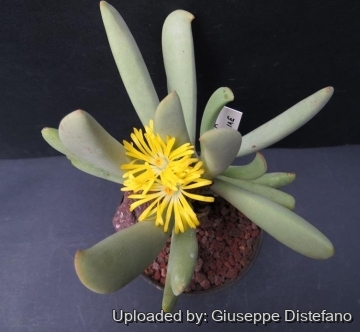 Bijlia tugwelliae
Photo by: Giuseppe Distefano
- It is one of the more attractive iceplants from S Africa notable for its big leaves and for the show of long-lasting bright yellow flowers in winter.
Photo by: Valentino Vallicelli
Bijlia tugwelliae
Photo by: Cactus Art
Bijlia tugwelliae
Photo by: Cactus Art
Bijlia tugwelliae
Photo by: Cactus Art
Bijlia tugwelliae
Photo by: Valentino Vallicelli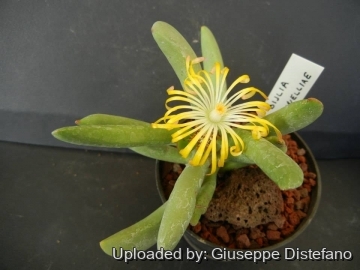 Bijlia tugwelliae
Photo by: Giuseppe Distefano
Cultivation and Propagation: Bijlia is easy to grow. These plants grow on winter rain and were heading for summer dormancy. Requires little water otherwise its epidermis breaks (resulting in unsightly scars). Water minimally in summer, only when the plant starts shrivelling but will generally grow even in summer if given water. Requires good drainage. Keep cool and shaded in summer, need full sun or light shade. Hardy to -2°C
Propagation: Seeds, cuttings.