Donate now to support the LLIFLE projects.
Your support is critical to our success.
Since 4 Aug 2013
sponsored link
Agave colorata Photo by: Matteo Faggion
Origin and Habitat: Coastal northwestern Mexico (Sonora, northern Sinaloa). It is fairly common on Cerro Sibiricahui, north of Masiaca.
Type locality: Aquibiquichi. It is fairly common on Cerro Sibiricahui, North of Masiaca.
Habitat: Agave colorata is very rare and uncommon in nature and grows only on the steep slopes of the volcanic mountains in the coastal region in Sinaloan thornscrub. It often emerges from apparently solid rock cliffs. This species receives most of its yearly rainfall from midsummer into early autumn, it seems likely that summer aridity rather than winter cold shapes the north-western limit of this species. Flowers are pollinated by bats and perhaps also hummingbirds.
Synonyms:
Common Names include:
RUSSIAN (Русский):
Агава окрашенная
SPANISH (Español):
Mescal Ceniza, Mezcal, Baogoa
Description: The Mescal Ceniza (Agave colorata) is an attractive wide-leafed agave with succulent rosettes 60 to 120 cm in diameter with jagged spines on the leaf margins. This plant is usually solitary and does not often send up many plants around the main rosette, but sometimes It may slowly clump and mature plants develop a short stem (larger group can grow up to 1.2-1.8 tall and m 2-3 m in diameter). It is similar in size and armament to its bovine cousin (Agave bovicornuta), but the blue-grey leaves are wider, with stunning leaf imprints. Leaf imprints develop during the formation of the bud.
Succulent rosette Compact, small to medium sized, up to 60 to 120 cm in diameter.
Leaves: 25-60 cm long and 12-18 cm wide,obovate to lanceolate constricted near the base, frosty grey-blue or light grey, rough, with prominent pinkish cross-bands, and strong distinctive bud imprints (the impression of adjacent leaves) . The margins are wavy and heavily "toothed". Each of the prominent crenations on the leaf margins has a brown or grey tooth 5 to 10 mm long. The straight to curved brown to grey terminal spine is 3 to 5 cm long.
Inflorescence (panicles): Straight to strongly curved. The flower stalk can reach to 2-3 m tall with about 15-20, loosely arranged, variable in lenght, densely flowered umbels located in the upper part of the scape.
Flowers: Red in bud, opening to yellow and orange c.50 to 70 mm long. Flower tube cylindrical15 to 20 mm long.
Blooming season: Flowers come in the spring ( from March through June) when the plant matures (around 15 years).
Fruit (capsules): Oblong to clavate, brown 3-chambered, 45 to 55 mm long and 15 to 17 mm wide.
Seeds: Black 5 to 6 mm long.
Remarks: Agave shrevei is most similar to A. colorata but has narrow (8-14 cm) and unbanded grey or green leaves, and may be only a variety of it. Very similar to A. colorata is Agave fortillora, but the undulate margined leaves are generally narrower (8-12 cm) and longer (50-100 cm) and its panicle taller (4-6 m). Agave palmeri, also has narrower leaves (7-10 cm) with less undulate margins.
Bibliography: Major references and further lectures
1) David Yetman, Thomas R. Van Devender "Mayo Ethnobotany: Land, History, and Traditional Knowledge in Northwest Mexico" University of California Press, 02 January 2002
2) Raymond M. Turner, Janice Emily Bowers, Tony L. Burgess "Sonoran Desert Plants: An Ecological Atlas" University of Arizona Press, 2005
3) Bernd Ullrich "Agave colorata" In: Kakteen und andere Sukkulenten. 44(3): Karteikarte 28 1993.
4) Mary & Gary Irish "Agaves, Yuccas and related plants". A. Gardener's Guide. Timber Press, 2000
5) Urs Eggli "Illustrated Handbook of Succulent Plants: Monocotyledons" Springer Science & Business Media, 06 December 2012
6) Howard Scott Gentry. "Rio Mayo Plants: A Study the Flora and Vegetation of the Valley of the Rio Mayo, Sonora." Publications of the Carnegie Institution of Washington, Volume 527, 1942, p. 93.
7) Greg Starr "Agaves: Living Sculptures for Landscapes and Containers" Timber Press, 27 June 2013
8) San Marcos Growers contributors Agave colorata - Mescal Ceniza San Marcos Growers <http://www.smgrowers.com/products/plants/plantdisplay.asp?plant_id=2697>. Web. 17 June 2016.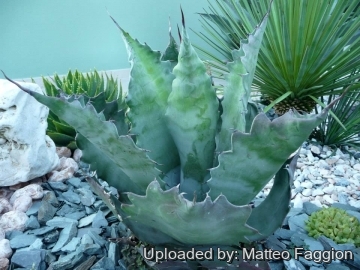 Agave colorata
Photo by: Matteo Faggion
Agave colorata
Photo by: Valentino Vallicelli
Agave colorata
Photo by: Valentino Vallicelli
Agave colorata
Photo by: Valentino Vallicelli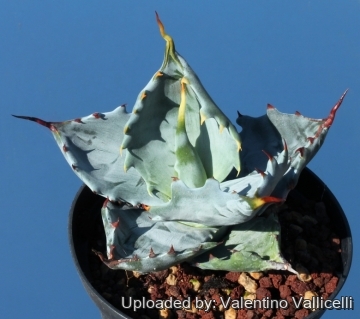 Agave colorata
Photo by: Valentino Vallicelli
Agave colorata
Photo by: Valentino Vallicelli
Cultivation and Propagation: This rosette-forming succulent agave is a slowly growing ,rosette-forming plant that matures and blooms (around 15 years) in spring with red buds opening to yellow and orange flowers in a panicle on a 3 m tall stalk. It is a relatively easy-to-grow species. If grown in a pot, it is a wonderful looking species.
Exposure: Suited for light shade to full sun, but better with some shade in summer. Plants cultivated outdoors are more drought tolerant and can take some heat and full sun.
Soil: It does great in containers or in the ground. It needs a very well-drained soil.
Water requirements: It grows fairly fast in summer if provided with copious water, but allow to dry thoroughly before watering again (the more water and fertilizer this plant gets, the faster it will grow). During the winter months, one should only water enough to keep the leaves from shrivelling.
Hardiness: Agave colorata have proven surprisingly frost tolerant.
Food: The "heads" are delicious when roasted or baked and occasionally eaten by the Seri and other tribes.
Beverage Produces wine (Mezcal) from crushed stems.
Landscaping: Suitable for large pots or as an accent plant in the landscape, it shows off best in containers when the perfect pot can be chosen and the botanical sculpture is displayed upon a pedestal. The plants are resistant to frost and agave weevils (Scyphophorus spp.)
Propagation: Reproduction is primarily by seed, occasionally by off-sets. The Mescal Ceniza occasionally produce suckers that can be used to rise new plants.