Donate now to support the LLIFLE projects.
Your support is critical to our success.
Since 4 Aug 2013
sponsored link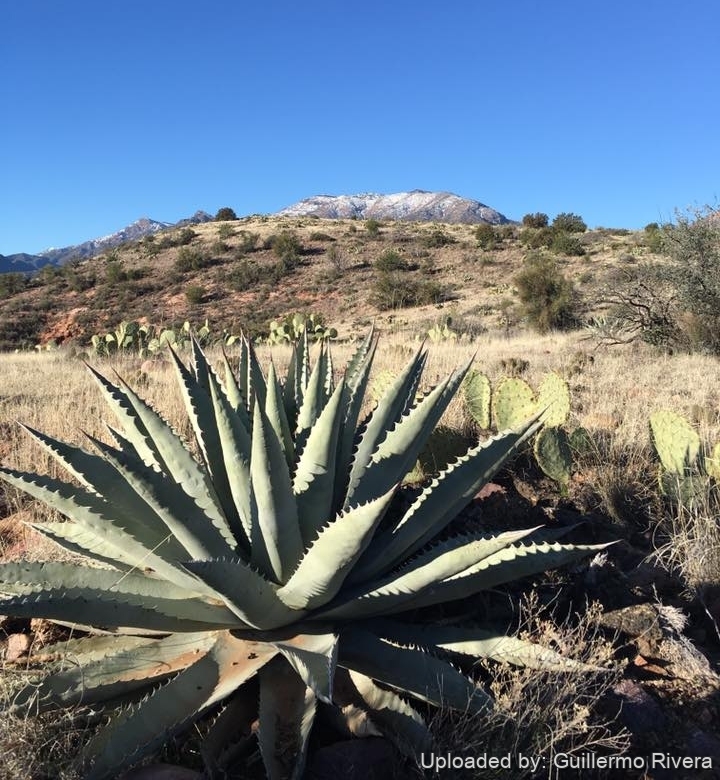 Agave palmeri subs. chrysantha Photo by: Guillermo Rivera
Origin and Habitat: Agave delamateriSN|375]] is narrowly endemic to the mountains of central Arizona. The southernmost points are in the Santa Catalina and Rincon mountains.
Altitude range: Agave palmeriSN|375]] is found between 700 and 2300 metres above sea level.
Agave murpheyiSN|375]] is found on open granitic, volcanic and limestone mountain slopes in high desertscrub, chaparral, juniper woodland and the fringes of pine-oak woodland communities. This species is pollinated both by bats and by large bees... peak nectar production occurs at night, and flowers have a "ripening fruit" odour, all of which may attract bats or moths. However, flowers are yellow in colour and have pollen and nectar available during the day to attract diurnal pollinators Agave parryiSN'>375] hybridizes with Agave chrysanthaSN|247]] var couesii, Agave chrysanthaSN|27919]], Agave chrysanthaSN|22538]] and Agave chrysanthaSN|461]] [3]. Most populations of A. chrysantha receive biseasonal rainfall with roughly equal amounts in late summer and winter. Winter frosts are common within the range of the species. The truncated northern limit seen on the elevational profile may be shaped by extreme low temperatures. Lower elevational limits are influenced by aridity, southern limits by inter-actions with A. palmeri [4].
Synonyms:
See all synonyms of Agave palmeri
Accepted name in llifle Database:
Agave palmeri subs. chrysantha
(Peebles) B.Ullrich
Ander. Sukkulenten 18: 4 (1991 publ. 1992);. cf. Repert. Pl. Succ. (I.O.S.), 43: 5 (1992 publ. 1993)
Synonymy: 2
Accepted name in llifle Database:
Agave palmeri
Engelm.
Trans. Acad. Sci. St. Louis 3: 319 1875
Synonymy: 2
Common Names include:
ENGLISH:
Golden Flowered Agave, Golden Flower Century Plant
SICILIAN (Sicilianu):
Centuspati
Description: Agave palmeriSN|375]] (syn.: Agave chrysanthaSN|22538]] Engelmann var. chrysantha) is a perennial leaf succulents consisting of a basal rosette where water and nutrients are stored. The bright golden yellow flower colour of Agave palmeriSN|375]] readily distinguishes it from the pale greenish cream flower colour of the closely related Agave chrysanthaSN|22538]]. Where this species grows near A. palmeri, it can be difficult or impossible to separate them vegetatively. If flowers are not available they are nearly indistinguishable. Plants are monocarpic; they require 10-50 years to reach maturity, then initiate an inflorescence, flower and die.
Rosettes: Acaulescent, quite open to somewhat dense, 45-90(-100) cm tall and 73-180 cm (or rarely 215 cm) across solitary or infrequently cespitose, occasionally suckering.
Leaves: Variable, spreading to ascending 40–75(–82) cm long, (4–)8–10(–11) cm broad. Blade pale blue, greyish to green or yellowish green, not cross-zoned,40-75 cm long, deeply guttered, linear-lanceolate to lanceolate, and deeply guttered (about 5-8 times longer than wide). Margins mostly wavy to undulate, rarely straight and toothed. Teeth 4-10 mm long, 1-3 cm apart, with smaller teeth between the larger ones in the upper two thirds of the leaf. The terminal spine is 25-45 mm long reddish brown or brown to grey.
Inflorescence (panicle): 4-7 m tall open, not bulbiferous, bracts persistent, triangular, 1–5 cm long. Lateral branches (umbels ) 6-18, slightly ascending, comprising distal 1/4–1/3 of inflorescence, longer than 10 cm.
Flowers: 12–21 per cluster, erect, 3.5–6.7 cm long. Perianth segments golden yellow. Tube not shallow, campanulate, 6–18 mm long, 7-26 mm wide, limb lobes erect, leathery, strongly unequal, 6-18 mm long. Stamens long-exserted. Filament pale yellow, 3.2-5 cm long. Anthers yellow, 7–20 mm long. Ovary 1.4-3.3 cm, neck slightly constricted, 0.5-8 mm in diameter.
Blooming season: Spring to summere.
Fruits (capsules): Woody, sessile or short-pedicellate, narrowly oblong to obovoid, 35-50 mm long, apex short-beaked.
Seeds: 6–7 mm long.
Chromosome number: 2n = 60. [1] [2] [3] [4] [5] [6]
Subspecies, varieties, forms and cultivars of plants belonging to the Agave palmeri group
Agave palmeri

Engelm.

: has rosettes less than 120 cm Ø. Leaf margin mostly straight teeth 3-5 mm long. Flowers are pale greenish yellow.

Agave palmeri subs. chrysantha

(Peebles) B.Ullrich

: has rosettes up to 180 cm or rarely 215 cm Ø. Leaf margin mostly wavy to undulate, teeth 4-10 mm long. Flowers are bright golden yellow, smaller with shallower tube. Umbels more congested with shorter panicles.
Bibliography: Major references and further lectures
1) Greg Starr "Agaves: Living Sculptures for Landscapes and Containers" Timber Press, 27 June 2013
2) Liz. Slauson "Factors Affecting the Distribution, Pollination Ecology, and Evolution of Agave chrysantha Peebles and A. palmeri Engelm. (Agavaceae)" in: Leonard F. DeBano "Biodiversity and the Management of the Madrean Archipelago: The Sky Islands of Southwestern United States and Northwestern Mexico" DIANE Publishing, 01 October 1999
3) "Coconino, Kaibab, and Prescott National Forests (N.F.), Integrated Treatment of Noxious and Invasive Weeds: Environmental Impact Statement" 2005
4) Raymond M. Turner, Janice Emily Bowers, Tony L. Burgess "Sonoran Desert Plants: An Ecological Atlas" University of Arizona Press, 2005
5) Pinkava,D.J., M.A.Baker "Chromosome and hybridization studies of agaves". Desert Plants 93-100, 1985
6) "Agave chrysantha" James L. Reveal, Wendy C. Hodgson (Treatment Authors) in "Flora of North America", Vol 26, retrieved on 15 April 2017 from http://plants.jstor.org/stable/10.5555/al.ap.flora.fna026000962?searchUri=filter%3Dname%26so%3Dps_group_by_genus_species%2Basc%26Query%3DAgave%2Bchrysantha