Donate now to support the LLIFLE projects.
Your support is critical to our success.
Agave chazaroi Photo by: Matteo Faggion
Young plants have small spines along the leaf margins but aside from the terminal spine, the mature leaves are nearly spineless, with only small teeth-like spines near the leaf base.
Origin and Habitat: Near Tequila, Jalisco, Mexico (Mexico Southwest, Mexico, Northern America).
Type Locality: Tequila, San Martín de Cañas (Jalisco) Latitude: 20° 57' N. Longitude: 103° 52' 18'' W
Altitude: 900-1200 m over sea level.
Habitat: It inhabits cliffs in semi-arid tropical deciduous forest, with little annual temperature fluctuations and a dry winter when temperatures are slightly cooler.
Synonyms:
Description: Agave chazaroi is a beautiful species with wide, very stiff, deep-green to bluish-grey leaves with red brownish unarmed rims. At maturity is produced a tall unbranched spike of flowers.
Derivation of specific name: This member of the Cactaceae family was given this name chazaroi in honour of Miguel Cházaro Basañez (fl. 2002), Mexican botanist specializing in Crassulaceae and parasitic plants. It was described by J. Antonio Vázquez-Garcia & Oscar Valencia-Pelayo in 2007
Rosettes: Solitary, relatively open up to 80 cm tall, and 1,5 m wide.
Leaves: Spreading, broad, slender, up to 80 cm long and 20 cm wide, irregularly arranged, glossy yellowish-green, deep-green to bluish-grey , with smooth leaf-margins and very stiff, extended apical spine 3 to 5 cm long. Young leaves have a wavelike form and are broadest in the middle, with narrow reddish brown margins. Older leaves are a paler yellow green. Young plants highly resemble species like Agave titanota and Agave ghiesbreghtii with teeth-like leave margins but aside from the terminal spine. However, as plants matures leaves are nearly spineless, with only small teeth-like spines near the leaf base. Older plants also have a more firm leaf form where the red colourations have disappeared.
Inflorescence: Tall unbranched to 2.5 m tall. Numerous flowers grow in tufts between the leaves.
Flowers: White to off-white (or yellowish-green) 20 to 30 mm long.
Blooming season: The flowering period is from March to April.
Fruits (capsules): Elongated up to 20 mm long.
Related species: It is related and superficially resembles Agave pelonaof the northern state of Sonora in its smooth leaf-margins and extended apical spine. However, A. chazaroi comes from the other end of the country in Jalisco. It also differs in its more slender, spreading leaves and its yellowish-green rather than red flowers. Differences in flower structure can also be seen. Agave chazaroi is also very close to Agave gilberti and differs from the latter in having broader leaves and a longer terminal spine. It was likely that this plant was the long lost Agave bakeri, but now it seems that we are dealing with a new species.
Bibliography: Major references and further lectures
1) Urs Eggli, Leonard E. Newton "Etymological Dictionary of Succulent Plant Names" Springer Science & Business Media, 29 June 2013
2) San Marcos Growers contributors Agave chazaroi San Marcos Growers <http://www.smgrowers.com/products/plants/plantdisplay.asp?plant_id=3464>. Web. 17 June 2016.
3) J. A. Vázquez-Garcia G., M. de J. Cházaro B., G. Hernández V., E. Flores B., Y. L. Vargas-Rodríguez "Agaves del Occidente de Mexico". 2007
4) International Succulent Introductions of the Huntington Botanical Gardens "ISI 2010-9. Agave chazaroi A. Vazquez & O. Valencia" Published in the Cactus and Succulent Journal, Vol. 82 (2), March - April, 2010 <http://www.huntington.org/BotanicalDiv/ISI/ISI2010/2010-09.html>
Agave chazaroi
Photo by: Viviana Alejandra Castro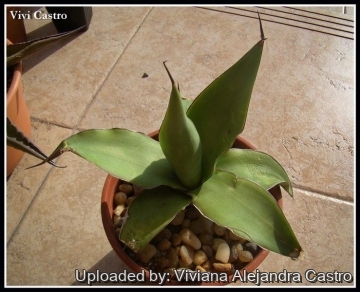 Agave chazaroi
Photo by: Viviana Alejandra Castro
Cultivation and Propagation: It is an excellent plant which works well with other succulents or even tropical plant material. It is well suited for a container inside or a sheltered warm spot outdoors. It is a frost tender plant and it will usually be severely damaged in temperatures below -2° C. Although it survives in poor soils and can tollerate full coastal sun to to full shade, it does best in rich but well-drained soil mix ( 2 parts peat moss to 1 part loam to 1 part of pumice) with half sun exposures. The plant is extremely drought tolerant but does better with ample moisture and grows quickly if kept well watered and nourished (Slow release fertilizer applied once or twice a year is usually sufficient). During the winter months, one should only water enough to keep the leaves from shrivelling. Plants cultivated outdoors are more drought tolerant and can take some heat and full sun. Protect from snails which can also disfigure the plant.
Offsets or 'pups' can be removed to maintain the strong architectural lines of the agave and provide great additional plants, or left to form a clump.
Propagation: By seeds or by removing suckers produced at the base of older plants. Seeds germinate readily when they are fresh. The basal suckers can be removed in spring or summer, letting the cuttings dry for a few days before inserting in compost.