Donate now to support the LLIFLE projects.
Your support is critical to our success.
Since 4 Aug 2013
sponsored link
Agave ovatifolia Photo by: Matteo Faggion
This beautiful agave has wide, powder-blue leaves. It forms a flattened rosette, and the leaves have a pronounced groove or gutter on the upper surface.
Origin and Habitat: Mun. de Bustamente, Sierra de Lampazos, rancho Minas Viejas, 26°39'N, 100°24'W, northern Nuevo León ( northeastern Mexico, Northern America).
Altitude range: This species occurs at elevations from 1200 to 2100 metres.
Habitat and ecology: It is found in a isolated mountain top. Frost resistant till -12°C.
Synonyms:
Common Names include:
ENGLISH:
Whale's Tongue Agave
Description: Agave ovatifolia is a compact generally solitary, non-offsetting species that rarely produces an offset or two. Leaves are distinctive, 50-55 cm long by 22-28 across, broadly ovate, silvery blue, and distinctively cupped in the upper surface. Leaves have small hooked teeth along their margins and 2.5 cm long dark grey terminal spine. It is not unlike other agaves, though whale tongue leaves are sculpted, with a gutter down the center which is ideal for collecting and funneling rain to the roots. Agave ovatifoliaSN|22513]] is commonly called Whale's Tongue Agave because the leaves resemble the tongue of a whale. The flowers are pale yellow-green, borne on a towering stalk at the end of its long, beautiful life. It is one of the most beautiful century plants.
Derivation of specific name: The specific epithet, from the Latin words 'ovatus' for "egg" and 'folius' for "leaves", is in reference to the broad ovate leaves.
Rosettes: Producing no plantlets around its perimeter, it grows as a symmetrical, hemispherical, slightly flattened rosette (60-)80-90(-150) cm tall by (90-)120-150(-200) cm across.
Leaves: Short, wide, broadly ovate, 50-55 cm long by 22-28 across, powder-blue/grey with a distinct cupped leaf blade, lightly keeled and with a pronounced groove or gutter on the upper surface. Marginal teeth are small and in general curved towards the base, and the dark greyish black terminal spine is about 1-2,5 cm long.
Inflorescence: The paniculate inflorescence is 3-4,5 m tall and consists of several side branches, each densely clustered with large, greenish yellow flowers.
Blooming season: After many years it will flower in June or July once before dying.
Notes: Agave parryiSN|22513]] is closely related and fairly similar-looking to Agave parrasanaSN|27916]], Agave havardianaSN|524]], and Agave ovatifoliaSN|247]] which form a complex of related taxon. The adult plants of these species are generally readily separated; it is the immature plants that are hard to separate from each other. These plants can be set apart primarily by close examination of the leaf margin, the teeth along the margin and the terminal spine.
Bibliography: Major references and further lectures
1) San Marcos Growers contributors Agave ovatifolia - Whale's Tongue Agave San Marcos Growers <http://www.smgrowers.com/products/plants/plantdisplay.asp?strSearchText=Agave%20ovatifolia&plant_id=2886&page=>. Web. 10 June 2016.
2) J. Thiede Agave ovatifolia. In: Urs Eggli (Editor): "Illustrated Handbook of Succulent Plants: Monocotyledons" Springer, 2001
3) Greg Starr "Agaves: Living Sculptures for Landscapes and Containers" Timber Press, 27 June 2013
4) Judith Phillips "Growing the Southwest Garden" Timber Press, 28 April 2016
Young specimen.
Photo by: Valentino Vallicelli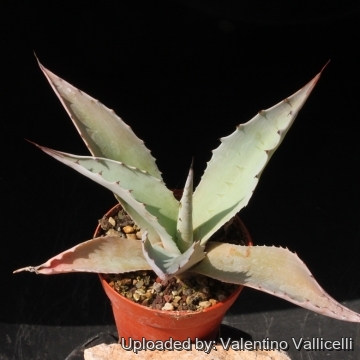 Agave ovatifolia
Photo by: Valentino Vallicelli
Cultivation and Propagation: Agave ovatifoliaSN|22513]] is a easy-to-grow species. Producing no plantlets around its perimeter, it grows as a symmetrical rosette, needs little supplemental watering, benefits from filtered shade, and tolerates greater cold when grown dry.
Growth rate: The growth rate is moderate, taking several years to achieve full size. It has been noted that this plant has stayed smaller in hot dry locations where water has been withheld but responds well to irrigation and grows much larger.
Soil: It needs a very well-drained, soil.
Exposure: This agave seems pretty hardy in hot, blazing sun, but does great in very light filtered sun, it grows also quite well under the shade of small trees.
Hardiness: It is quite cold hardy for an Agave -8° for an extended period can burn some leaves (but can survive to at least -12°, particularly when dry)
water requirements: It grows fairly fast in summer if provided with copious water but allows to dry thoroughly before watering again (the more water and fertilizer this plant gets the faster it will grow). During the winter months, one should only water enough to keep the leaves from shrivelling. It does great in containers or in the ground. Plants cultivated outdoors are more drought tolerant. When given ample water they can attain a size of 2 meters tall and 2 meters wide. When grown hard, the plant will stay on the smaller end while those grown with ample moisture will attain maximum size.
Propagation: Seeds.
Uses: It can be placed in a decorative pot and used as a focal point on a patio. When planted in the ground, it can be used in all mild-climate zones. Agave ovatifoliaSN|22513]] fits in nicely with cactus, and other succulent and semi-succulent plants.