Donate now to support the LLIFLE projects.
Your support is critical to our success.
Since 4 Aug 2013
Encephalartos laurentianus Photo by: Raimondo Paladini
Botanical garden of Puerto de la Cruz, Tenerife. 03 febb. 2017. The trunk is over 50cm in diameter and the leaves are over 5 meters tall.
Origin and Habitat: Encephalartos laurentianus is known only from a small area on the Angola—Congo border. Populations are restricted to the Kwango (Cuango) River valley in the vicinity of Kasongo-Lunda in the Bandundu province of the DRC and in the Uige province in Angola. Plants are also found between the Fufu and Kikasu tributaries of the Kwango. It has been reported that 'large numbers' occur in the Kasongo-Linda districts of eastern DRC and that seed set is occurring.
Altitude range: This species occus between 450 and 550 metres above sea level.
Habitat and Ecology: E. laurentianus is found in closed, humid gallery forest along the river Kwango and on open red sandstone slopes above. The vegetation type in this area is Congolian forest-savanna mosaic. The species is targeted by collectors, but the area where it grows is considered impenetrable to outsiders, due to its remoteness and danger.
Synonyms:
Common Names include:
ENGLISH:
Kwango Giant Cycad
Description: Encephalartos laurentianusSN|31916]]SN|31916]], described in 1903 by Belgain botanist De Willd. is Africa's largest cycad (by far the largest Encephalartos). It grows fast, to become a true giant, with stems up to 15m tall, one metre across, vigorously suckering, and leaves up to 7 m long, with dark green leaflets. In shade, Encephalartos laurentianusSN|31916]]SN|31916]] eventually becomes so huge that its sheer weight causes the plant to recline and grow along the ground.
Distinguishing characteristics: This species differs most conspicuously by its gigantic stature, soft-textured, very long foliage; large thin leaflets. The yellowish green lateral cones are covered with persistent short russet-brown indumentum and wrinkled scale apices. The pollen cones are numerous, long stalked and emerge in succession. The morphological and geographical discontinuities probably indicate a considerable evolutionary divergence from all the other Encephalartos species.
Derivation of specific name: The species name laurentianus commemorates the19th Century Belgian collector Emile Laurent, who introduced plants of this species into cultivation.
Stem: Well-developed, cylindric, sometimes irregularly shaped, erect or sometimes prostrate, casually branched especially when prostrate, 4-15 m high, 40-100 cm thick, closely covered under the crown with 5-7 wide alternating scales and persistent imbricating leaf-bases, lower down pale, shaggy, and marked by the scars of the fallen scales and leaves.
Leaves: Pinnately compound, 3-7 m long, 40-70 cm wide above the middle, dark green, highly glossy, flat (not keeled) in section (opposing leaflets inserted at 180° on rachis). Petiole straight and rhachis slightly angular, green, gently curved, somewhat lax, not spirally twisted, quite glabrous. Leaflets firmly coriaceous, 60–80 pairs, ovate-lanceolate, distinctly falcate, strongly discolorous, not overlapping, not lobed, insertion angle horizontal 30-50 cm long, 4-7 cm wide, very oblique at the base and there rounded on the upper, straight or at times concave on the lower edge, apex acutely acuminate, pungent, margin flat with 6–10 strong diverging teeth along either edge, the tip in young plants casually 3–4-spinescent. Leaf-base collar not present; basal leaflets reducing to spines.
Male cones: 2-6 peduncled, pale green to bright red, ovate to narrow-cylindric, 18-36 cm long, 6-10 cm wide. Peduncle 12-25 cm long, tomentose. Scales spreading, obovate-deltoid, fertile portion 20 mm long, rather longer than broad, apex rhomboid, 12-18 mm across, the lateral angles acute, the upper very obtuse, ridged and faintly faceted, not umbonate.
Female cones: 2-6 to each separate crown, subsessile, greyish-green, oblong-ellipsoid, 35-40 cm long, 18-20 cm wide. Apex of scales wide-rhomboid, 7 cm across, 18 mm deep, lateral angles explanate, upper and lower very obtuse, vertically 2-ridged with an obscure central channel between the ridges, not umbonate.
Seeds: Ovoid-oblong, faintly angled, 4-5 cm long, 25-30 mm wide; outer coat (sarcotesta) orange-red.
Bibliography: Major references and further lectures
1) Terrence Walters, Roy Osborne "Cycad Classification: Concepts and Recommendations" CABI, 12 January 2004
2) F. Halle, R.A.A. Oldeman, P.B. Tomlinson "Tropical Trees and Forests: An Architectural Analysis" Springer Science & Business Media, 06 December 2012
3) D. Prain "Flora of Tropical Africa", Vol 6, Part 2, page 344, 1917.
4) Bösenberg, J.D. 2010. Encephalartos laurentianus. The IUCN Red List of Threatened Species 2010: e.T41949A10609195. http://dx.doi.org/10.2305/IUCN.UK.2010-3.RLTS.T41949A10609195.en . Downloaded on 28 September 2015.
5) Whitelock, Loran M., "The Cycads", Timber press, 2002
6) Haynes J.L, "World List of Cycads: A Historical Review", IUCN/SSC Cycad Specialist Group, 2011.
7) The Cycad Pages "Encephalartos laurentianus." Royal Botanic Gardens Sydney Written and maintained by Ken Hill 1998-2010 Maintained by Leonie Stanberg and Dennis Stevenson 2010-2012 <http://plantnet.rbgsyd.nsw.gov.au/cgi-bin/cycadpg?taxname=Encephalartos+laurentianus> Web. 25 August 2015
8) Cycads.com, Jurassic Garden, A&A Cycads and Maurice Levin. "Encephalartos laurentianus." <http://www.cycadpalm.com/enlaplkwgicy.html#sthash.ZZvlFzzm.dpuf> Web. 25 August 201
9) PACSOA contributors "Encephalartos laurentianus.". In: Cycads. Palm and Cycad Societies of Australia (PACSOA) <http://www.pacsoa.org.au/wiki/Encephalartos_laurentianus>. 24 November 2013, Web. 28 August 2015.
The Kwango Giant Cycad. Male specimen in Joe's Jurassic Cycad Gardens, Katherine, Northern Territory, Australia.
Photo by: Josef Cycad Perner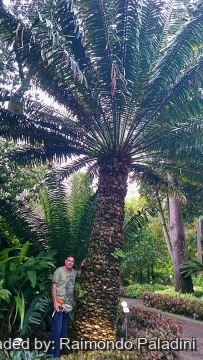 Encephalartos laurentianus at Botanical garden of Puerto de la Cruz, Tenerife. 03 febb. 2017. The trunk is over 50cm in diameter
Photo by: Raimondo Paladini
Encephalartos laurentianus
Photo by: Josef Cycad Perner
Encephalartos laurentianus
Photo by: Josef Cycad Perner
Male cone.
Photo by: Josef Cycad Perner
See the Pollen sac's that have ruptured, dehiscing the pollen, there are also un-ruptured sac's.
Photo by: Josef Cycad Perner
See the Pollen sac's.
Photo by: Josef Cycad Perner
Male cone at pollen dehiscing stage.
Photo by: Josef Cycad Perner
Cultivation and Propagation: Encephalartos laurentianus needs a moist, well-drained, frost-free position, in filtered sun. As a garden subject, it is one of the most spectacular of all cycad species and is quite adaptable in cultivation. Although slow-growing as a seedling, this plant grows rapidly once it is about three years old and responds well to cultivation provided it has a well-drained soil, frost-free conditions and regular watering during the dry months. It is an adaptable plant well suited to subtropical climates. It can be grown in full sun without its leaves burning. When young they can be grown as a container plant and eventually transplanted into the garden. As a garden plant, this cycad will usually hold two or three crowns of leaves, all in good condition. It is one of the larger species of Encephalartos and has excellent landscape potential if your garden can handle a larger plant.It likes lots of water in the growing season.
Growing rate: It is an extremely fast grower, putting out up to 5 flushes a year. The seedlings grow rapidly, developing into an attractive garden plant with 5 m long leaves in four to five years. Needs a large garden due to its size. It likes water and regular feeding and if it finds the right spot in the garden, will grow remarkably well. Seedlings can be a little slow to get started for the first couple of years if they are grown in containers which do not allow room for the tap root to develop.
Soils: It grows in all sorts of soil type, but prefer well drained, gritty soil with plenty of water, especially in dry weather.
Transplanting: This species transplants easily as a mature plant, although it is recommended to remove all of the leaves before doing so. This makes for easier handling and the plant will recover sooner due to less moisture loss.
Exposure: It thrives and grows best in filtered sun or partial shade. When grown in full sun, the leaves are a little shorter and less likely to be damaged by wind. The leaves of those plants grown in the shade can become stretched out and damage the caudex if they break off close to their base.
Waterings: In cultivation prefers moist soil with good drainage for optimal growth. But it is eventually drought resistant. Irrigation systems can be detrimental to cycads, damaging the leaves and stems from the pressure of the water as well as over-watering.
Fertilization: Naturally undemanding for nutrients, it responds very well to regular applications of fertilizer. Growth can be greatly improved through the application of fertilizers. Most growers find that a fertilizer having an even NPK (Nitrogen, Phosphorus, Potassium) balance, and supplemental trace elements, provides a good start for cycads.
Wind tolerance: It prefers a sheltered position providing protection from the prevailing winds.
Hardiness: Frost sensitive (USDA zones 10-12) .
Propagation: It may be propagated by seeds. They are among the easiest plants to germinate, but appears to need shade for successful germination. It is sown on a bed of clean coarse sand which has a bottom heat of 25-28°C. The seeds are pushed into the sand so as that they are level with the surface of the sand. Water each day and within two months the seeds begin to germinate by producing a root followed by leaves. Within10 months the seedlings are removed and potted into a 3 litre plastic sleeve containing a well-drained growing medium which contains some agricultural lime. Within a year these seedlings need to be repotted into 30 cm pots to encourage the plants to develop. Keeping encephalartos in small containers prevents them from growing. Once in the open ground they develop well.
Known hazards: Many members of the Zamiaceae are poisonous, producing toxic glycosides known as cycasins, one should use gloves when handling or cleaning them.