Donate now to support the LLIFLE projects.
Your support is critical to our success.
Since 4 Aug 2013
Macrozamia communis Photo by: Josef Cycad Perner
Photo by Cycad International. https://www.facebook.com/Cycads
Origin and Habitat: East coast of New South Wales, Australia. Macrozamia communis has the most extensive distribution of any cycad in New South Wales and is found along the coast from the district around Armidale, New South Wales to Bega 700 km south and on the coastal slopes of the Great Dividing Range with some instances on the inland slopes of the range; as far west as the Mudgee district. This species is most abundant on the south coast of the state and occurs in numerous subpopulations. Several of these subpopulations comprise thousands upon thousands of plants.
Altitude range: Occurs from near sea level up to 300 m.
Habitat and ecology: Macrozamia communis is locally abundant in wet to dry sclerophyll forests, in proximity to the seashore they grow in sandy soils and in nearby coastal ranges they grow in gravelly loams, but also on shallow sandy or stony soils on ridges. It naturally grows in a temperate climate with warm to hot summers and cool to cold winters with frosts occurring in some areas. In its habitat it seems to prefer partially-shaded locations under an open Eucalyptus forest canopy. Macrozamia communis sheds its pollen as early as late winter and the cones thereafter remain open. The cones scales that bear the ovules (megasporophylls) of mature female plants separate vertically and remain open and accessible for several days, allowing pollination to take place. Numerous insect species have been found on male and female cones, but only weevils, primarily Tranes lyterioides (Coleoptera, Curculionidae), and wind were thought to be pollen vectors, even though thrips in the genus Cycadothrips (Terebrantia: Aeolothripidae) had been observed by the thousands in male cones. The weevil Tranes lyterioides inhabits both male and female cones and consumes pollen, but much pollen gathers about the body surface. This is available for pollination as the weevils have no difficulty entering the spaces formed when female cones are in the receptive stage. Regardless, the intimate interrelationship between Tranes lyterioides and Macrozamia communis is likely to represent an ancient one, as weevils trace an ancestry to at least the Triassic (c. 225-190 million years ago), contemporaneous with the dawning of the cycads. The area is frequently burnt, but the trunk of Macrozamia communis is covered in old leaf bases that makes adult plants quite fire tolerant. The plant will immediately start to produce new fronds if the old ones are burned off or badly scorched. Seed cones are often formed after fire. Male and female seed cones are on separate plants and the large female seeds are ripe when red or yellow. This species is not threatened, but urban and rural land development has had an affect on certain subpopulations.
Synonyms:
See all synonyms of Macrozamia communis
Accepted name in llifle Database:
Macrozamia communis
L.A.S.Johnson
Proc. Linn. Soc. New South Wales 84: 98 (1959)
Synonymy: 12
Common Names include:
ENGLISH:
Common Burrawang, Burrawang, Zamia, Zamia palm, Cycad, Wild pineapple, Wild zamia
Description: Macrozamia communis (Burrawang) is a medium to large palm-like cycad with short but stout woody trunk topped with long fronds arranged in a gracefully rounded crown arching out from the central trunk. Individual specimens take 10-20 years to mature and may live for up to 120 years. The large seeds can have red, orange or yellow coloured flesh.
Trunk: Woody up to 30-80 cm in diameter and 0.3-2 m tall, normally unbranched though plants do branch on an extremely rare basis. The trunk is typically underground, but may be emergent and shortly erect where growing on shallow soils or on rocky sites. This species does not sucker and normally only produces a single trunk.
Leaves (fronds): Numerous (20-100 plus), gracefully arching, glossy green becoming dull with age, up to 1.5 m long in a full grown specimen (up to 2 metres long in shaded spots), with rigid, sharp-pointed leaflets 15–35 cm long, in two regular rows, angled forward (at an angle of 45-60 degrees to the rhachis) and which extend in a horizontal plane from the rhachis, the lower few progressively reduced and rather spine-like towards base. A prominent whitish callous is present at the point where the pinnae join the rhachis. Rhachis untwisted.
Female cones: The mature female plant develops a number of large, football like cones about 25 cm long from centre after fire .
Male cones: The male cones are reddish, cylindrical, can measure up to 4-12 cm in diameter with up to ten being borne per mature plant.
Seeds:The flesh of seeds is normally reddish coloured, though occasionally yellow or intermediate orange coloured seeds are produced. Plants producing seeds with different coloured flesh can be found growing side by side in the same stands. Red coloured seeds predominate, with yellow seeds being reasonably plentiful but with orange seeds being less common.
Remarks: Seedlings of Macrozamia communis have a tuber and coralloid roots that rise up above the ground containing cyanobacteria.
Taxonomy: In much of the older literature Macrozamia spiralis probably refers to M. communis. This is because the species identification communis was not created until 1959, in a revision of Australian Zamiaceae by Dr LAS Johnson. Thus prior to this, various Cycads in New South Wales that were classified as Macrozamia spiralis subsequently fell under the M communis — which differs because the former is a small Cycad (60 cm high, 6-8 fronds) that is restricted to Richmond, north of Sydney. Macrozamia montana and Macrozamia reducta were also formerly classified as M. communis.
Bibliography: Major references and further lectures:
1) Hill, K.D. 2010. Macrozamia communis. The IUCN Red List of Threatened Species. Version 2014.2. <www.iucnredlist.org>. Downloaded on 13 November 2014.
2) Alan Fairley, Philip Moore "Native Plants of the Sydney Region: From Newcastle to Nowra and West to the Dividing Range" Allen & Unwin, 2010
3) Cheryll Williams "Medicinal Plants in Australia Volume 3: Plants, Potions and Poisons" Rosenberg Publishing, 01/Jul/2012
4) D. Jesse Wagstaff "International Poisonous Plants Checklist: An Evidence-Based Reference" CRC Press, 07/Jul/2008
5) "Burrawang". Australian Aboriginal ethnobotany. Australian National Botanic Gardens. 2003
6) Healy PJ (1969) "Studies on poisoning by Macrozamia communis. I. Biochemical disturbances in the liver." Biochem Pharmacol 18(1):85-92.
7) Healy PJ (1969) "Studies on poisoning by Macrozamia communis. II. Effects of modifying agents upon changes induced in the liver by Macrozamia communis." Biochem Pharmacol 18(1):93-99.
8) Geoff Williams, Paul Adam "The Flowering of Australia's Rainforests: A Plant and Pollination Miscellany" Csiro Publishing, 2010
9) Terry, I. (2001) "Thrips and weevils as dual, specialist pollinators of the Australian cycad Macrozamia communis (Zamiaceae)." International Journal of Plant Sciences 162,1293-1305.
10) D. P. Abrol "Pollination Biology: Biodiversity Conservation and Agricultural Production" Springer Science & Business Media, 05/Oct/2011
11) "Aboriginal bush foods". Botanical information - Botanic Gardens Trust - Sydney, Australia. Department of Environment and Conservation (NSW). <http://www.rbgsyd.nsw.gov.au/plant_info/aboriginal_bush_foods> Web. 13 Nov. 2014.
12) Wikipedia contributors. "Macrozamia communis." Wikipedia, The Free Encyclopedia. Wikipedia, The Free Encyclopedia, 27 May. 2014. Web. 13 Nov. 2014.
13) Benson, Doug; McDougall, Lyn (1993). "Ecology of Sydney Plant Species Part 1: Ferns, fern-allies, cycads, conifers and dicotyledon families Acanthaceae to Asclepiadaceae". Cunninghamia 3 (2): 257–422 [336].
14) Kennedy, P. (1993). "Macrozamia communis" Palm and Cycad Societies of Australia (PACSOA).12 December 2013 Web. 13 Nov. 2014.
15) Cycad International. Cycad Specialty Export nursery in Australia. http://www.cycadinternational.com.au/ facebook https://www.facebook.com/Cycads
- Photo by Cycad International. https://www.facebook.com/Cycads
Photo by: Josef Cycad Perner
- Photo by Cycad International. https://www.facebook.com/Cycads
Photo by: Josef Cycad Perner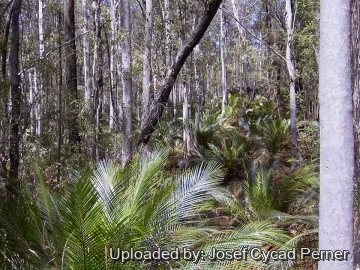 - Photo by Cycad International. https://www.facebook.com/Cycads
Photo by: Josef Cycad Perner
Photo by Cycad International. https://www.facebook.com/Cycads
Photo by: Josef Cycad Perner
Cultivation and Propagation: The burrawang ( Macrozamia communis) is a beautiful Cycad, very drought hardy, for part shade to bright filtered sun and is pretty tolerant of abuse. Shady environments make it look green and uncharacteristic. Burrawang make a very decorative container plants for indoors – if the position is very airy and well lit – or for verandahs and patios, but it grows better in the ground than in a pot.
Growth rate: It is very slow growing, however good conditions can speed it up considerably.
Exposition: It prefers half sun or bright filtered sun but not in constant deep shade. Well-established plants are able to tolerate exposure to full sunlight.
Soil: Needs a well drained preferably limestone based soil, but will still thrive in less than ideal conditions. Mulch with organic materials (bark or leaf mould).
Repotting: As these plants are such slow growers they seldom need repotting. If necessary, repot in late spring.
Transplantation: This cycad is touchy about being moved. In fact, it's a delicate species in general. Best to plant this one out a bit smaller and be sure that's where you want it.
Moisture: Water when dry. Drought tolerant, but not really that drought tolerant, though.
Fertilization. Because of its growth habit, fertilize only when terminal bud begins to swell, indicating the start of the annual growth cycle.
Hardiness: Due to its australian origin keep warm in winter, the minimum safe average temperature is 12°C, although it can go lower for short periods. It can be grown outdoors in frost-free climates, need anyway to kept above 2°C and dry in winter. Can't stand any frost. (Hardiness zone: 8b-11)
Maintenance: Minimal, removal of offsets if desired, removal of spent fronds
Use: Landscape as cultivated perennial in warm areas. Several can be planted together for a lush, tropical effect. Plant on three to five-foot-centers to create a mass planting.
Pests and diseses: Mealybugs are the only major insect pest affecting Macrozamia communis. Scale insects may occasionally infest the crown.
Toxicity: Burrawang seeds are extremely poisonous but, because they contain starch, are also highly nutritious. The trick is knowing how to remove the seeds' poison. The Cadigal pounded and soaked the seeds in water for a week, changing the water daily. The pulp was then made into cakes and roasted over hot embers.
Propagation: Propagation is normally by seed (germination will occur in 6-24 months) or from recently germinated seedlings gathered from beneath female plants. Early seedling growth is very slow. The growing plants do best in partial shade.