Donate now to support the LLIFLE projects.
Your support is critical to our success.
Since 4 Aug 2013
Accepted Scientific Name: Zamia angustifolia Jacq.
Collectanea [Jacquin] 3: 263 (1791) Jacq.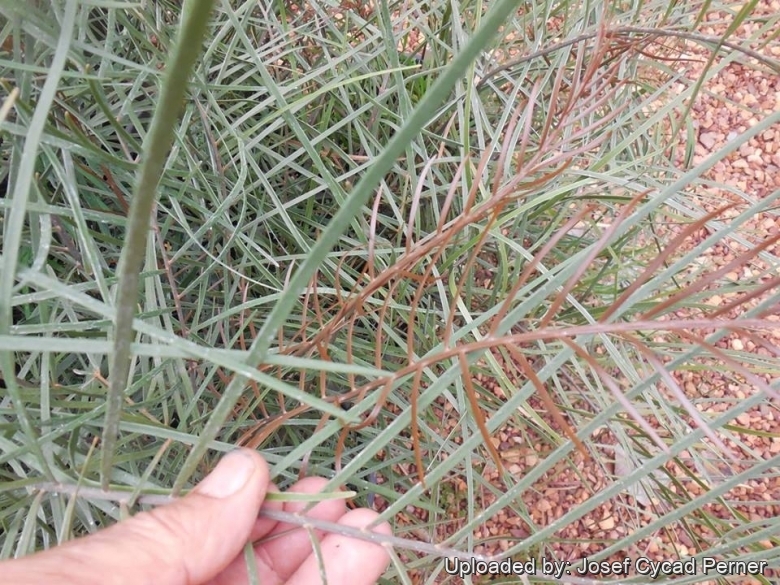 Palmifolium angustifolium (Zamia angustifolia) Photo by: Josef Cycad Perner
Origin and Habitat: Zamia angustifoliaSN|28347]] occurs in the Bahamas (on the islands of New Providence and Eleuthera) and in the eastern parts of Cuba. Extent of occurrence about 9,000 km² (fewer than 10 locations). It is as well reported growing on serpentine soil at Susúa, Puerto Rico. The species was also reported in southern Florida by J. K. Small (1933) but never confirmed.
Habitat and Ecology: Z. angustifolia grows on dry limestone soils. They occur only on the red soils and not on the white soils. It grows in open habitats such as grassland and also in pine forests. This species has been affected by habitat destruction as a result of clearing for pineapple plantations. However, there are many in cultivation and they are one of the easier Zamias to grow.
Synonyms:
See all synonyms of Zamia angustifolia
Accepted name in llifle Database:
Zamia angustifolia
Jacq.
Collectanea [Jacquin] 3: 263 (1791)
Synonymy: 16
Common Names include:
ENGLISH:
Narrow-leaved zamia, Florida arrow root, Coontie (USA)
ARABIC ( لعربية ):
زاميا ضيقة الأوراق
CZECH (Čeština):
Keják úzkolistý
SPANISH (Español):
Yuquilla de ratón (Cuba), Guayacancillo, Camarón guayaru
Description: Zamia angustifolia is a smaller, dioecious species of cycad with tuberous, underground stem and pale green-grey thin leaflets. This species has the thinnest leaflets of the Zamia genus, and young plants can easily be mistaken for a grass.
Habit: Solitary occasionally forming small groups with few leaves forming a crown.
Stem: Tuberous ellipsoidal, a few centimeter long and wide, not emerging above the ground-level, wrinkled and devoid of old leaf bases and often dichotomously branched .
Leaves (fronds): Few (2 to 10), serrated to about 80 cm long. Pinnae very narrow in 4 to 20(-30) opposite or subopposite pairs per rachis, linear, falcate, parallel-veined, each up to 25 cm long and only 2-5 mm wide, smooth, often rolled adaxially, apices acute with 1-3 callous teeth. These are the thinnest leaflets of any species of Zamia. Petioles with stipules, smooth. Emergent leaves often bronze coloured.
Male cones: 1 to 10, pedunculate, cylindrical gradually tapering towards acute apex, 3-15 cm long, and 8-20 mm across, compact densely pubescent, dark grey to black. Micro sporophylls peltate.
Seed cones: Usually solitary but occasionally up to 3, oblong with blunt or slightly acute apex, thickly tomentose, (6-)7,5-12(-15) cm long and 4-5 cm in diameter, dark gray, dark-reddish, dark-brown or black. Megasporophylls compact, peltate, umbonate; each megasporophyll with 2 orange‑red ovules.
Seeds: With a red to orange-red sarcotesta, ovoid, 1-2 cm long.
Chromosome number: 2n = 16.
Bibliography: Major references and further lectures
1) Stevenson, D.W. 2010. Zamia angustifolia. The IUCN Red List of Threatened Species. Version 2014.2. <www.iucnredlist.org>. Downloaded on 09 August 2014
2) Thomas H. Everett "The New York Botanical Garden Illustrated Encyclopedia of Horticulture" Volume 10 Taylor & Francis, 1982
3) Alain H. Liogier, Luis F. Martorell "Flora of Puerto Rico and Adjacent Islands: A Systematic Synopsis" La Editorial, UPR, 2000
4) Dalia Quiros-Moran "Guide to Afro-Cuban Herbalism" Author House, 2009
5) Pál Greguss "Xylotomy of the Living Cycads: With a Description of Their Leaves and Epidermis" Akadémiai Kiado, 1968
6) Jacquin, Nicolaus Joseph von. "Collectanea ad botanicam" 3: 263 1791
7) Carabia, José Perez. "Caribbean Forester." Río Piedras, Puerto Rico 2: 89, as Zamia guggenheimiana 1941
8) Zamia angustifolia. in: Flora of Pakistan. <http://www.efloras.org/florataxon.aspx?flora_id=5&taxon_id=242426706>. Downloaded on 09 August 2014
9) Ken Hill 1998-2010, Maintained by Leonie Stanberg and Dennis Stevenson 2010-2012 Zamia angustifolia. Royal Botanic Gardens Sydney <http://plantnet.rbgsyd.nsw.gov.au/cgi-bin/cycadpg?taxname=Zamia+angustifolia>. Downloaded on 09 August 2014
Palmifolium angustifolium
(Zamia angustifolia)
Photo by: Josef Cycad Perner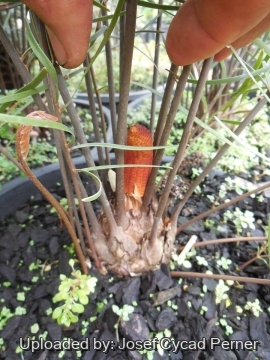 Palmifolium angustifolium
(Zamia angustifolia)
Photo by: Josef Cycad Perner
Cultivation and Propagation: Zamia angustifoliaSN|28347]] is a beautiful small Cycad for pot culture, very drought hardy, for part shade to full sun and is pretty tolerant of abuse. Usually slow growing, however good conditions can speed it up considerably. This plant are also cultivated as an indoor plant in temperate countries.
Exposition: It prefers bright light exposure to full sun but colour bleaches when in full sun; best with some protection from afternoon heat but not in constant deep shade.
Soil: Needs a well drained preferably limestone based soil, but will still thrive in less than ideal conditions. Mulch with organic materials (bark or leaf mould).
Moisture: Water when dry. Drought tolerant , but not really that drought tolerant, though.
Fertilization. Because of its growth habit, fertilize only when terminal bud begins to swell, indicating the start of the annual growth cycle.
Hardiness: Due to its Carribean origin keep warm in winter, the minimum safe average temperature is 12°C, although it can go lower for short periods. It can be grown outdoors in frost-free climates, need anyway to kept above 2°C and dry in winter. Can't stand any frost.
Maintenance: Minimal. removal of offsets if desired, removal of spent fronds.
Use: Landscape as cultivated perennial in warm areas. Several can be planted together for a lush, tropical effect. Plant on three to five-foot-centers to create a mass planting. Use near the patio, in mixed foundation plantings or in perennial beds. It is a spectacular house-plant or interior-scape specimen in cool areas tough enough to survive occasional neglect and harsh indoor environments. It is very well suited to bonsai culture.
Propagation: Seeds. The germination process is very slow and difficult to achieve in cultivation, after fertile seeds are collected, they usually need several months of storage before the inner embryo is ready to germinate. Therefore, it is best to clean the seeds of external fruit and set them aside before attempting to propagate the seeds. Seeds should be sown in shallow container, lightly covered with sand, and after germination, potted off in small pots of moderately rich, light soil. The growing plants do best in partial shade. The old plants sometime send up suckers around the base of the trunk. These may be taken off when in a dormant state and rooted, care being taken to remove the leaves to guard against excessive transpiration. The advantage of the "pups" is that you will know its sex, for seedlings you will have to wait several years until the plant flowers to find out.