Donate now to support the LLIFLE projects.
Your support is critical to our success.
Since 4 Aug 2013
Washingtonia filifera Photo by: Forest Starr & Kim Starr
Habit at Kaluakoi, Molokai, Hawaii (USA). May 16, 2005.
Origin and Habitat: South-western North America (California, Colorado, Nevada, Baja California and in the extreme Northwest of Sonora Mexico). An estimated 25,000 wild desert palm trees exist in the Sonoran Desert. It is naturalized in Florida and the U.S. Virgin Islands. As an ornamental tree it is cultivated in suitable temperate climates worldwide.
Altitude: Elevation range of 100–1200 metres.
Habitat: Desert riparian habitats at spring fed where underground water is continuously available, oases in the Colorado Desert and throughout a major portion of the Mojave Desert; It is also found in the Sonoran Desert in several several isolated locations. As an ornamental tree it is cultivated in suitable temperate climates worldwide.
Synonyms:
See all synonyms of Washingtonia filifera
Accepted name in llifle Database:
Washingtonia filifera
(Linden ex André) H.Wendl.
Bot. Zeitung (Berlin) lxi (index), 68. 1880 [early 1880]
Synonymy: 12
Common Names include:
ENGLISH:
Desert palm, American cotton palm, Washington palm, Petticoat palm, California washingtonia, California Fan Palm, Arizona Fan Palm, Cotton palm, Desert Fan Palm
ARABIC ( لعربية ):
واشنطونيا خيطية
CHINESE (中文):
Da si kui, 加州蒲葵, Jia zhou pu kui, Hua sheng dun ye zi (Taiwan), 华盛顿棕榈, 老人葵, 丝葵
CROATIAN (Hrvatski):
Kalifornijska lepezasta palm, Končasta vašingtonija
FRENCH (Français):
Palmier jupon, Palmier évantail de Californie, Washingtonie
GERMAN (Deutsch):
Petticoat-Palme, Priesterpalme, Washington-Palme, Kalifornische Washingtonpalme, Fädige Washingtonie
HUNGARIAN (Magyar):
Fonalas Washington-pálma, Kaliforniai Washington-pálma
ITALIAN (Italiano):
Palma californiana
JAPANESE (日本語):
Washinton yashi, Shiraga yashi, Okina washinton yashi, Okina yashi
NORWEGIAN (Bokmål):
Kalifornisk viftepalme
POLISH ( Polski):
Waszyngtonia nitkowata
PORTUGUESE (Português):
Palmeira-de-saia, Washingtonia-de-saia, Palmeira-da-califórnia, Palmeira-de-saia-da-califórnia
RUSSIAN (Русский):
Vashingtonia nitchataia
SLOVAK (Slovenčina):
Palmovka papraďovitá
SPANISH (Español):
Palma de castilla, Palma de abanico
UPPER SORBIAN (Hornjoserbsce):
Nićata washingtonowa palma
Description: Washingtonia filiferaSN|24741]] is a stately and distinctive palm with characteristic fibrous threads on leaf segments. It is easily recognizable being one of the much used, straight, single-trunked street palm in subtropical countries. It can live from 80 to 250 years or more.
Trunk: Stout, straight, commonly seen at 12-18 metres in height but capable of soaring to 25 metres in ideal moisture and microclimate conditions, and over 90 cm in diameter at its widest point, barrel shaped , grey-brown, tough, splits vertically and ringed with old leaf scars.
Canopy: The crown is symmetrical, loose and open with up to 30 laves (fronds), with a spread of 4,5 m, when the fronds die they remain attached and drop down to cloak the trunk in a wide continuous skirt from the crown all the way to the ground, giving it the common name of Petticoat Palm.
Laves(fronds): Alternate, evergreen, costapalmate (fan-shaped) 90-180 cm across; petiole up to 2 metres long armed along the margins with curved thorns; leaflets lanceolate, grey-green up to 1 metres long, margin entire with long thread-like white cotton-like fibres, between the segments persisting even when the palm is mature. The individual leaflets are pendulous and swing freely in the wind.
Flowers: The palm produces numerous branching flower clusters (panicle) that project out and often downward from the leaf crown. The inconspicuous bisexual flowers are white/cream/grey and yellow.
Blooming season: Early summer.
Fruit: Fleshy drupe, red-black to black, oblong or round, about a 7-13 mm long containing a single seed, maturing in September, persisting into winter.
Seed: Approximately 0,6 cm in diameter.
Chromosome number: 2n = 36.
Remarks: Washingtonia robustaSN|24753]] and Washingtonia filiferaSN|24741]] are closely related and quite similar. They differ in subtle characteristics, and even palm experts have trouble telling them apart.
Bibliography: Major references
1) Forest & Kim Starr Washingtonia filifera (Californian fan palm). Plants of Hawaii. <http://www.starrenvironmental.com>. Downloaded on 21 August 2014.
2) Don Ellison, Anthony Ellison "Cultivated Palms Of The World" UNSW Press, 01/mag/2001
3) Robert Lee Riffle, Paul Craft "An Encyclopedia of Cultivated Palms" Timber Press, Portland 2007
4) John Dransfield, Natalie W. Uhl, Conny B. Asmussen, William J. Baker, Madeline M. Harley, Carl E. Lewis: "Genera Palmarum. The Evolution and Classification of Palms." Royal Botanic Gardens, Kew 2008
5) Wikipedia contributors. "Washingtonia filifera." Wikipedia, The Free Encyclopedia. Wikipedia, The Free Encyclopedia, 6 May. 2014. Web. 25 Aug. 2014.
6) Michael J. Balick, Hans T. Beck "Useful Palms of the World: A Synoptic Bibliography" Columbia University Press 1990
7) M.M. Grandtner "Elsevier's Dictionary of Trees: Volume 1: North America" Volume 1 Elsevier, 08/Apr/2005
8) Andrew Henderson "Field Guide to the Palms of the Americas" Princeton University Press, 1997
9) "Washingtonia filifera" in: Nancy R. Morin "Flora of North America: Volume 22: Magnoliophyta: Alismatidae, Arecidae, Commelinidae (in part), and Zingiberidae" Flora of North America Editorial Committee,, OUP USA, 20/Apr/2000
10) Thomas H. Everett "The New York Botanical Garden Illustrated Encyclopedia of Horticulture" Volume 10 Taylor & Francis, 1982
11) Michael G. Barbour, Todd Keeler-Wolf, Allan A. Schoenherr "Terrestrial Vegetation of California" University of California Press, 2007
12) Lawrence E. Stevens, Vicky J. Meretsky "Aridland Springs in North America: Ecology and Conservation" University of Arizona Press, 2008
13) Le Roy Abrams, Roxana Stinchfield Ferris "Illustrated Flora of the Pacific States, Washington, Oregon, and California: Ophioglossaceae to aristolochiaceae, ferns to birthworts"
Stanford University Press, 1923
14) Nico Vermeulen, Richard Rosenfeld "Encyclopedia of House Plants" Taylor & Francis, 1999
15) Palmpedia contributors. "Washingtonia filifera." Palmpedia, PALM ENCYCLOPEDIA, <http://www.palmpedia.net> Downloaded on 26 Aug. 2014
13) Jones, D. L. "Palms throughout the world." 1994 Floridata contributors. "Washingtonia filifera." Floridata, <http://www.floridata.com> Accessed on 26 Aug. 2014
14) "Washingtonia filifera." PACSOA Palms and Cycads wiki , <http://www.pacsoa.org.au> Accessed on 26 Aug. 2014
15) Johnson, D. 1998. Washingtonia filifera. The IUCN Red List of Threatened Species. Version 2014.2. <www.iucnredlist.org>. Downloaded on 15 September 2014.
Habit after fire at Rogers Spring Northshore Rd Lake Mead, Nevada. December 24, 2007.
Photo by: Forest Starr & Kim Starr
Habit after fire at Rogers Spring Northshore Rd Lake Mead, Nevada. December 24, 2007.
Photo by: Forest Starr & Kim Starr
Flowering habit at Camp Pecusa Olowalu, Maui, Hawaii (USA). July 07, 2009.
Photo by: Forest Starr & Kim Starr
Flowers at Camp Pecusa Olowalu, Maui, Hawaii (USA). July 07, 2009.
Photo by: Forest Starr & Kim Starr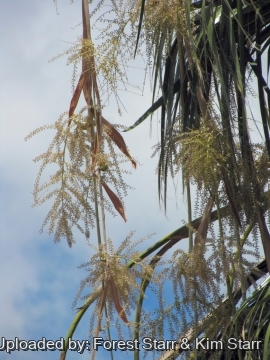 Flowers at Camp Pecusa Olowalu, Maui, Hawaii (USA). July 07, 2009.
Photo by: Forest Starr & Kim Starr
Habit at Olowalu Pier, Maui, Hawaii (USA). December 09, 2003.
Photo by: Forest Starr & Kim Starr
Flowering habit at Camp Pecusa Olowalu, Maui, Hawaii (USA). July 07, 2009.
Photo by: Forest Starr & Kim Starr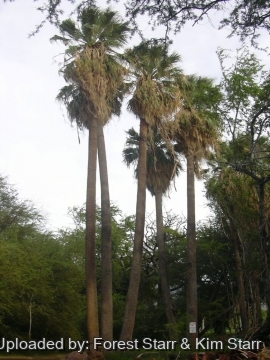 Habit at Olowalu Pier, Maui, Hawaii (USA). December 09, 2003.
Photo by: Forest Starr & Kim Starr
Cultivation and Propagation: It is is one of the most widely grown palms in subtropical climates and planted in gardens and parks. It is adapted to a Mediterranean climate with cool, moist winters and summer drought, and can grow on poor and rocky soils. Specimens outside of Mediterranean climates do not grow as large, rarely exceeding 15 metres. This palm is inexpensive, adapts to most soils, is easy to grow and transplant, is very hardy and tolerating neglects.
Soil: It is very adaptable to many kinds of well drained soils: clay; sand; loam; acidic to alkaline. It can even grow in extreme alkaline soils that have a pH as high as 9.2.
Fertilization: It respond very well to fertilizer and need a perfect fertilizer diet including all micro nutrients and trace elements or slow release fertilizer applied during the growing season, or according to package directions, using a fertilizer specifically formulated for palms. As with other palms, potassium and magnesium deficiencies may occur and mineral supplements should be administered in recommended amounts to prevent or treat such deficiencies.
Water Requirements: It tolerates low levels of humidity and summer drought, though it prefers evenly moist but not consistently wet medium. When supplied with adequate moisture and fertilizer it is also fairly fast growing. This palm is very drought tolerant once established. It dislikes soggy or over-irrigated soils because it frequently develops trunk or root rot.
Light: It prefers bright sunny locations and even quite small specimens will thrive in full su, but it also does well in part shade with some direct sunlight.
Aerosol salt tolerance: It is somewhat salt resistant and may be grown near the sea if given some protection (behind a dune, building, etc.)
Wind resistance: It endures drying winds.
Hardiness: These palms are some of the hardier palms ( USDA Zones 8B-11) They will survive temperatures of −10 °C (14 °F) with minor damage, and established plants have survived, with severe damage to the foliage, brief periods of temperatures as low as −12 °C. Palms in fast-draining soil are more cold hardy. During the winter, leaves may become temporarily discoloured by damp cold and frost.
Roots: Usually not a problem.
Breakage: resistant.
Transplant: Even large California fan palms can be successfully transplanted.
Maintenance: For the healthiest and most attractive plant, keep the palm pruned. As the old fronds die, these should be trimmed off and the leaf bases allowed to dry out, but do not prune if the frond still has some green colour. Palms recycle nutrients from dead or dying fronds and use them for healthier fronds.
Fruit characteristics: does not attract wildlife; not showy; fruit/leaves not a litter problem.
Pest and diseases: It is quite resistant to pests/diseases and is quite resistant to lethal yellowing disease.
Uses: It is used massively in gardening and landscaping in many parts of the world though in sheltered areas it will survive prolonged periods below freezing point. Plant it outdoors in a site that can accommodate the large head of leaves, and is not directly under power lines or other structures. Use the California fan palm in natural and formal groupings and in large open areas.
It is particularly adapted for street without pavement, avenue and parkland planting where it typically is spaced about 9 m apart. It is also excellent in containers and urns. And thanks to its drought resistance and durability to heat it can thrive in harsh urban conditions.
Warning: The dead fronds are known to be a fire hazard and a popular bedding roost for rodents and, because of this, must be removed.
Traditional uses: The fruit of the fan palm was used by Native Americans. It was eaten raw, cooked, or ground into flour for cakes. The Cahuilla and related tribes used the leaves to make sandals, thatch roofs, and for making baskets.
Propagation: By seed . They germinated in less than four weeks. Even old seeds are reported to germinate well. Germination is considered so easy that young plants may become weeds under mature palms.