Donate now to support the LLIFLE projects.
Your support is critical to our success.
Since 4 Aug 2013
Roystonea regia Photo by: Forest Starr & Kim Starr
Habit at Enchanting Floral Gardens of Kula, Maui, Hawaii (USA). October 24, 2007
Origin and Habitat: Florida (USA), Mexico, Belize, Honduras, Bahamas, Cayman Islands, Cuba; Widely planted throughout the tropics and subtropics as an ornamental and often naturalized.
Ecology: The fruit is eaten by birds and bats which disperse the seeds. Its flowers are visited by birds and bats, and it serves as a roosting site and food source for a variety of animals.
Habitat: Forests or open savannah often in wet places. In Florida (Roystonea elataSN|24660]]SN|24660]]) is native to the cypress (Taxodium distichum) swamps of south Florida.
Synonyms:
See all synonyms of Roystonea regia
Accepted name in llifle Database:
Roystonea regia
(Kunth) O.F.Cook
Science II, 12: 479 (1900)
Synonymy: 11
Common Names include:
ENGLISH:
Bottle plant, Royal palm, Florida royal palm, Cuban royal palm, Cuban palm, Cuba royal palm
ARABIC ( لعربية ):
Nakhl malakî
BASQUE (Euskara):
Palmondo errege
CHINESE (中文):
大王椰子, 王棕, Wang zong, Da wang ye zi (Hong Kong)
DANISH (Dansk):
Kongepalme
DUTCH (Nederlands):
Koningspalm
ESPERANT (Esperanto):
Reĝa palmo
FINNISH (Suomi):
Kuningaspalmu
FRENCH (Français):
Palmier royal, Palmier royal de Floride, Palmier royal de Cuba, Oréodoxe royal
GERMAN (Deutsch):
Koenigspalme, Königspalme
HAITIAN CREOLE (Kreyòl ayisyen):
Palmye wayal
HUNGARIAN (Magyar):
Kubai királypálma, Királypálma
ITALIAN (Italiano):
Palma regia
JAPANESE (日本語):
Furoridaroiyarupaamu, Daiou yashi
LITHUANIAN (Lietuvių):
Karališkoji roistonija
MALAY (بهاس ملاي /Bahasa Melayu ):
Palma diraja
NAURUAN (Ekaiairũ Naoero):
Dabam
NORWEGIAN (Bokmål):
Kongepalme
PERSIAN (فارسی):
رویاستونئا رگیا
POLISH ( Polski):
Rojstona królewska
PORTUGUESE (Português):
Palmeira real
SPANISH (Español):
Chaguaramo, Palma real, Palma real cubana (El Salvador), Palmera real, Palma criolla (Cuba), Yagua (Honduras, Mexico)
VIETNAMESE (Tiếng Việt):
Cau vua
Description: It is a very stately, tall, single-trunk palm with a large crown of feathery leaves usually with a bulge in the trunk giving the shape of a bottle or barrel. The plant is unequalled among the palms in its beauty and grace.
Trunk: 7-30 m tall (with heights up to 34,5 m reported), diameter 35-47 cm swelling to 60-70 cm, grey-white resembling concrete in colour and texture, smooth with circular leaf scars, swollen at the base. It constricts about halfway up and then bulges again just below the crownshaft.
Roots: Fibrous typical of monocots.
Crown: With about 15-20 leaves lower fronds hanging below the horizontal.
Crownshaft: Well-defined glossy 1,5 m long, partially obscured by lower fronds;
Leaves (fronds): 3-4 m long, odd-pinnately compound; segments (leaflets) lanceolate, in brief clusters of 2-4, inserted on rachis in several ranks at divergent angles, giving leaf an almost plumose appearance. Margin entire.
Flowers: Inflorescences to 1 m arching gracefully outward, not wavy; rachillae 11-31 cm, stiff. Flowers unisexual both male and female on the same inflorescence; male flowers white with pinkish anthers.
Fruits: Broadly ellipsoid, dorsiventrally compressed obovoid, 9-15 mm, diameter 7-10 mm ripening from green through red to purplish black at maturity.
Bibliography: Major references and further lectures
1) Wikipedia contributors. "Roystonea regia." Wikipedia, The Free Encyclopedia. Wikipedia, The Free Encyclopedia, 12 Aug. 2014. Web. 11 Sep. 2014.
2) Forest & Kim Starr Roystonea regia (Royal palm, Cuban palm). Plants of Hawaii. <http://www.starrenvironmental.com>. Downloaded on 21 August 2014.
3) John Dransfield, Natalie W. Uhl "Genera Palmarum: the evolution and classification of palms" Kew Pub., 2008
4) Don Ellison, Anthony Ellison "Cultivated Palms Of The World" UNSW Press, 01/May/2001
5) Govaerts, R. & Dransfield, J. "World Checklist of Palms". The Board of Trustees of the Royal Botanic Gardens, Kew. 2005.
6) Palmpedia contributors. "Roystonea regia." Palmpedia, PALM ENCYCLOPEDIA, <http://www.palmpedia.net> Downloaded on 26 Aug. 2014
7) Robert Lee Riffle, Paul Craft "An Encyclopedia of Cultivated Palms" Timber Press, Portland 2007
8) "Roystonea regia." PACSOA Palms and Cycads wiki , <http://www.pacsoa.org.au> Accessed on 28 Aug. 2014
9) Andrew Henderson "Field Guide to the Palms of the Americas" Princeton University Press, 1997
10) Zona, Scott. "Roystonea (Arecaceae: Arecoideae)". Flora Neotropica 71.December 1996
11) eFloras. "Roystonea regia". Flora of North America. Missouri Botanical Garden, St. Louis, MO & Harvard University Herbaria, Cambridge, MA. Retrieved on 21 August 2014
12) Jones, Julie Lynn. "An Ecological Study of the Florida Royal Palm, Roystonea elata." M.S. Thesis. Florida Atlantic University 1983.
13) Cook, O.F. "Royal Palms in Upper Florida". Science 84 (2168): 60–1. 1936
14) Charles Sprague Sargent "Manual of the Trees of North America (exclusive of Mexico)" Courier Dover Publications, 1965
15) Tom MacCubbin, Georgia B. Tasker "Florida Getting Started Garden Guide: Grow the Best Flowers, Shrubs, Trees, Vines & Groundcovers" Cool Springs Press, 15/Aug/2013
16) M.M. Grandtner "Elsevier's Dictionary of Trees: Volume 1: North America" Elsevier, 08/Apr/2005
Habit at Deering Park, Florida. November 08, 2003.
Photo by: Forest Starr & Kim Starr
Flowers and fruit at Garden of Eden Keanae, Maui, Hawaii (USA). March 30, 2011.
Photo by: Forest Starr & Kim Starr
Habit at Enchanting Floral Gardens of Kula, Maui, Hawaii (USA). October 24, 2007.
Photo by: Forest Starr & Kim Starr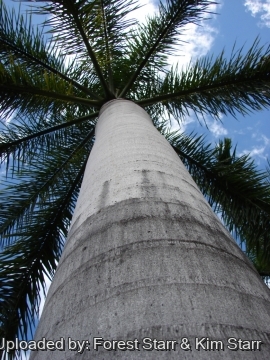 Trunk and sky view at Lahaina Aquatic Center, Maui, Hawaii (USA). February 21, 2007.
Photo by: Forest Starr & Kim Starr
Fruit at Keanae Arboretum, Maui, Hawaii (USA). February 16, 2012.
Photo by: Forest Starr & Kim Starr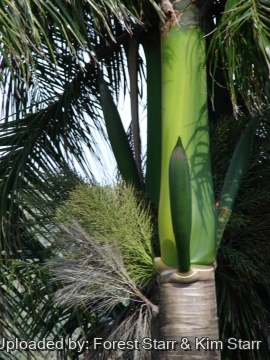 Fruit and shaft at YMCA Keanae, Maui, Hawaii (USA). May 06, 2009.
Photo by: Forest Starr & Kim Starr
Flowers at Pali o Waipio Huelo, Maui, Hawaii (USA). March 12, 2013.
Photo by: Forest Starr & Kim Starr
Send a photo of this plant.
The gallery now contains thousands of pictures, however it is possible to do even more. We are, of course, seeking photos of species not yet shown in the gallery but not only that, we are also looking for better pictures than those already present.
Read More...
Cultivation and Propagation: It is relatively easy to grow and very adaptable to soil type, with a little care (water and fertilizer) this palm will reward with fast growth that is rare for a palm. It is a palm with non-invasive roots.
Fertilization: Need a perfect fertilizer diet including all micro nutrients and trace elements or slow release fertilizer.
Light: Prefers bright sunny conditions.
Hardiness: Some cold tolerance. This palm has tolerated temperatures down to –3ºC and even a little snow. However it can be difficult to get it to look its best without a great amount of heat and sun and so it is only really suited to the tropics in frost-free regions (USDA Zones 10-11)
Water:This palms like water and look their best when given adequate amounts. During the summer or warmer months, water frequently to keep the soil from drying out. But can tolerate occasional flooding or drought.
Remarks: Few people are aware of just how large this palm can get, and one often sees it planted in places where its going to cause real problems later on.
Aerosol salt tolerance: Being tolerant of salt sprays it will grow near salt water and on the beach if set back from the first line of dunes.
Maintenance: Prune diseased, damaged or drying fronds, but do not prune if the frond still has some green colour. Palms recycle nutrients from dead or dying fronds and use them for healthier fronds.
Garden uses: Its very neat appearance and stature makes it perfect near highways and used to accent residential landscapes. It is also an indoor plant, but really would prefer more light and fresh air. A shade screen patio will provide an excellent environment for young specimens which can eventually be planted in a sunny location.
Traditional uses: It is a source of thatch, construction timber, and as a medicinal plant. The fruit is eaten by livestock.
Remarks: It is an invasive species that reproduces profusely by seeds that germinate everywhere around the mother plants and a demanding effort is needed to control the seedlings. For these reasons, the continuing use of this species as an ornamental should be discouraged.
Propagation: Fresh seeds germinate quickly within a month of being planted and the seedlings are attractive.