Donate now to support the LLIFLE projects.
Your support is critical to our success.
Since 4 Aug 2013
Bismarckia nobilis Photo by: Forest Starr & Kim Starr
Habit at Iao Tropical Gardens of Maui, Maui, Hawaii (USA). May 22, 2012.
Origin and Habitat: Madagascar
Habitat: They grow in the plains of the central highlands, nearly reaching the western and northern coasts, in savannah of low grass, usually in lateritic soil. Also, in habitat, along with other fire-resistant trees like Ravenala madagascariensis and Uapaca bojeri it endures fires probably because the crown of leaves is well above any brush fires In many areas in Madagascar, it is the only palm species evident.
Synonyms:
Common Names include:
ENGLISH:
Bismark Palm, Bismarckia Palm, Nobilis Palm, Bismarck palm
FRENCH (Français):
Bismarckia, Palmier de Bismarck
GERMAN (Deutsch):
Bismarckpalme, Bismarck-Palme
MALAGASY:
Satra, Satrabe, Satrana, Strabe, Satranabe, Satrapotsy
MALAY (بهاس ملاي /Bahasa Melayu ):
Palma Bismark
PORTUGUESE (Português):
Bismarckia, Palmeira Azul
RUSSIAN (Русский):
Бисмаркия, Бисмаркия благородная
SPANISH (Español):
Bismarckia, Palmera noble, Palmera majestuosa, Palmera de Bismarck
Description: Bismarckia nobilisSN|24223]]SN|24223]] is a stunning, large palm widely cultivated in the tropics for its beautiful silver-blue foliage although a green leaf variety exists. In its natural habitat it can reach, over many decades, above 25 meters in height but usually gets no taller than 12 m in cultivation.
Trunk: Stout, solitary, grey to tan in colour, which show ringed indentations from old leaf bases. Trunks are 30 to 45 cm in diameter, slightly bulging at the base, and free of leaf bases in all but its youngest parts. The base of the trunk may be swollen.
Crown: With 15 to 30 leaves, nearly-spherical up to 7,5 m wide and 6 m tall.
Leaves: Nearly rounded, enormous in maturity, typically blue to silver in colour and slightly arched, over 3 m wide, divided to a third its length into 20 or more stiff, once-folded segments, themselves split on the ends. The leaves are induplicate and costapalmate, producing a wedge-shaped hastula where the blade and petiole meet. Petioles are 2-3 m long, slightly armed and may be smooth with very blue polished metal feel or hairy and bumpy. Leaves fall off easily when old and there is essentially no petticoat of old dead leaves as seen with some other species.
Inflorescence: Pendent, interfoliar.
Flowers: It is a dioecious plant, this means there are male and female individual plants. To form fertile seeds, female flowers must be pollinated by pollen from a male plant. ) The flowers are small brown flowers. Pollination is usually accomplished by insects, but can be done by wind and proximity as well.
Fruit: Brown ovoid drupe, about 4 cm long each containing a single seed.
Remarks: there are both green and blue forms of this species.
Bibliography: Major references and further lectures
1) Forest & Kim Starr "Bismarckia nobilis (Bismarck palm)". Plants of Hawaii. <http://www.starrenvironmental.com>. Downloaded on 21 August 2014.
2) Robert Lee Riffle, Paul Craft "An Encyclopedia of Cultivated Palms" Timber Press, Portland 2007
3) John Dransfield, Natalie W. Uhl, Conny B. Asmussen, William J. Baker, Madeline M. Harley, Carl E. Lewis: "Genera Palmarum. The Evolution and Classification of Palms." Royal Botanic Gardens, Kew 2008
4) Don Ellison, Anthony Ellison "Cultivated Palms of the World" UNSW Press, 2001
5) Wikipedia contributors. "Bismarckia." Wikipedia, The Free Encyclopedia. Wikipedia, The Free Encyclopedia, 6 May. 2014. Web. 22 Aug. 2014
Habit at Iao Tropical Gardens of Maui, Maui, Hawaii (USA). May 22, 2012.
Photo by: Forest Starr & Kim Starr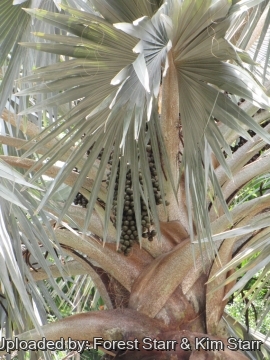 Fruit at Iao Tropical Gardens of Maui, Maui, Hawaii (USA). May 22, 2012.
Photo by: Forest Starr & Kim Starr
Fruit at Iao Tropical Gardens of Maui, Maui, Hawaii (USA). May 22, 2012.
Photo by: Forest Starr & Kim Starr
Leaf at Kula Ace Hardware and Nursery, Maui, Hawaii (USA). September 06, 2007.
Photo by: Forest Starr & Kim Starr
Bismarkia nobilis. Male inflorescence.
Photo by: Josef Cycad Perner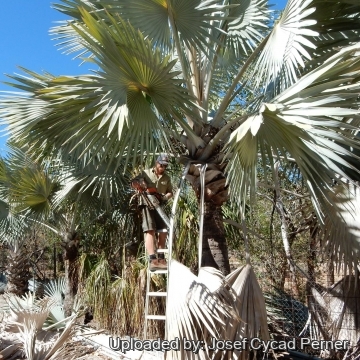 Arryn J Perner cutting old leaves off Bismarkia nobilis.
Photo by: Josef Cycad Perner
Bismarckia nobilis
Photo by: Luiza Ferreira
Fruit on ground and seedlings at Iao Tropical Gardens of Maui, Maui, Hawaii (USA). May 22, 2012.
Photo by: Forest Starr & Kim Starr
Cultivation and Propagation: It is relatively an easy to grow palm that enjoys sun, heat and dry conditions, it likes sandy soil, but is adaptable to different soil type. Good drainage is also important. The root system of this species is very sensitive and good sized specimen is extremely difficult to successfully dig and transplant to another location.
Fertilization: Need a perfect fertilizer diet including all micro nutrients and trace elements or slow release fertilizer, but particularly it is needs plentiful of magnesium. If it doesn't get enough magnesium, the leaves take on a rather unhealthy yellow colour.
Watering: It thrives in fairly dry and hot climates, but enjoy also rainy climates and proved to tolerate a wide variety of conditions. In areas where summer rain is prevalent, it seems to put on rapid growth with this ample water, but it does not want to sit in continually wet, mucky soil.
Light: Prefers full sun but will tolerate half day sun.
Hardiness: Some cold tolerance. This palm has tolerated temperatures down to –6ºC and even a little snow. However it can be difficult to get it to look its best without a great amount of heat and sun. and so it is only really suited to the t tropics, subtropics and favourable Mediterranean microclimates in frost-free regions. (USDA hardiness zones 10-12) The green variety is more cold sensitive than is the silver-grey variety, not less than 0° C.
Aerosol salt tolerance: It is moderately salt tolerant, but does a lot better inland then it does on the coast.
Maintenance: Prune diseased, damaged or drying fronds, but do not prune if the frond still has some green colour. Palms recycle nutrients from dead or dying fronds and use them for healthier fronds. Palms only have a set number of new leaves that can sprout and grow per year and removing fronds will not increase that number. If you cut off more than what will grow annually, you could be left with a pretty bare and bald Palm.
Propagation: Fresh seeds germinate quickly within a month of being planted and the seedlings are attractive.
Use: Either as a single specimen or in groups, this is a strikingly beautiful species. Its very neat appearance and stature makes it perfect near highways and used to accent residential landscapes. Culture in containers is possible although growth rates are slower.A shade screen patio will provide an excellent environment for young specimens which can eventually be planted in a sunny location.
Remarks: Few people are aware of just how large this palm can get, and one often sees it planted in places where its going to cause real problems later on. Because of their massive crowns, they need plenty of room in a landscape area.
Your Photos
---
by Josef Cycad Perner
by Josef Cycad Perner
by Forest Starr & Kim Starr

by Forest Starr & Kim Starr