Donate now to support the LLIFLE projects.
Your support is critical to our success.
Since 4 Aug 2013
Portulaca lutea Photo by: Forest Starr & Kim Starr
Flower at Popoia, Oahu, Hawaii (USA). February 23, 2005.
Origin and Habitat: Portulaca lutea is indigenous to Hawai'i on all of the main Hawaiian islands except Kaua'i and is more common on the windward coasts than on the leeward ones. It is also found on all of the Northwestern Hawaiian islands except Kure Atoll and Pearl and Hermes Atoll and is widespread throughout the Pacific Islands - New Caledonia eastwards to Pitcairn Island and north to several Equatorial Archipelagos and elsewhere in the tropics.
Habitat and ecology: Portulaca lutea, similarly to Sesuvium portulacastrum, is a pantropical, sea-dispersed beach succulent that can spread and even travel as vegetative fragments which are tolerant of salt water and root easily on landing. It grows on a variety of soils, including lava, coral and sand dunes, in coastal areas from sea level to 390 metres above sea level. It is often a pioneer plant on rocky rough limestone rocks, narrow ledges and scree, which contain some humus, and also in sandy places on lagoon sides, especially around reentrants, and on rubble or even pure, broken coral. On rocky places on the sea-shore, the portulaca tend to form a thin sparse ground-cover under scrubs and other vegetation and usually does not completely cover the ground, but it may also exist in luxuriantly pure stands on the sandy plains.
Synonyms:
Common Names include:
ENGLISH:
Purslane, Yellow purslane, Yellow coastal portulaca, Sea purslane
HAWAIIAN (ʻŌlelo Hawaiʻi):
'Ihi
TONGAN (Faka-Tonga):
Tamole
Description: Portulaca lutea is a prostrate to weakly ascending, perennial, succulent herb. The leaves are oval to round and range in size to 24 mm long. One to three yellow flowers are borne at the ends of the stems. Differs from Portulaca oleracea in having grey bark on old sections & large flowers with petals 12 mm long, and an ovoid fruit opening by a cap that splits off to release the many tiny black seeds.
Derivation of specific name: The specific epithet lutea is Latin for yellow, in reference to the bright yellow flowers of this species.
Stems: Stout, glabrous stems arising from a swollen tuberous root, up to 15-50 cm long but occasionally up to 70 cm , grey, light brown, green, red or purplish, succulent, but firmer texture than those of Portulaca oleracea, erect or ascending, up to nearly 2 cm in diameter at the base, very much branched, branches alternate.
Leaves: Mostly alternate, simple, medium green, succulent, blade obovate to subround, mostly 5–30 mm long, attenuate at the base, rounded at the tip; surfaces glabrous: margins entire; subsessile
Flowers: One to three in terminal, congested cymes at the tips of the stems, bright yellow. Calyx of 2 overlapping sepals 7–9 mm long, sessile. Corolla of 5 yellow obovate petals 9–12 mm long. Ovary superior, 1-celled. Stamens 18–50, free, yellow with yellow or red anthers.
Blooming season: In Hawaii it flowers from July through November. Cultivated plants perform differently and have sporadic to continuous blooming periods.
Fruits (Capsules): About 6 mm oval, 6–8 mm long, turning dark brown or black when ripe, filled with tiny shiny black seeds that will fall to the ground and self-sow on site, ensuring future plants. The circumscissile capsules split open at, operculum (dehiscent cap) when ripe.
Similar species: It is similar to its very rare cousin Portulaca molokiniensis. Portulaca lutea (2n = 40) had hybridized with Portulaca oleracea (2n=54), forming a stable allopolyploid in the field.
Bibliography: Major references and further lectures
1) Gregory T. Cushman "Guano and the Opening of the Pacific World: A Global Ecological History" Cambridge University Press, 25/Mar/2013
2) Julie L. Lockwood, Michael L. McKinney "Biotic Homogenization" Springer Science & Business Media, 31/May/2001
3) Jonathan D. Sauer "Plant Migration: The Dynamics of Geographic Patterning in Seed Plant Species" University of California Press, 09/Mar/1988
4) J. L. Chapman, M. J. Reiss "Ecology: Principles and Applications" Cambridge University Press, 1999
5) Mew, Randal K. T. "Cultivation and propagation of selected coastal plants at the Waikiki Aquarium." Newsletter of the Hawaiian Botanical Society 26 (2):27-32. 1987
6) Wagner, Warren L., Darrel R. Herbst, and S. H. Sohmer. "Manual of the flowering plants of Hawai'i." 2 vols., Bishop Museum Special Publication 83. Honolulu: University of Hawaii Press and Bishop Museum Press. p. 1071-1072. 1990
7) Bornhorst, Heidi L. "Growing native Hawaiian plants: a how-to guide for the gardener." Honolulu: The Bess Press. p. 30-31.1996.
8) Hawaiian Native Plant Propagation Database "Portulaca lutea" 12 March 2000 <http://www.ctahr.hawaii.edu/hawnprop/plants/por-lute.htm> Web. 7 Nov. 2014.
9) Dieter Mueller-Dombois "Vegetation of the Tropical Pacific Islands" Springer Science & Business Media, 1998
10) "Papers from the Department of Marine Biology of the Carnegie Institution of Washington" Edition 341,Volume 20 The Institution, 1924
11) Native Plants Hawaii. "Portulaca lutea" 2009 University of Hawaii. <http://nativeplants.hawaii.edu/plant/view/Portulaca_lutea> Web. 7 Nov. 2014.
12) Thomas, Michael B. and W. A. Whistler. "Portulaca lutea" Rare Plants of Tonga. CIEER, January 2011. Web. 7 Nov. 2014.
13) Lilleeng-Rosenberger, Kerin. "Propagation techniques for native Hawaiian plants." Newsletter of the Hawaiian Botanical Society 37 (2):33-35.1998
Flowers at Alau, Maui, Hawaii (USA). April 06, 2005.
Photo by: Forest Starr & Kim Starr
Habit at Alau, Maui, Hawaii (USA). April 05, 2005.
Photo by: Forest Starr & Kim Starr
Flowering habit at Hardpan SW Inland, Laysan, Hawaii (USA). September 15, 2013.
Photo by: Forest Starr & Kim Starr
Habitat with Kim and Ken in distance at Moku Mana, Maui, Hawaii (USA). April 06, 2005.
Photo by: Forest Starr & Kim Starr
Flowers greater than 12 stamens at Hardpan SW Inland, Laysan, Hawaii (USA). September 15, 2013.
Photo by: Forest Starr & Kim Starr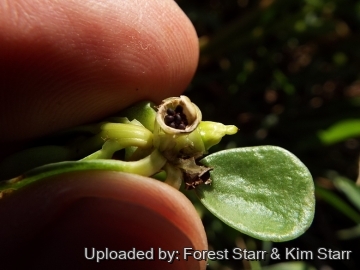 Seed capsules and seeds inside at Hardpan SW Inland, Laysan, Hawaii (USA). September 15, 2013.
Photo by: Forest Starr & Kim Starr
Habit with corky stem at North Desert, Laysan, Hawaii (USA). September 14, 2013.
Photo by: Forest Starr & Kim Starr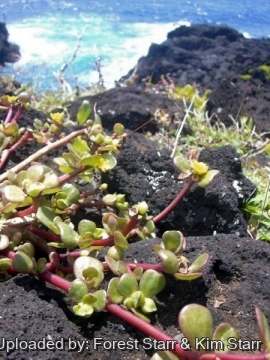 Habit at Puhilele Pt Haleakala National Park, Maui, Hawaii (USA). April 23, 2004.
Photo by: Forest Starr & Kim Starr
Cultivation and Propagation: Portulaca lutea, is occasionally grown in temperate tropical and subtropical as an ornamental plant for bedding or as a container plant. It requires ample sunlight and well-drained soils. It requires almost no attention and spreads itself easily. Although it survives difficult conditions, plants will produce more lush growth and flowers when provided sufficient moisture and rich soils.
Soils: it grows well in poor, sandy or gravelly soils. The soil must be very well-drained.
Fertilizer: An application of a balanced slow release fertilize with minor elements every six months. Foliar feed monthly or a water-soluble fertilizer with a dilution of one half to one third of recommended strength.
Exposure: Needs full sun to flower.
Waterings: Drought tolerant, but flowers best with regular watering. Don't water with overhead irrigation, which can damage the flowers. Once plant is well established, allow them to dry out between waterings. This plant naturally grows in very harsh, dry conditions and does not like wet feet, that is constant moisture in the root area. Not a recommended plant for someone who loves to water!
Hardiness: Even if listed by some as hardy to -6° it is best to avoid any frost as these plants in the winter are very prone to rot, especially in combination of wet and cold - likely this plant would be best suited in such a well drained soil that this is not an issue or in a location protected from receiving winter moisture.
Wind and salt tolerance: This species is particularly tolerant of seaside conditions and salt spray, making it an excellent choice for planting along the coasts in the tropics.
Pests and diseases: It is prone to attacks by slugs, ants, mealy bugs, scale, thrips, spider mites, aphids, and root mealy bugs. Fungal rot can be a major problem, so do not let water stay on the surface. These succulent plants need very well drained soil.
Garden Uses: Good for poor dry soils where many other plants struggle. Edging or ground cover for beds, rock gardens or along walks. Sprawl over stone walls. It is a great potted plant for the often harsh conditions on full sun and windy porches and hanging baskets. If kept in containers, use cement, terra cotta, or unglazed ceramic pots which are preferred over plastic ones. These types of potting containers tend to breath better and allow potting mix to dry out quicker, essential for the health of these xeric plants. Too, the weight of the pots will help these succulents from toppling over in windy conditions and as they grow larger in the pots.
Edible Uses: The edible shoots are sometimes gathered from the wild for local consumption.
Young shoots are rich in vitamin and cooked and eaten as a potherb.
Maintenance: Plants can be pruned or sheared if they begin to look straggly for a neater appearance and to promote fuller growth.
*Propagation: Propagation: By Seeds or cuttings. To clean the seeds, air dry them at room temperature in a bowl or paper bag. Carefully rub the capsules through a strainer with the appropriate size mesh. The seeds should fall through leaving the debris in the strainer. Sow the seeds on the surface of a pre-moistened, sterile, well draining mix. Do not cover the seeds with soil or sow seed directly in the garden. In warm climates, Portulaca lutea may self-seed, stablished plants can also be propagated by tip cuttings. Rooting hormones and mist systems are not necessary. Cuttings should be 5 to 12 cm long and the lower leaves should be removed. Sterile potting mix can be used as a rooting medium. The cuttings should be watered daily. They will root in a couple of weeks.