Donate now to support the LLIFLE projects.
Your support is critical to our success.
Since 4 Aug 2013
sponsored link
Accepted Scientific Name: Cotyledon tomentosa Harv.
Fl. Cap. (Harvey) 2: 373. 1862 [15-31 Oct 1862] Harv.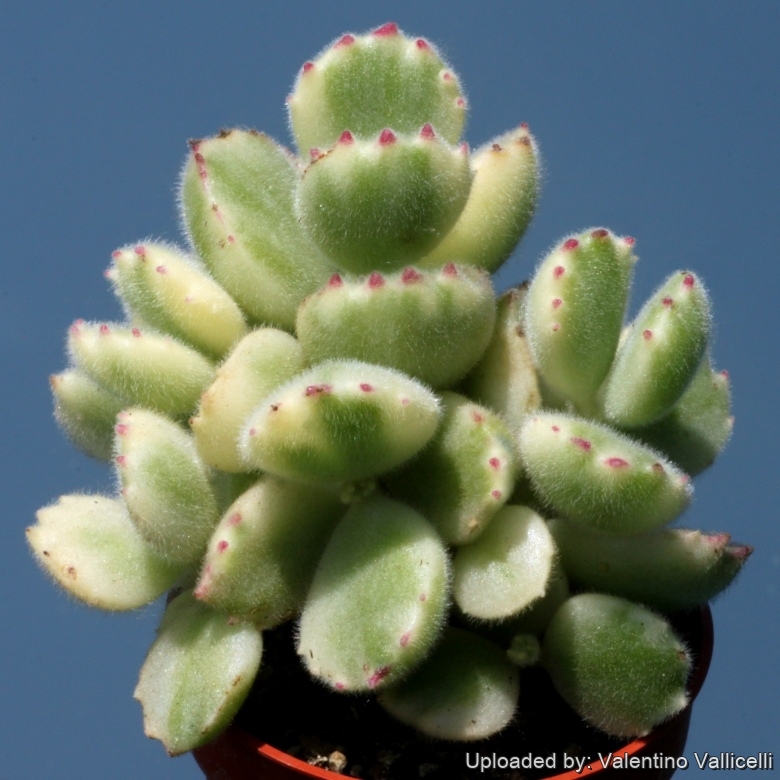 Cotyledon tomentosa f. variegata Photo by: Valentino Vallicelli
Origin and Habitat: Garden origin (Nursery produced cultivar). The original natural habitat of this species is the Ladismith area between Groot River and Trumpeter's Poort, Cape Province, South Africa.
Synonyms:
See all synonyms of Cotyledon tomentosa
Description: Cotyledon tomentosa (Bear's Paw or Kitten Paw), is a succulent shrublet native to Africa that can rich a height of 30-70 centimetres and a diameter of 30-50 cm, more or less densely branched. Like all tomentose plants this has leaves, flowers and stems all covered with down. The leaves, grape- to thumb-sized, feel fat and soft to the touch just like the little paddy paws of a baby animal, complete with red toe-nails It forms large orange bell-shaped flowers in spring.
Forma variegata: The attractive variegated form is easily recognized for its foliage which has creamy-yellow patches. Plants with variegated leaves are attractive and very popular in cultivation.
Stems: Thin, 3-4 mm in diameter, set loosely 10-15 (or more) cm. long, tomentose to pilose, branching profusely near ground level.
Leaves: Plump, soft, ± opposite, decussate, and densely clothed with woolly hairs, obovate oblong, oblanceolate to oblong-elliptic, cuneate, convex, 1.5-5.5 cm long and 8-15 cm broad, bright green or yellow-green with sectors or stripes with distinct shades of creamy-yellow, usually around edges, tapered to a short stalk at the base, apex scalloped with prominent dark red "teeth" at tips. These teeth are arranged in a neat row and vary in number between three and ten.
Inflorescence: The inflorescence is a thyrse with 1-3 dichasia, with 10—20 nodding florets; peduncle 0,15-0,25 m long, densely hairy. Scape slender, covered with a dense felt of hairs, 10—20 cm. long.
Flowers: Red to almost yellow typical Cotyledon urn-shaped with five petals that separate near the tips to curl back at the mouth, usually pointing outwards on quite short pedicels. Sepals triangular, 3-5 mm long, bluntly acute, densely felted. Corolla tube vaguely ampullaceous to cylindrical, 12-16 mm with recurved-spreading lobes half as long, hairy outside, glabrous within except for tuft of hairs where filaments are fused to tube. Stamens 10, anthers 1.5-1.8 mm long. Squamae transversely oblong, 0.5-1 x 1.3-1.6 mm, slightly emarginate, pale yellow.
Subspecies, varieties, forms and cultivars of plants belonging to the Cotyledon tomentosa group
Bibliography: Major references and further lectures
1) Debra Lee Baldwin "Designing with Succulents" Timber Press, 18/mar/2011
2) A. B. Graf "Tropica: Color Cyclopedia of Exotic Plants and Trees from the Tropics and Subtropics" Roehrs, 1978
3) Court "Succulent flora of southern Africa" 1981
4) Werner Rauh "The Wonderful World of Succulents: Cultivation and Description of Selected Succulent Plants Other Than Cacti" Smithsonian Institution Press, 1984
5) Ernst Jacobus van Jaarsveld, Daryl Lee Koutnik "Cotyledon and Tylecodon" Umdaus Press, 2004
6) James Cullen, Sabina G. Knees, H. Suzanne Cubey "The European Garden Flora Flowering Plants: A Manual for the Identification of Plants Cultivated in Europe, Both Out-of-Doors and Under Glass" Cambridge University Press, 11/ago/2011
7) W. H. Harvey "Flora Capensis" Vol 2, 1894
8) African Succulent Plant Society "The Bulletin of the African Succulent Plant Society" African Succulent Plant Society., 1972
9) Sean Hogan "Flora: a gardener's encyclopedia" Vol. 1 Timber Press (Portland, Or.) 2003
10) Hermann Jacobsen "Abromeitiella to Euphorbia" Blandford Press, 1960
11) Dr J.P. Roux "Flora of South Africa" 2003
12) Ernst Van Jaarsveld, Ben-Erik Van Wyk, Gideon Smith "Succulents of South Africa: A Guide to the Regional Diversity" Tafelberg Publishers, Limited, 01/lug/2000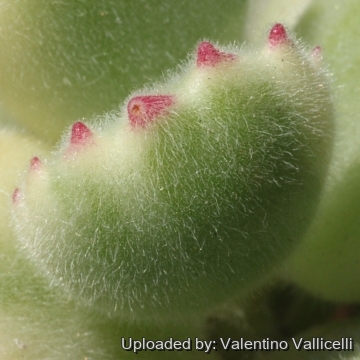 Cotyledon tomentosa f. variegata
Photo by: Valentino Vallicelli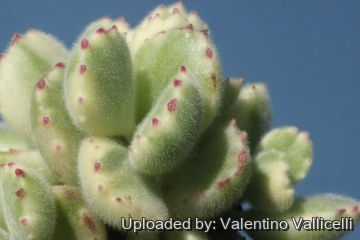 Cotyledon tomentosa f. variegata
Photo by: Valentino Vallicelli
Cultivation and Propagation: Cotyledon tomentosa f. variegata is a relatively commonly sold plant at garden outlet nurseries, and can make a nice low succulent shrublet in the garden, does well in containers, and makes a good houseplant. It is widely grown and not difficult to cultivate. They are dormant in summer and thrive with bright light and ample airflow.
Growth rate: Moderately fast.
Soil: It grows best in sandy-gritty soil. Good drainage is very important as it is prone to root rot.
Fertilization: Feed it once or twice during the growing season with a fertilizer specifically formulated for cactus and succulents (poor in nitrogen), including all micro nutrients and trace elements diluted to ½ the strength recommended on the label.
Watering Needs: It is a very dry-tolerant plant. Water regularly in the growing season, but avoid water-logging and let dry between waterings. Water with caution in winter, as the plant can lose its roots if the soil stays cold and wet for extended periods. If grown in a container, bottom watering by immersing the container is recommended. It must have very dry atmosphere.
Sun Exposure: Does well in filtered sun, but can handle some shade, too. In shade the leaves colour will remain more green, while in full sun conditions the foliage can develop a pale yellowish tinge. In summer keep cool and provide shelter from direct sun during the hottest hours. It can be sunburned if moved from shade/greenhouse into full sun too quickly. It tends to get really leggy in deep shade.
Frost Tolerance: Protect from frost to prevent scarring. It requires a minimum temperature of about 5°C, but will take a light frost and is hardy down to -5° C for short periods if it is in dry soil (Lethal temperature in habitat -6 to -10 ° Celsius). USDA zones 9A – 11. In areas prone to frost, grow in an intermediate greenhouse or conservatory, in pots.
Uses: They make wonderful rocker plants in hot, dry areas and also grow well in containers or sunny patios or in a hot corner next to a swimming pool.
Warning: The plants are highly poisonous to humans and domestic animals, especially sheep and goats, and the meat of animals killed by cotyledonosis remains toxic even after cooking. Poisoning may be acute or chronic, the latter due to the cumulative effect of the toxin.
Pests and diseases: May be susceptible to mealybugs and rarely scale. Protect from cold.
Propagation: From seed but it is easily increased by cuttings. Cuttings root easily. It is also possible, to plant the leaves in good, sandy soil where they will take root - members of this family often propagate vegetatively in this way.