Donate now to support the LLIFLE projects.
Your support is critical to our success.
Since 4 Aug 2013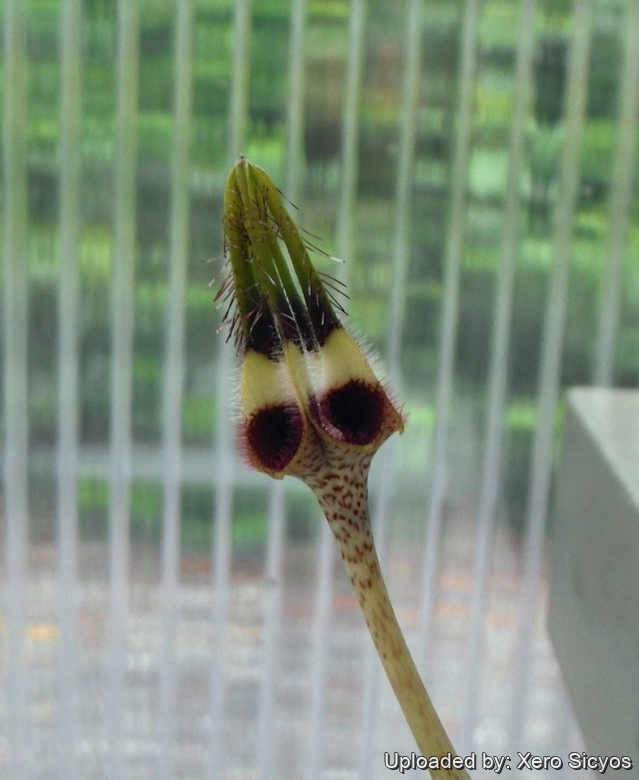 Ceropegia radicans Photo by: Xero Sicyos
Origin and Habitat: Ceropegia radicans is endemic of the Republic of South Africa (Eastern Cape).
Type locality: Cape, Komga district, under scrub bush of Kei River valley.
Altitude range: 100-650 metres above sea level.
Habitat and ecology: This species grows prostrate in and below bush.
Synonyms:
See all synonyms of Ceropegia radicans
Description: Ceropegia radicans is a succulent plant with reclining or crawling shoots, easily rooting at the nodes. The leaves are fleshy and glabrous. It has a peculiar large cage-like flower with a slender tube swollen at the base, and divided into five segments at the top; these segments remain united at the tips. A broad white bands separates the green tips from the dark purple base at the mouth of the tube. Two subspecies are recognized, the nominate form and subs. smithii. In Ceropegia radicans subsp smithii the cage-like united lobes are very different in appearance from the narrowly pyramidal structure of subsp. radicans, but the colouring, pubescence and coronal structure are indistinguishable; added to this the two subspecies are neither geographically nor ecologically isolated.
Stems: Prostrate, creeping, sparingly branched, dark green, slightly rough, slightly striate, glabrous, succulent, 1-3 m long and 3-5 mm or more thick. Internodes generally 4-8 mm long.
Roots: This species produces a cluster of fleshy, fusiform to cylindrical roots from the rootstock and also at the nodes.
Leaves: Thick, fleshy, persistent, and glabrous. Petiole 3-10 mm long. Blade (lamina) 18-40(-45) mm long, 12-25(-36) mm broad, ovate, elliptic or orbicular. Apex acute or obtuse and apiculate. Base cuneate, rounded or subcordate.
Inflorescences: Peduncles srising singly, extra-axillary, very reduced or up to 5-10 mm long, 2-3 mm thick, 1–3-flowered , developed successively. Bracts minute. Pedicels 12-30 mm long, 1.5-2.5 mm thick, glabrous.
Flowers: 55-80 mm long. Sepals 4-6(-8) mm long, linear-lanceolate to linear-subulate, glabrous. Corolla-tube curved (often straight in dried specimens), 36-55mm long, cylindrically or with a weakly 5-angled basal inflation 12-18 mm long, 3-7 mm in diameter at the base, 2-3 mm in diameter above and dilated to 12-15 mm or more in diameter at the funnel-shaped mouth, outside glabrous, pale greenish below, whitish above, dotted or spotted with dark purple, inside softly hairy within inflation, glabrous elsewhere pale greenish white with purple dots and splotches, intensified towards mouth. Lobes linear, 18–28 mm long from a 8-10 mm-broad (when flattened out) triangular base, tips fused, folded back along the midrib so as to form pocket-like openings between them, keeled down the inner face, purple-brown crossed by a broad transverse white band at the base, above passing into bright green or first into blackish-green and then to bright green, thinly hairy on the inner face below and ciliate to nearly half-way up with fine soft spreading hairs, glabrous above, but ciliate with long vibratile clavate purple hairs. Corona united at base, forming 5 shallow pockets with slightly spreading outer margin and confluent with base of inner lobes.
Outer corona 0.5 mm long, shorter than the staminal column, obtusely pentagonal or 5-lobed seen from above, pale yellowish-green; lobes pouch-like, shortly bifid, truncate or broadly rounded, glabrous. Inner corona-lobes 2-4 mm long 0.4 mm wide, sublinear or linear-spathulate, acute or obtuse, more or less incumbent on the backs of the anthers at the base, then erect in a column, glabrous, pale yellowish-green tips sometimes recurved.
Related species. Ceropegia radicans is closely related to Ceropegia sandersonii and thus allied to Ceropegia fimbriata and Ceropegia zeyheri, all of which are characterized by succulent stems, leaves, and roots.
Bibliography: Major references and further lectures
1) N. E. Brown "Flora Capensis", Vol 4, 1909
2) J.P. Roux "Flora of South Africa" 2003
3) Fl. Pl. South Africa 31: t.1240 (1956).
4) List South. African Succ. Pl. : 25 (1997).
5) Focke Albers, Ulrich Meve "Illustrated Handbook of Succulent Plants: Asclepiadaceae" Springer Science & Business Media, 06 December 2012
6) Nico Vermeulen, Richard Rosenfeld "Encyclopedia of House Plants" Taylor & Francis, 1999
7) Vera Higgins "Succulent Plants Illustrated" Blandford Press, 1949
8) Werner Rauh "The Wonderful World of Succulents: Cultivation and Description of Selected Succulent Plants Other Than Cacti" Smithsonian Institution Press, 1984
Cultivation and Propagation: Ceropegia radicans is a robust long-lived plant that is easily cultivated. It grows best in tropical or subtropical climates, and is used an ornamental vine and makes also a good room plant. Hang the plant in a very light place and only protect it from the hottest summer sun. Only water when the soil has dried out completely.
Exposure: It need partial shade or filtered sun. Shade is sometimes provided in hot climates.
Substratum: The plants like a rich, porous, well-drained soil mix, with extra leaf mould added but aren't usually too picky as to soil type.
Watering: During the growing season (spring to summer), the plants are watered on a regular basis, making sure that they never dry out completely with an occasional spray over the foliage. In late summer, water is restricted to about once a week into winter. Night temperatures at this time should be about 10° C. In late winter, watering is stopped for a period of 4 weeks. In early spring, regular watering is resumed.
Fertilization: They are fertilized on a monthly basis with a balanced fertilizer during active growing phase.
Hardiness: Will tolerate temperatures to 45° C, but prolonged cold will damage or kill the plant.
Maintenance: Eventually the succulent fusiform roots of Ceropegia radicans expand to fill the pot. This is the time to re-pot.
Propagation: Ceropegia radicans is propagated by stem cutting or (rarely) by seed in the spring. Aerial roots which develop on the stems root easily in compost. Seed should be sown in well-drained compost and should germinate in 14 to 28 days at 18 to 21° C.