Donate now to support the LLIFLE projects.
Your support is critical to our success.
Since 4 Aug 2013
sponsored link
Stapelia engleriana Photo by: Luiza Ferreira
Origin and Habitat: Stapelia engleriana is a South African endemic, widely distributed in the drier areas of Northern Cape, Western Cape (southwestern Karoo between Laingsburg, Beaufort West and Prince Albert).
Altitude range: 300 - 1200 metres above sea level.
Habitat and ecology: This species grows molstly under the shrubs and amongst rocks together with a wealth of small succulents such as: Pleiospilos compactus, Rhinephyllum luteum and Trichodiadema barbatum (all Aizoaceae) as well as Piaranthus comptus and Tridentea parvipuncta (all Apocynaceae), Haworthia venosa ssp. tesselata (Aloaceae) and Crassula corallina (Crassulaceae).
Synonyms:
Common Names include:
ENGLISH:
Carrion flower, African starfish flower
AFRIKAANS (Afrikaans):
Aasblom
Description: Stapelia engleriana is an uncommon species with thick, divaricately branched stems up to 30 cm long, softly-pubescent, grey-green or dark green in colour, with small spreading teeth. The characteristic thick, square, prostrate to rhizomatous stems resembles that of some of some succulent Euphorbias and are easily identifiable. In contrast to most other species, the, rather long-stalked flowers appear from mid-stem upwards. The dark purple-brown or chocolate-coloured flowers are characterized by the fact that the triangular corolla lobes roll back completely and lie on the under side of the broad cup-shaped corolla tube. The flowers thus appear somewhat Turk's-cap-like, circular in outline and sometimes last for more than a week. It is generally a less attractive plant with an untidy habit due to new growth starting from points where the stem has been damaged or broken.
Stems: Procumbent or decumbent with ascending tips, loosely or sparingly branched, 10-25 cm long (If tsheltered by other plants, they can become up to 30 or mre cm tall), 14-20 mm across, 4(-5)-angled, with flattish or concave sides, shortly toothed at the angles, minutely velvety-pubescent, greyish-green, flowering near the middle or towards the apex on one of the sides.
Flowers: 1 or two, from mid-stem upwards near the tip, sometimes with 1–4 other buds at the base of the pedicel, which appear to abort. Pedicels 1-1.5 (in fruit up to 2.5) mm long, densely hairy, as are also the 4-6 mm long lanceolate or ovate-lanceolate acute sepals. Corolla (from the reflexion of its lobes) button-shaped, circular in outline and 20-40 mm across, with a cup-like cavity or tube, softly puberulous on the back, rugose and glabrous on the inner face of the lobes and disk, puberulous with short erect hairs at the bottom of the tube, and with or without a minute ciliation on the lobes, dark purple-brown chocolate-brown, with or without faint yellowish transverse lines on the base of the lobes and rim of the tube, the bottom of the tube whitish, spotted with purple-brown. Tube 6-8 mm long and obtusely 5-angled outside, thickened, and about 12 mm in diam. at the acutely 5-angled mouth inside, broadly cup-like. Lobes 10-16 mm long, 10-12 mm broad, triangular-ovate, acute, closely reflexed upon the back of the tube; outer corona-lobes 3-4 mm long, about 3 mm broad, rhomboid with side angles or subquadrate, variably bifid, with or without a minute tooth in the notch or subtruncate and very minutely 3-toothed at the apex, purple-brown, mottled with ochreous or pale yellowish, or the central area and margins of that colour dotted with purple-brown; inner corona-lobes 2-horned, yellowish, dotted with purple-brown; outer horns erectly spreading, 4-5 mm long, laterally compressed, linear, slightly clavate at the obtuse apex; inner horns connivent-erect at the base, then arching back nearly as far as the spread of the outer horns, 5.5-8 mm long, filiform, more or less clavate and obtuse or acute at the apex.
Fruits: Follicles 9-11 cm long, 8-10 mm thick, terete-fusiform, tapering into a short slightly hooked beak, smooth, puberulous, streaked with dark green or dull purple-brown on a pale-coloured ground.
Seeds; 5 mm long, 1.5 mm broad, narrowly lanceolate from the thickened margins being closely incurved on one face, smooth, light brown.
Bibliography: Major references and further lectures
1) Cholo, F. & Matlamela, P.F. 2006. Stapelia engleriana Schltr. National Assessment: Red List of South African Plants version 2014.1. Accessed on 2015/03/08
2) Focke Albers, Ulrich Meve "Illustrated Handbook of Succulent Plants: Asclepiadaceae: Asclepiadaceae" Volume 4 Springer Science & Business Media, 2002
3) L. C. Leach "A Revision of Stapelia L.: (asclepiadaceae)" Aloe Books, 1985
4) N. E. Brown "Flora Capensis" Vol 4, 1909
5) White & Sloane, "The Stapelieae", 2: 640-1, f. 609-10 (1937)
6) Jacobsen, "Lexicon of succulent plants", pl. 134/3 (1974).
7) James Cullen, Sabina G. Knees, H. Suzanne Cubey "The European Garden Flora Flowering Plants: A Manual for the Identification of Plants Cultivated in Europe, Both Out-of-Doors and Under Glass" Cambridge University Press, 11/Aug/2011
8) Werner Rauh "The Wonderful World of Succulents: Cultivation and Description of Selected Succulent Plants Other Than Cacti" Smithsonian Institution Press, 1984
9) Jacobs, K. & Jangle, R. "Karoo Ecosystem Management Plan: Western Cape." Unpublished, The Nature Conservation Corporation, Cape Town. 2008.
Stapelia engleriana
Photo by: Luiza Ferreira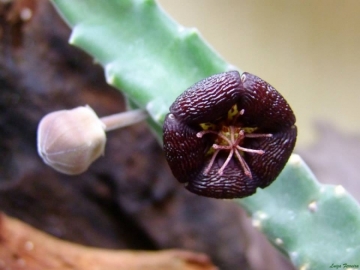 Stapelia engleriana
Photo by: Luiza Ferreira
Fower buds.
Photo by: Luiza Ferreira
Stapelia engleriana
Photo by: Raimondo Paladini
Cultivation and Propagation: Stapelia engleriana is a quick-growing species that blooms easily when mature. They require moderately watering through the growing season but enjoy plenty of water and some fertiliser in hot weather, this helps them to flower freely. Water more sparingly in winter according to temperatures. But, as with most asclepiads, it is unwise to leave them wet in cold weather. Winter care presents no problems at 5°C with plenty of light. Since roots are quite shallow, use a cactus mix or add extra perlite or pumice to regular soil potting soil. A gritty, very free-draining compost is suitable, and clay pots help the plants to dry out between watering.
Sun Exposure: Partial sun or light shade
Pest and diseases: Stapelia species vary in their susceptibility to rotting, but are generally fairly easy to grow, especially if kept pest-free. They are very susceptible to stem and root mealy bugs, and damage from these may well initiate fungal attack. If you do have problems with a stem or with basal rotting, you can reliably isolate the healthy parts, dry them off, and re-root them in moist compost.
Cultural Practices: Re-pot every 2 years.
Traditional uses: The Khoi-San people eat or chew the stems as an appetite suppressant
Propagation: Easiest with stem cuttings. Allow cuttings to dry a day before planting. Stems must be laid (Not buried) on gritty compost and will then root from the underside of the stems. It can also be increased from seeds sowing in spring in moist, sandy peat moss.
Potting medium: Since roots are quite shallow, use a cactus mix or add extra perlite or pumice to regular soil potting soil. A gritty, very free-draining compost is suitable, and clay pots help the plants to dry out between watering.