Donate now to support the LLIFLE projects.
Your support is critical to our success.
Since 4 Aug 2013
sponsored link
Piaranthus atrosanguineus Photo by: Alexander Arzberger
Origin and Habitat: It is scantily distributed along the Limpopo River valley from Gaborone in Botswana eastwards to Zeerust and northwards to Lephalale and into areas north of the Soutpansberg Limpopo and Northern Cape, North-West Province, South Africa.
Altitude range: 650-1500 metres above sea level.
Habitat and Ecology: It grows in Acacia-Grewia bushveld, growing specifically under heavily grazed Acacia tortillis individuals.
Synonyms:
See all synonyms of Piaranthus atrosanguineus
Accepted name in llifle Database:
Piaranthus atrosanguineus
(N.E.Br.) Bruyns
Syst. Bot. 24(3): 379, f. 3–5, 8–9, 11, 14 1999
Synonymy: 6
Description: Piaranthus atrosanguineus is a distinct stapeliad characterized by short lived dark bloody-red flowers of elaborate design and beauty. The flowers are numerous, nocturnal, and normally last only for a few hours, the shortest flowering time of all stapeliads. They open late afternoon and start wilting during the next morning. Flowers opens simultaneously or with long intervals in late Summer or Autumn.
Taxonomic note: This "one-day flower" has been through various genus names: originally described as a Stapelia (1901), changed to Caralluma (1904) then Huerniopsis (1937) and presently Piaranthus (1999).
Stems: Procumbent or ascending, branching from the base and partially stoloniferous, 30-75 mm long, 05-15 mm broad.
Flowers: 1 to 3 (rarely more) on a short inflorescence, dark maroon or dark blood-red star-shaped and velvety about 3 - 4.5 cm in diameter. Bracts 2 mm long, subulate. Peduncle short (about 3 mm long, 2 mm in diameter). Sepals 4 mm long, 2 mm broad. Corolla outside grey-green, dotted with purple, inside dark blood-red, sometimes spotted with greenish-yellow, 3 - 4.5 cm in diameter. Corolla tube shallow, 8 long, 3 mm in diameter, 5-angled, 15-20 mm long, 8 - 12 mm wide, radiating starry, with 1 (-3) longitudinal furrows, basally with 2 semiglobose swellings, margins slightly bent outwards, very finely papillate, sometimes hairy towards the tip. Hairs white, soft amd stiff; Corona white to cream, 5-angled, massive. Outer corona lobes very reduced 1 mm broad and wide compact. Inner coronals lobes 6-9 mm long 1-3 mm broad, lanceolate to linear, with tips bent inwards or outwards; Gymnostegium ca. 3 x 5 mm. Poll 0.7 mm long, 0.4 mm wide, translator shortly winged. Flowers have a strong foetid odour.
Blooming season: Flowers opens simultaneously or with long intervals in late Summer or Autumn, .
Chromosome number: 2n = 22.
Bibliography: Major references and further lectures
1) David Hardy, Anita Fabian, Gerrit Germishuizen "Succulents of the Transvaal" Southern Book Publishers, 1992
2) Foden, W. & Potter, L. 2005. Piaranthus atrosanguineus (N.E.Br.) Bruyns. National Assessment: Red List of South African Plants version 2014.1. Accessed on 2014/07/29
3) Focke Albers, Ulrich Meve "Illustrated Handbook of Succulent Plants: Asclepiadaceae: Asclepiadaceae" Volume 4 Springer, 2002
4) Werner Rauh "The Wonderful World of Succulents: Cultivation and Description of Selected Succulent Plants Other Than Cacti" Smithsonian Institution Press, 1984
5) Hermann Jacobsen "A handbook of succulent plants: descriptions, synonyms, and cultural details for succulents other than Cactaceae" Volume 1 Blandford Press, 1960
6) James Cullen, Sabina G. Knees, H. Suzanne Cubey "The European Garden Flora Flowering Plants: A Manual for the Identification of Plants Cultivated in Europe, Both Out-of-Doors and Under Glass" Cambridge University Press, 11/Aug/2011
7) Doreen Court "Succulent Flora of Southern Africa" CRC Press, 01/Jun/2000
8) Domitilla Raimondo "Red list of South African plants 2009" South African National Biodiversity Institute, 2009
9) Lukas Niemand Pr.Sci.Nat., Pachnoda Consulting cc "Proposed Eskom Landfill Site, Lephalale, Limpopo Province: Ecological assessment (Final report)" Envirolution Consulting April 2009
10) Kenjiro Fujii "Cytologia" Volume 38, 1973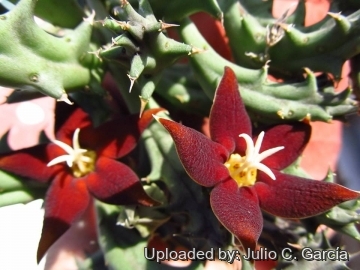 Piaranthus atrosanguineus
Photo by: Julio C. García
Piaranthus atrosanguineus
Photo by: Julio C. García
Piaranthus atrosanguineus
Photo by: Luiza Ferreira
Piaranthus atrosanguineus
Photo by: Luiza Ferreira
Piaranthus atrosanguineus
Photo by: Julio C. García
Piaranthus atrosanguineus
Photo by: Raffa C. Garcia
Piaranthus atrosanguineus
Photo by: Raffa C. Garcia
Piaranthus atrosanguineus
Photo by: Raffa C. Garcia
Cultivation and Propagation: Piaranthus atrosanguineus is an easy obliging blooming plant, which is happy in any average succulent house. This plant is common to warrant any description, let it suffice to say that this plant is easy to grow and flower, and one which will tolerate most soils and growing conditions.
Soil: Since roots are quite shallow, use a cactus mix or add extra perlite or pumice to regular soil potting soil. A gritty, very free-draining compost is suitable, and clay pots help the plants to dry out between watering.
Watering: They require moderately watering through the growing season but enjoy plenty of water and some fertiliser in hot weather, this helps them to flower freely. Water more sparingly in winter according to temperatures. But, as with most asclepiads, it is unwise to leave them wet in cold weather.
Hardiness: Winter care presents no problems at 5°C with plenty of light.
Sun Exposure: Partial sun or light shade.
Pest and diseases: They are generally fairly easy to grow, especially if kept pest-free. They are susceptible to stem and root mealy bugs, and damage from these may well initiate fungal attack. If you do have problems with a stem or with basal rotting, you can reliably isolate the healthy parts, dry them off, and re-root them in moist compost.
Cultural Practices: Re-pot every 2 years.
Propagation: Easiest with stem cuttings. Allow cuttings to dry a day before planting. Stems must be laid (Not buried) on gritty compost and will then root from the underside of the stems. It can also be increased from seeds sowing in spring in moist, sandy peat moss. Barely cover seeds.