Donate now to support the LLIFLE projects.
Your support is critical to our success.
Aloe hereroensis Photo by: Guillermo Rivera
Northern Namibia.
Origin and Habitat: Aloe hereroensis is widespread in Botswana, Angola, Namibia and South Africa (Northern Cape, North West and Free State Provinces), a range of over 1 400 kilometres .
Altitude range: Around 300-900 metres above sea level.
Habitat: Exposed dry rocky slopes in arid desert; usually growing in very alkaline soils or sometime on quartzite in high summer rainfall areas. Aloe hereroensis forms hybrids with other species.
Synonyms:
See all synonyms of Aloe hereroensis
Accepted name in llifle Database:
Aloe hereroensis
Engl.
Bot. Jahrb. Syst. 10: 2 1889
Synonymy: 4
Common Names include:
AFRIKAANS (Afrikaans):
Sandaalwyn, Hererolandaalwyn
HERERO (otjiHerero):
Otjindombo
KHOEKHOE or NAMA (Khoekhoegowab):
Koreb, Aukoreb
Description: Aloe hereroensis is a perennial, leaf succulent that grows in single erect rosettes, or suckers to form small groups of plants, 30-50 cm tall excluding inflorescence. The yellow, orange, scarlet or red flowers are in dense heads which terminate in a dense hairy tuft of over-lapping bracts. The yellow-flowered form is known as var. lutea and occurs in Namibia. The erect nature of the buds and spreading-pendulous habit of the open flowers is very marked in this species.
Derivation of specific name: The epithet hereroensis refers to the presence of the species in the regions inhabited by the Hereros people.
Stem: Aloe hereroensisis is almost stemless but as ages, it may develop a short erect stem (occasionally up to 1 metre tall).
Leaves: Densely rosulate (about 30 per rosette), lanceolate-deltoid, erect and curving inwards, 25-32(-40) cm long, 3.5-8.5(-9) cm wide at the base, narrowed gradually to the apex, shallowly channelled to D-shaped in section, grey-green, dark blue-green very glaucous or often rose-coloured or bronzed in the sun, obscurely lineate to sulcate, and usually without spots on the upper surface, with few to many H-shaped whitish spots scattered or arranged in transverse bands on the lower surface. Margins cartilaginous with pungent deltoid red-brown teeth 3–4 mm long. Marginal teeth not crowded, spreading, 8–12 mm apart.
Inflorescence: Inflorescences 1 to 3, paniculate erect to 1 m high. Peduncle forked, with 4-12 or more branches densely flowered at the apex, the lower branches rebranched; branches widely spreading, subtended by narrowly lanceolate-acuminate, with several widely spaced bracts below each raceme. Racemes dense, 6–8 × 8–10 cm corymbose-capitate, very densely flowered. Bracts dense, lanceolate-acuminateor ovate-lanceolate, overlapping, scarious, 8-30 mm long, 5-6 mm wide and 3-7-nerved. Pedicels 18-50 mm long.
Flowers: Usually scarlet to deep red, almost magenta, rarely orange or yellow. Perianth cylindrical-trigonous 25-35 mm long, 8–9 mm in diameter across the ovary, not constricted above the ovary, narrowing slightly toward the mouth. Segments as long as the tube free to halfway (for 14-16 mm), tips slightly spreading. Anthers exserted 2-5 mm. Ovary 7-8 x 2-3 mm, green. Stamens and stigma exserted 2-5(-10) mm.
Blooming season: Flowering time (in habitat) June to September.
Fruits (capsules): Ovoid, 18-24 mm long, 7-9 mm wide, buff yellowish-grey.
Seeds: 2-7 x 1.25- 3.5 mm, almost black, wings prominent, buff.
Chromosome number: 2n = 14.
Subspecies, varieties, forms and cultivars of plants belonging to the Aloe hereroensis group
Bibliography: Major references and further lectures
1) Dr J.P. Roux "Flora of South Africa" 2003
2) J. G. Baker. "Flora of Tropical Africa" Vol 7, page 421, 1898
3) S. Kativu "Flora Zambesiaca" Vol 12, Part 3, page 48, 2001
4) Urs Eggli "Illustrated Handbook of Succulent Plants: Monocotyledons: Monocotyledons" Springer Science & Business Media, 17 July 7 2001
5) Reynolds, G.W. 1950. "The aloes of South Africa" The Aloes of South Africa Book Fund, Johannesburg.
6) Umberto Quattrocchi "CRC World Dictionary of Medicinal and Poisonous Plants: Common Names, Scientific Names, Eponyms, Synonyms, and Etymology" (5 Volume Set) CRC Press, 03 May 2012
7) Gabriella Harriet Schmelzer, Ameenah Gurib-Fakim, R. Arroo "Medicinal Plants" Volume 1
PROTA Foundation, 2008
8) Doreen Court "Succulent Flora of Southern Africa" CRC Press, 01 June 2000
9) Patricia Craven, Christine Marais "Damaraland Flora: Spitzkoppe, Brandberg, Twyfelfontein" Gamsberg Macmillan, 01 January 1992
10) Hermann Jacobsen "A Handbook of Succulent Plants: Descriptions, Synonyms, and Cultural Details for Succulents Other Than Cactaceae" Volume 1 Blandford Press, 1960
11) Wikipedia contributors. "Aloe hereroensis." Wikipedia, The Free Encyclopedia. Wikipedia, The Free Encyclopedia, 21 Nov. 2014. Web. 4 Aug. 2015.
12) Susan Carter, John J. Lavranos, Leonard E. Newton, Colin C. Walker "Aloes. The definitive guide." Kew Publishing, Royal Botanic Gardens, Kew 2011
13) Gideon F. Smith, Colin C. Walker, Estrela Figueiredo "What's in a name: epithets in Aloe L. (Asphodelaceae) and what to call the next new species" In: Bradleya. 28: 93, 2010.
14) Gilbert Westacott Reynolds "The Aloes of Tropical Africa and Madagascar" Aloes Book Fund, 1966
Aloe hereroensis. A juvenile specimen.
Photo by: Valentino Vallicelli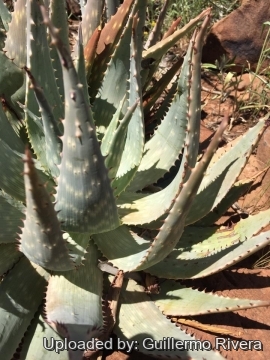 Aloe hereroensis. Northern Namibia.
Photo by: Guillermo Rivera
Cultivation and Propagation: Aloe hereroensis is a hardy and attractive species, that will survive in high summer rainfall areas if given good drainage.
Easy to grow. In cultivation it is best suited to warm temperate climates.
Soil: Plant in porous free draining soil; according to Reynolds (1966) the species prefers lime in the soil.
Fertilization: It needs a perfect fertilizer diet in summer. Use preferably a cacti and succulents fertilizer with high potassium content including all micro nutrients and trace elements or slow release fertilizer.
Watering: It tolerates weekly (or more frequent) watering in the summer, water throughly when soil is dry to the touch. Can withstand periods of drought, but it will thrive and flower more profusely if watered in the correct season.
Hardiness: Protect from frost. Minimal watering required in winter. Protect from heavy frost.
Exposure: Outdoors in in full sun or in sheltered position, otherwise indoors in bright sunny spot. In summer it is advisable to position this plant in a partially shady place, where it is exposed to direct sunlight only during the coolest hours of the day.
Uses: Ideal for rock-gardens and general landscaping and very decorative in pot.
Traditional uses: Leaf infusion taken to treat digestive problems, chest and heart pains, urinary incontinence and venereal diseases. Leaf sap and roots used to treat gonorrhea; leaf sap to cure eye problems.
Pest & diseases: Incorrect watering, poor drainage or too much shade can lead to attack by pests and diseases. Rot it is only a minor problem with aloes if the plants are watered and "aired" correctly. If they are not, fungicides won't help all that much.
Propagation: By seeds planted in autumn, in trays of coarse river sand. Cuttings can also be used for propagation. Cuttings must be dried out for at least 1 weeks before planting in river sand.