Donate now to support the LLIFLE projects.
Your support is critical to our success.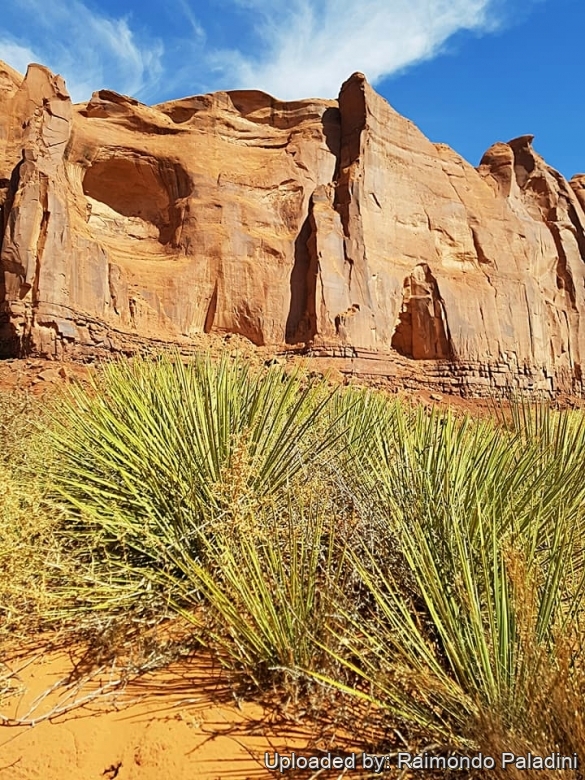 Yucca angustissima Photo by: Raimondo Paladini
Monument Valley and Yucca angustissima - Kayenta, Arizona, USA, 2017.
Origin and Habitat: Yucca angustissima is native to Northern Arizona, Western New Mexico, Colorado and South-western Utah, but is grown elsewhere as an ornamental.
Altitude range: (900-)1050-2200(-2550) metres above sea level.
Habitat and ecology: This species grows in desert flats or mesas, often in sandy places or near sandstone outcrops and rocky hillsides of desert.
Synonyms:
See all synonyms of Yucca angustissima
Common Names include:
ENGLISH:
Fine-leaf yucca, Narrowleaf yucca, Narrow leaf yucca, Narrow-leaved yucca, Kanab yucca, Toft's yucca, Yucca
Description: The narrowleaf yucca (Yucca angustissima) is a low-lying species, solitary or forming colonies of basal rosettes up to 3 m in diameter. The leaves are long and thin, usually less than 60 cm long but rarely more than 1.5 cm across and forming few fine slightly curled fibres. Flowers are white to cream or greenish-white, pendant, borne in racemes on stalks up to 2 m tall. Fruit is a dry capsule with black seeds. It is scosely allied to Yucca glauca.
Stem: Acaulescent or rarely caulescent 0.1–0.4 m long, or erect, 1–2 m tall, from thick horizontal root-stocks.
Rosettes: Small, compact, solitary or in small to large clumps with numerous rigidly spreading leaves.
Leaves: Rigid or flexible, pale yellow to blue-green, 20–60(or more) cm long, 4-15(-20) mm wide, linear, lanceolate, flatly-convex, or flat-keeled, rarely channelled, widest near middle, base broad, apex pungent, long-acuminate, spinose, spine acicular, short, 3–7 mm long. Margin entire, white to tan or reddish-brown, very freely and often curly-filiferous below.
Inflorescence: Erect, glabrous, (0.4-)1-1.5(-2) m high, racemose, or short-branched below, flowering part arising well beyond rosettes, glabrous or finely pubescent; branches, when present, 5–10 cm long. Peduncle scapelike, 0.3–2.5 m, 1–2 cm in diameter. Pedicels slender, 1-2.5(-4) cm long.
Flowers: Pendent, 3–5.5(–6.5) cm long. Perianth campanulate to globose, segments (tepals) rather short, white to cream or greenish white, often tinged with rose or rose-purple or brown, broad to narrowly elliptic to lanceolate-elliptic or orbiculate (mostly acutely lanceolate), 3–6.5 mm long, 13–25 mm, inner tepals broader than the outer tepals. Tube 3-7 mm long. Filaments 7–28 mm long. Anthers 3.2–6 mm long. Ovary (7-)1-2.5 mm long. Pistil 15–35 mm long. Style white to pale green, 3–10(–13) mm; stigmas lobed.
Fruits ( dry capsules): Erect, oblong-cylindrical, dehiscent, 3.5–7.5 cm long, 2–3 cm across, rough, brown, commonly deeply constricted, with a median rib on each valve.
Seeds: Dull black, glossy, 5-7 mm long, 7-8 mm wide.
Chromosome number: n = 30.
Subspecies, varieties, forms and cultivars of plants belonging to the Yucca angustissima group
Bibliography: Major references and further lectures
1) Georg Engelmann. "Annual Report of the Missouri Botanical Garden" 13: 58–59, pl. 23, f. 1, pl. 24, f. 1, pl. 83, f. 6. 1902 web: http://www.botanicus.org/page/672388
2) Bowers, Janice Emily. 1993. "Shrubs & Trees of the Southwest Deserts". Western National Parks Association, Tucson.
3) "Flora of North America" Volume 26 p 434. Web: http://www.efloras.org/florataxon.aspx?flora_id=1&taxon_id=242102054
4) McKelvey, S. D. 1938–1947. "Yuccas of the Southwestern United States". 2 vols. Jamaica Plain.
5) Trelease, W. 1902. "The Yucceae. Rep. (Annual) Missouri Bot. Gard". 13: 27–133
6) Thomas H. Kearney, Robert H. Peebles. 1961. "Arizona Flora", Second edition. University of California Press, Berkeley.
7) Reveal, James Lauritz. 1977. "Intermountain Flora; vascular plants of the Intermountain West, U.S.A". New York vol 6, p 534 Yucca angustissima
8) Wikipedia contributors. "Yucca angustissima." Wikipedia, The Free Encyclopedia. Wikipedia, The Free Encyclopedia, 14 Jan. 2017. Web. 9 Nov. 2017.
9) Urs Eggli, "Illustrated Handbook of Succulent Plants: Monocotyledons", Springer Science & Business Media, 06 December 2012
10) Fritz Hochstatter, Gunter Hentzschel, "Yucca (Agavaceae): Indehiscent-fruited species in the southwest, midwest and east of the USA", F. Hochstatter, 2000
11) Harrington. H. D. "Edible Native Plants of the Rocky Mountains". University of New Mexico Press 1967
12) Whiting. A. F. "Ethnobotany of the Hopi" North Arizona Society of Science and Art 1939
Cultivation and Propagation: Yucca angustissima grows in any soil but prefers a sandy loam.
Exposure. Full sun. Plants can succeed in light shade.
Watering: Established plants are very drought resistant, this species is also tolerant of seasonal damp weather.
Edible Uses: The immature fruit is baked in an oven. A bitter taste, the bitterness is in the skin. Flowers are delicious raw, or can be dried, crushed and used as a flavouring. The young flowering stem are peeled, cooked and used like asparagus. The whitish inner portion is used.
Other Uses: A fibre obtained from the leaves is used for making ropes, baskets and mats. The leaves are very fibrous and can be used as paint brushes or as a broom or woven to make mats etc. They are also used in basketry. The roots are rich in saponins and can be used as a soap substitute.