Donate now to support the LLIFLE projects.
Your support is critical to our success.
Since 4 Aug 2013
Pritchardia munroi Photo by: Forest Starr & Kim Starr
Habit at Maui Nui Botanical Garden, Maui, Hawaii (USA). March 18, 2004.
Origin and Habitat: Island of Molokai, Hawaii, USA.
Altitude: About 600 m ASL.
Habitat: Restricted to a gulch in mesic/dry shrubland. A single wild tree survive in on the leeward side of Molokai Island near the base of a small ravine above Kamalo and Kapuaokoiola (A second immature individual may exist). A fence has been erected to keep feral pigs and goats out of the immediate area. The species is listed as endangered under the US Endangered Species Act. 22 individuals are in cultivation in botanical gardens around the world.
Synonyms:
Common Names include:
ENGLISH:
Kamalo pritchardia, Munro pritchardia, Pritchardia's fan palm, Loulu palm
CHINESE (中文):
Bo li cha de zong
HAWAIIAN (ʻŌlelo Hawaiʻi):
Wāhane, Noulu, Hāwane, Lo'ulu, Loulu, Kamakou loulu
Description: Pritchardia munroi is a tree up to 4 to 5 m tall with drooping leaves that are deeply divided into segments.
Stem: Single, smooth, grey-brown, 4-5 m in height and about 20 cm in diameter.
Crown: Open with about 15–25 fronds.
Leaves (fronds): Costapalmate (fan-shaped with a crease down the center), barley split up to 90 cm from the base to the tip of the leaf blade, upper surface smooth pale green, lower surface glabrous, pale green, scattered with large elliptical scales. The tips of the long acuminate leaflets are drooping once they split off. The 120 cm long petiole and lower costae of the leaf are covered in long, silky, light brown or silver hairs. All the petioles arch a bit and the entire lower leaves tend to droop a bit.
Flowers: Three-petaled, yellow. The inflorescences covered in a dense grey brown felt are shorter than the petioles, and located among the foliage, although are often visible drooping beneath the leaves, and they branch into 1 or 2 panicles,
Fruits: Small and sub-globose reaching only 20-25 cm in length, black when fully ripe. Fruit similar to Pritchardia remota but smaller. It is the Hawaian Pritchardia with smallest fruit.
Seeds: 10-12 mm in diameter.
Bibliography: Major references and further lectures
1) Gemmill, C. 1998. "Pritchardia munroi". The IUCN Red List of Threatened Species. Version 2014.2. <www.iucnredlist.org>. Downloaded on 05 September 2014.
2) "Pritchardia munroi." PACSOA Palms and Cycads wiki , <http://www.pacsoa.org.au> Accessed on 28 Aug. 2014
3) Forest & Kim Starr Pritchardia munroi (Loulu ). Plants of Hawaii. <http://www.starrenvironmental.com>. Downloaded on 21 August 2014.
4) David Leaser "Growing Palm Trees in Hawaiʻi and Other Tropical Climates", page 78.
5) Heidi Leianuenue Bornhorst "Growing Native Hawaiian Plants: A How-to Guide for the Gardener" Bess Press, 01/Apr/2005
6) Palmpedia contributors. "Pritchardia munroi." Palmpedia, PALM ENCYCLOPEDIA, <http://www.palmpedia.net> Downloaded on 26 Aug. 2014
7) Wikipedia contributors. "Pritchardia munroi." Wikipedia, The Free Encyclopedia. Wikipedia, The Free Encyclopedia, 21 Jan. 2014. Web. 5 Sep. 2014.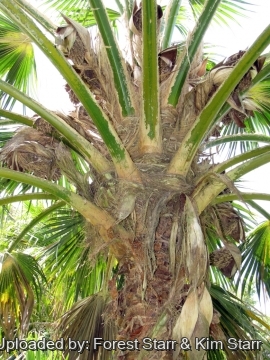 Crown at Pololei Haiku, Maui, Hawaii (USA). April 11, 2013.
Photo by: Forest Starr & Kim Starr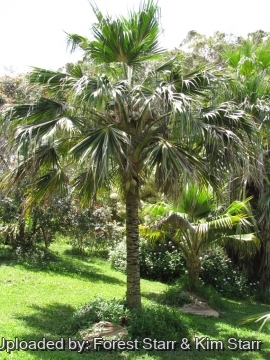 Habit at Pololei Haiku, Maui, Hawaii (USA). April 11, 2013.
Photo by: Forest Starr & Kim Starr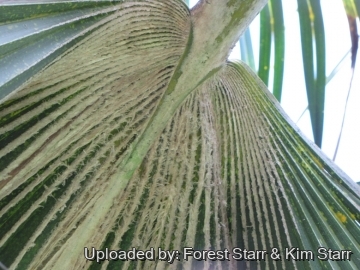 Frond fur at base at Pololei Haiku, Maui, Hawaii (USA). April 11, 2013.
Photo by: Forest Starr & Kim Starr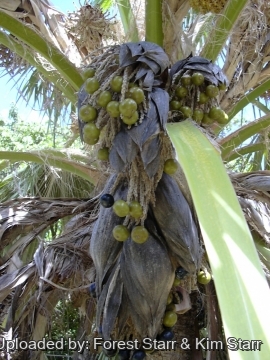 Fruit at Maui Nui Botanical Garden, Mauim Hawaii (USA). March 18, 2004.
Photo by: Forest Starr & Kim Starr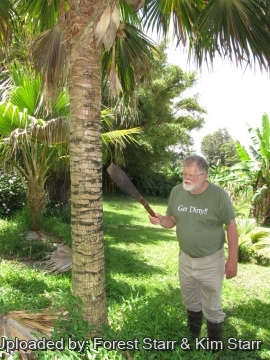 Trunk at Pololei Haiku, Maui, Hawaii (USA). April 11, 2013.
Photo by: Forest Starr & Kim Starr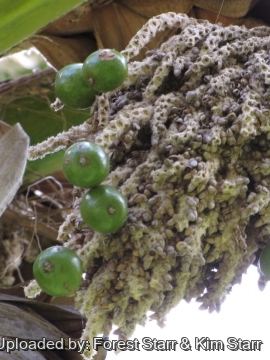 Fruit at Pololei Haiku, Maui Hawaii (USA). April 11, 2013.
Photo by: Forest Starr & Kim Starr
Cultivation and Propagation: According to its habitat Pritchardia munroi may be drought tolerant, cool tolerant and modest in its requirement.
Soil: Sand, cinder organic soil, but is adaptable. Good drainage is also important.
Fertilization: Need a perfect fertilizer diet including all micro nutrients and trace elements or slow release fertilizer. Fertilize often for faster growth.
Water Requirements: It tolerates low levels of humidity, though it prefers evenly moist but not consistently wet medium. When supplied with adequate moisture and fertilizer it is also fairly fast growing. This palm is very drought tolerant once established. It dislikes soggy soils. The roots and lower trunk can rot if soil is kept too moist. Water young plants for healthy look and fastest growth.
Light: Prefers full sun but will tolerate half day sun.
Hardiness: It is adapted to tropical and subtropical climates but tolerate a wide range of climates and will even tolerate cool conditions; In favourable temperate climate they should be grown in cold green houses or at least in a place where they are sheltered by the wind; However mature specimens can endure light frost (for short periods), while young plants are more cold sensitive. Best kept above 5° C.
Maintenance: The dead leaves, flowers and fruits can be removed in a landscape setting for a cleaner appearance. Do not prune the fronds that still have some green colour. Palms recycle nutrients from dead or dying fronds and use them for healthier fronds. Palms only have a set number of new leaves that can sprout and grow per year and removing fronds will not increase that number. If you cut off more than what will grow annually, you could be left with a pretty bare and bald palm. Left in place they form an attractive 'skirt' around the trunk.
Wind and salt tolerance: Salt tolerance moderate. With a particularly windy climate it is suggested to secure young palm to long solid stakes, to avoid that the wind could bare young and not very developed roots; specimens which are only a few years old might fear intense wind.
Early Hawaiian Use The hard wood of the trunk were fashioned into spears. The trunks loulu were notched for climbing to gather the immature fruits and fronds. Older specimens still bear notches that can be seen today. The fronds were used for thatching and as plaiting such as hats and fans.
Ornamental: Even if very rare this species must be cultivated as an ornamental tree, and planted in gardens and parks in tropical and sub-tropical climates either as a single specimen in small groves of three or more palms. Culture in containers is possible although growth rates are slower. A bright patio will provide an excellent environment for young specimens which can eventually be planted in a sunny location.
Propagation: Sow fresh seeds buried half way in pot of clean, well drained potting soil, water daily. Seedling grows moderately, plants of 30 cm can be put in ground/larger pot; Because these palms easily hybridize with other Pritchardias, claiming a specific species requires seed collection from wild populations.